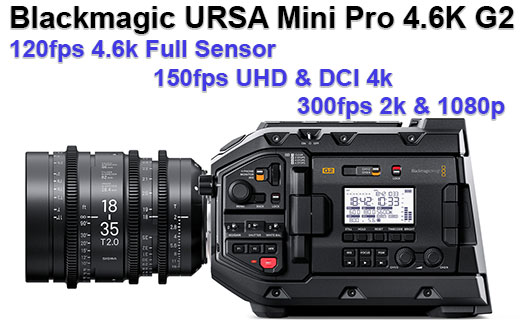 Blackmagic Design has been working behind the scenes to deliver yet one more professional camera solution that at $5,995 for up to 300fps in RAW recording at 1080p and 2k in windowed mode; makes it possible to have flawless image quality without breaking the bank.  New Super 35mm sensor with 15 stops dynamic range with the ability to shoot at 120fps 4.6k full sensor RAW and 150fps at 4k UHD and DCI 4k makes it possible to really deliver on the slow motion promise for quality projects.
If you need more the 300fps 1080p and or 2k recording in the cropped windowed sensor should help you get that extra edge. It also records in Blackmagic RAW and delivers flawless looking 1:1 pixel footage with no aliasing or moire due to throwing away information. This camera has the capacity to really up your video game with these frame rate options.
Blackmagic URSA Mini Pro 4.6K G2 Camera Features:
Effective Sensor Size
25.34mm x 14.25mm (Super35)
Lens Mount
EF mount included. Interchangeable with optional PL, B4 and F lens mounts.
Lens Control
Electronic control via EF mount pins or 12pin broadcast connector for compatible lenses
Dynamic Range
15 Stops.
Shooting Resolutions
4608 x 2592, 4608 x 1920 (4.6K 2.40:1),4096 x 2304 (4K 16:9),
4096 x 2160 (4K DCI),
3840 x 2160 (Ultra HD),
3072 x 2560 (3K Anamorphic),
2048 x 1152 (2K 16:9),
2048 x 1080 (2K DCI),
1920 x 1080
Frame Rates
Maximum sensor frame rate dependent on resolution and codec selected. Project frame rates of 23.98, 24, 25, 29.97, 30, 50, 59.94 and 60 fps supported.
High Speed Frame Rates
Blackmagic RAW 8:1
4.6K Full – Up to 120 fps
UHD Windowed – Up to 150 fps
HD Windowed – Up to 300 fps
ProRes 422 HQ
4.6K Full – Up to 80 fps
UHD Windowed – Up to 120 fps
HD Windowed – Up to 240 fps
Built in ND Filters
Four position ND filter wheel with clear, 2-stop, 4-stop and 6-stop ND filters.
Focus
Focus button turns on peaking, auto focus available using compatible lenses.
Iris Control
Iris wheel and touchscreen slider for manual iris adjustment on electronically controllable lenses, iris button for instant auto iris settings on compatible lenses so no pixel is clipped in film mode. Scene average auto exposure in video mode.
Screen Dimensions
4 inch
Screen Type
LCD capacitive touchscreen.
Metadata Support
Automatically populated lens data from electronic EF, B4 and i/Technology compatible PL lenses. Automatic recording of camera settings and slate data such as project, scene number, take and special notes.
Controls
Touchscreen menus on 4 inch screen. Push buttons for other controls. 2 assignable shortcut keys.
Timecode Clock
Highly accurate timecode clock. Less than 1 frame drift every 8 hours.
"URSA Mini Pro 4.6K G2 is a more powerful second generation camera with entirely new electronics and a new high performance image sensor that lets you shoot crystal clear slow motion footage. You can record full sensor 4.6K images up to 120 frames per second, windowed DCI 4K at up to 150 frames per second, and regular windowed 1080 HD at an amazing 300 frames per second. A dedicated off-speed button on the camera's body lets you quickly switch between your preset high frame rate and regular frame rate shooting! When it comes to high frame rate shooting, URSA Mini Pro 4.6K G2 is ideal for fast action sports, high speed nature 

photography and more!" Blackmagic Design
HSC: As you can see from the video sample above, expect to have incredibly good dynamic range, noise control and color accuracy in the high frame rate modes. As we have seen in previous Blackmagic cameras, there is a tendency to allow frame rates only when quality is not thrown by the wayside. Expect your images to look as good as possible when shooting HFR with no added artifacts because the camera will not throw away lines in the image to achieve these frame rates.
Blackmagic Update March 5th, 2019:
What will the Slow Motion quality look like?
Besides the fruit sample above, we have nothing but the spec sheet when it comes to HFR samples. However we can look at a previous camera release in the Ursa Mini series for the possible quality in HFR since they are essentially sister cameras. You are getting an upgraded sensor and other hardware but essentially the same Blackmagic Design heritage.
URSA Mini Pro Slow Motion by myvideoversion:
We expect the URSA Mini Pro G2 to have flawless slow motion quality in Blackmagic RAW 8:1 compression.
Pricing & Availability: 
The URSA Mini Pro G2 is available for Pre Order now at authorized resellers like Adorama.com. For $5,995 without lens and a Standard EF Mount. See the link Below: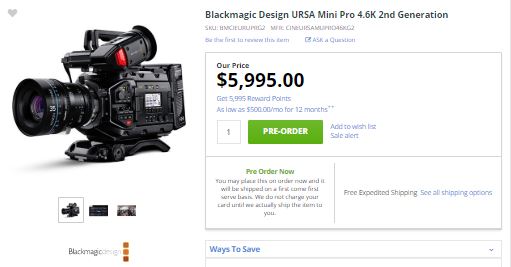 What should  I do?
If you were thinking about getting a professional cinema Camera from Blackmagic, your choice has just gotten much easier. The G2 is a big upgrade and probably a camera that will last you a decade delivering incredible visuals. The use of the new Blackmagic RAW codec means that storage will become much more manageable and editing will be a breeze compared to regular RAW codecs. The de-bayering has already been baked in but you get the color temperature flexibility, ISO and fast editing.
The slow motion modes will use 8:1 Blackmagic RAW to access up to 300fps which is 68 Megabytes/second which is very easy to store compared to traditional RAW images at over 500MB / second.
We believe this camera will be very popular with a wide variety of users, the slow motion alone is worth it by shooting above what many other cameras in their segment only dream of.
We will have samples of the slow motion mode as soon as they are available. We suggest you look at samples for this camera before you pull the trigger. However, it is always good when a serious camera like the Blackmagic URSA series makes a leap forward without breaking the bank.  Thanks for reading -HSC
(Visited 2,940 times, 1 visits today)