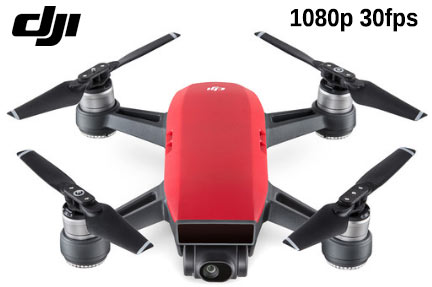 The newly announced DJI Spark Selfie Micro-drone is a thing of beauty when it comes to capability vs size.  At just $499 it is also half the price of a DJI Mavic Pro and while it lacks a 3 axis gimbal and extended flight time; this is geared to the people that want a no nonsense experience that is truly portable for their flight camera needs. It has a camera capable of 1080p video of pretty good quality at 30fps.
The downside is that it lacks 4k for one thing and any other frame rates besides 30fps full HD.  It does do  12MP still images with good dynamic range and color accuracy which could become the best use of the drone for markets such as real estate, surveying and aerial imaging that is ready at any moment without the bulk.
The DJI Mavic Pro is a great drone but it fell in 4k quality compared to the DJI Phantom 4 and 4 Pro drones. The codec is lower quality and the fast motion plus detailed shot combination can easily cause macro blocking in the codec. Still, the Mavic has 120fps at 720p and 1080p at up to 96fps. The Spark is limited to 30fps 1080p, you will not have 24p, 25p or other intermediate format options. The Drone is not made for filmmakers but caters to the selfie/fun crowd with its low price and hand control.
CAMERA SPECS
Sensor
1/2.3″ CMOS
Effective pixels: 12 MP
Lens
FOV 81.9° 25 mm (35 mm format equivalent) f/2.6
(shooting range: 2 m to ∞)
ISO Range
Video: 100-3200
Photo: 100-1600
Electronic Shutter Speed
2-1/8000 s
Image Size
3968×2976
Still Photography Modes
Single Shot
Burst Shooting: 3 frames
Auto Exposure Bracketing (AEB): 3 bracketed frames at 0.7 EV bias
Interval: 2/3/5/7/10/15/20/30/60 s
Video Resolution
FHD: 1920×1080 30p
Max Video Bitrate
24 Mbps
Supported File Systems
FAT32 (≤ 32 GB)
Photo Format
JPEG
Video Format
MP4 (MPEG-4 AVC/H.264)
The maximum bit rate as you can see is 24mbps which for 1080p is not bad when implemented well. Looking at the samples it is clear the camera has good noise control, respectable dynamic range and color accuracy that seems to be better than the Mavic Pro.  You will get a good 1080p 30fps image with the Spark and if that is good enough for your needs it is a no brainer.
The camera gimbal is only 2 axis, which means the camera will be stabilized mechanically but not behave smoothly on choppy flights compared to 3 axis gimbal solutions like the ones on the Mavic and Phantom 4 drones.
The Spark will ship June 15, 2017 and will have a $499 Price tag. You can pre-order it directly from the DJI store here! 
Since the drone will not support slow motion we will not include it in our guide. However, we have gathered a few great videos below that show the Spark in action and what you can expect if you purchase it. – HSC
DJI SPARK REVIEW !! All you need to know in depth by We Talk UAV:
REMOTE CONTROLLER
Operating Frequency
2.412-2.462 GHz; 5.745-5.825 GHz
Max Transmission Distance
2.412 – 2.462 GHz (unobstructed, free of interference)
FCC: 1.2 mi (2 km); CE: 0.3 mi (500 m); SRRC: 0.3 mi (500 m)
5.745 – 5.825 GHz (unobstructed, free of interference)
FCC: 1.2 mi (2 km); CE: 0.18 mi (300 m); SRRC: 0.7 mi (1.2 km)
Operating Temperature Range
32° to 104° F (0° to 40° C)
Battery
2970 mAh
Transmitter Power (EIRP)
2.4 GHz
FCC: ≤26 dBm; CE: ≤18 dBm; SRCC: ≤18 dBm
5.8 GHz
FCC: ≤28 dBm; CE: ≤14 dBm; SRCC: ≤26 dBm
Operating Current/Voltage
950 mAh @3.7 V
Supported Mobile Device Size
Thickness range: 6.5-8.5 mm
Max length: 160 mm
INTELLIGENT FLIGHT BATTERY
| | |
| --- | --- |
| Capacity | 1480 mAh |
| Voltage | 11.4 V |
| Max Charging Voltage | 13.05 V |
| Battery Type | LiPo 3S |
| Energy | 16.87 Wh |
| Net Weight | Approx. 0.2 lbs (95 g) |
| Charging Temperature Range | 41° to 104° F (5° to 40° C) |
WI-FI
| | |
| --- | --- |
| Operating Frequency | 2.4 GHz/5.8 GHz |
| Max Transmission Distance | 100 m(Distance), 50 m(Height) (Unobstructed, free of interference) |
DJI Spark Hands-on Review (Pre-Release Prototype) by Kai W:
DJi SPARK vs DJi Mavic!! EVERYTHING YOU WANT TO KNOW ABOUT THIS TINY DRONE by CaseyNeistat
(Visited 4,773 times, 1 visits today)