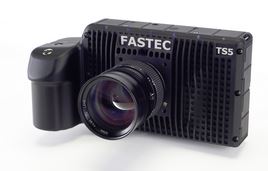 Fastec Imaging known for very capable but very expensive high speed cameras for scientific and video production/cinema has announced a new camera based on the same TS3-TS4 Cine platform they initially released a few years back at NAB which has been extremely popular for rental and ownership.
The camera is called the Fastec TS5-H which is an upgrade from previous TS cameras as it delivers full HD performance with a newly developed sensor at speeds up to 634fps at 1080p. 720p on the other hand delivers 943fps which is very close to the 1000fps realm that is almost negligible.  It also captures footage at faster fps at even lower resolutions.
Athletics Demo Video by Fastec Imaging:
Fastec TS5-H Press Release:
SAN DIEGO, CA – Fastec Imaging announces the TS5-H, a new High-Definition addition to the highly successful handheld TS3Cine and TS3/TS4 "Troubleshooter" high-speed camera lines. Whether it's used for troubleshooting a factory, or for research in a lab, or bolted to a Kessler CineDrive in a cinematic studio setting, or in a sports stadium… or at the beach, the TS5-H is designed to help any shooter create vivid high-speed video.
Based on a brand-new state-of-the-art 5MP sensor, the TS5-H offers the same convenient touchscreen controls and streamlined workflow as its predecessors, with superior imaging characteristics.
According to Tom Boldt for Fastec, "We believe that compelling imagery is valuable in commercial applications, on public media, in a laboratory, and even on a production line floor."  Mr. Boldt continues, "In the TS3 and TS4 we have the high-speed camera performance needed for most applications, built into a form-factor our users love, and sold at an affordable price. The TS5-H remains faithful to these same precepts with enhanced performance at higher resolutions, the same revered form factor, and a base price that remains well under $20K USD."
High-speed cameras generally operate differently than "normal" video cameras. They must often capture events that happen so quickly that they are well under way or even finished by the time an operator can press a record button. For this reason high-speed cameras record into a circular memory buffer that continually stores a couple of seconds of "pre-trigger" footage so nothing is missed due to the slow reaction time of the human operator. The TS cameras operate this way, but they also offer creative recording modes that leverage the presence of onboard storage media. The solid state drive (SSD) option, for example, may be used to save images and free up the high-speed buffers, for direct streaming of high-speed data, or hybrid modes that give the user the most performance and flexibility.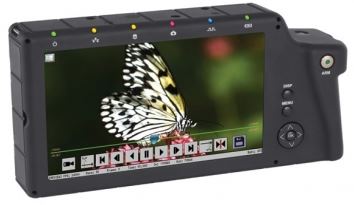 Features Include:
New State of the art sensor 12-bit 5MP CMOS sensor with 5µm square pixels, color or mono
1920 x 1080 (1080p) HD video recording at 634fps to onboard memory for 6.5sec
1280 x 720 (720p) HD video recording at 943fps to onboard memory for 6.5sec

LIGHT SENSITIVITY 1600 to 12,800* ISO mono, 800 to 6400* ISO color (depending on mode)

C-mount (std.), F-mount or PL-mount (optional)

High resolution, 178mm (7") diagonal LCD

Save a full (8GB) memory buffer to onboard SSD in as little as 40 sec with SSD option

VGA (NTSC) or PAL recordings at over 1000fps to onboard memory for more than 15sec

Gigabit Ethernet Control – with FasMotion software on a PC, MAC, or Linux computer

Remote Camera Control –with any laptop, smart phone or tablet running a web browser on a wired or WiFi network

Full HD 1080p60 or 720p60 HDMI video output

Price under 20k USD.
While these cameras at prices close to a compact car are usually out of the realm of small video producers and film makers, it does offer a solution of owning a very capable camera that produces beautifuly sharp imagery with a touch screen and a fully portable high speed recording package; that other brands simply can't match.    It will also be a good option for renting for a shoot due to low entry price point and easy operation.
As we reported last month, Adorama has a used TS3 cine camera with 720p at 719fps on eBay for only $6,500.00 USD.  That could also be an entry point at a discount price to a TS system.
For more information on Fastec imaging products and the new TS5-H with samples, follow this link!
(Visited 4,093 times, 1 visits today)