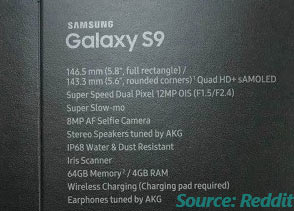 The Galaxy S9 leaks are coming and we are glad to see super slow motion prominently displayed on the box spec list. However, there are no real specs when it comes to frame rates apart from a set of rumors we have received.  The frame rate supposedly shipping with the S9 paired with the "Exynos 9 Series 9810" SoC will be capable of 120fps 4k and up to 960/1000fps 1080p video recording.
One problem, however, is that in the USA the phone will not ship with the Exynos 9 Series 9810 but the Qualcomm Snapdragon 845 which may not support the slow motion frame rates. In other places in the world, however, the  Exynos 9 Series 9810 will be on the phone.  This is the fault of a 1993 agreement between Samsung Qualcomm which forbids them from releasing phones with their own chips. More info about it here at Forbes.
Galaxy S9 Specs (Rumored):
5.8-inch 'QuadHD+' (2960 x 1440), sAMOLED display
Samsung warns display is 5.6-inches allowing for rounded corners
Single lens 12MP main camera with variable F1.5 – F2.4 aperture, OIS
"Super Slo-mo" mode 120fps 4k possible and 960fps 1080p possible!
8MP auto focus front facing selfie camera
Stereo speakers tuned by AKG
IP68 dust and water resistance (unchanged)
Iris scanner (expect second gen, but not Face ID 3D mapping)
64GB of native storage, 4GB RAM (unchanged)
Wireless charging (expect full 15W fast charging)
AKG bundled earphones (presumably version 2.0)
So if Samsung is not able to ship with their own Exynos 9, the phone may be crippled when it comes to slow motion in the United States.  This seems to be a terrible deal for those waiting on a real alternative to high-speed video for flagship phones aside from Sony and or Apple.
Samsung Galaxy S9 packaging confirms key specs by BuzzFresh News by BuzzFresh News:
We expect to see a lot of imported phones at eBay and other sites that will sport the Exynos 9 instead of the Snapdragon 845.  Certainly, 4k 120fps which is listed as a spec on the Samsung chip is of interest as it will be not only a phone first but the first time we'll see that spec on a camera below 25k USD. Another possibility is 4k 60p HDR which will make use of the 120fps to create a final dual exposure 60fps clip which is also more credible and close to what other cameras are doing to improve dynamic range.
Samsung Galaxy S9: FINAL Design & Features Leaks!!! by AJ InfoTech Hub:
The 1000fps 1080p spec is also quite a headliner but we better not get too excited as the  Sony Xperia XZ Premium showed, the spec may be lower resolution and the duration of recording less than adequate.   Still, if Samsung can pull it off it will be the phone to get in 2018. The other frame rate rumor is 480fps at 1080p which sounds more plausible and still quite useful. It will be a matter of waiting for the reveal to see which rumor becomes true.
We will have more information as MWC Barcelona approaches later this year from Feb 26, 2018 – Mar 1, 2018.
(Visited 1,938 times, 1 visits today)