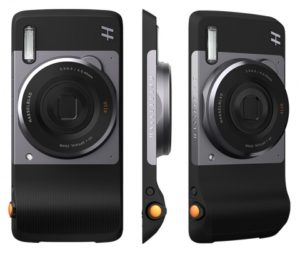 The recently announced Hasselblad True Zoom is an add on module for the Moto Z + Moto Mods™ smartphone platform which lets you add modules to your already very capable phone to increase it's feature set.  A Pico Projector, a much larger battery, a JBL speaker set and now the Hasselblad True Zoom 10x Optical zoom are the current back plate options for this new ecosystem.
What may look like a gimmick to some; it may be the advent of a personalized and very powerful experience for the future of smartphone use. What if you could add the advantages of a larger camera sensor and higher frame rates with built in processing to your phone when needed. What if you could add a built in microscope back plate to the phone for biologists on the field or a sensor module for tracking scientific concepts with the phone as a central part of experiments. The sky seems to be the limit here.
Hasselblad True Zoom Specs:
Compatible phones
Moto Z Droid, Moto Z Force Droid, Moto Z Play Droid
Dimensions: 152.3 x 72.9 x 9.0 – 15.1 mm
Weight: 145g
Sensor resolution: 12MP CMOS BSI
Video resolution: 1080p Full HD at 30fps
Mics: 2 Stereo
Sensor size: 1/2.3-inch
Pixel size: 1.55 um
Aperture: f3.5-6.5
Zoom: 10x optical/4x digital
Focal length: 4.5-45 mm (25-250mm 35mm equivalent)
Macro : 5cm @1x – 1.5m @10x
Flash: Xenon flash
Image stabilization: Still: OIS Video: EIS
ISO equivalent – Auto, 100, 200, 400, 800, 1600, 3200
Capture modes – Photo, panorama, video, professional, night landscape, night portrait, sports, day landscape, back light portrait
Focus modes- Manual focus: select focus ROI Focus lock
Pro mode: Focus, white balance, f-stop, ISO, exposure
White balance: Auto, incandescent, fluorescent, sunny, shade
Color effects: Color, black & white
Red eye reduction: Auto
File format –  Still: JPG, DNG (RAW) Video: MPEG4
Storage Internal phone: 32GB-64GB microSD phone: up to 2TB Cloud: Unlimited via Google Photos
Battery life: Phone dependent
Connectivity: Phone connectivity: 4G/LTE, Wi-Fi
GPS: Phone: Enhanced geolocation
Carrying case: Included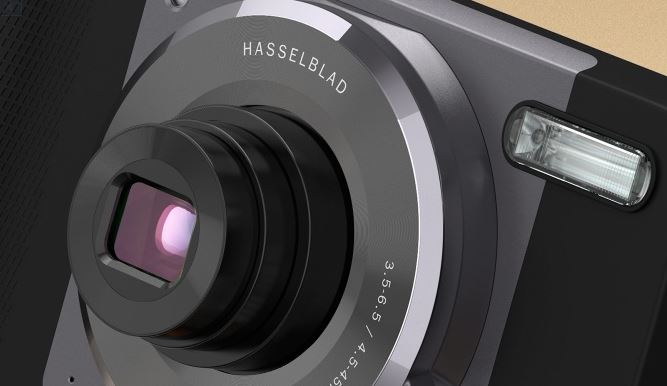 What jumps at you right off the bat is the 10X zoom lens and features like dual microphones, real flash and RAW image recording.  Also the real limitations when it comes to video recording start to sour the excitement a bit.  At a maximum frame rate of 30fps 1080p the camera has no high speed mode at all, (big dissappointment) here was a chance to improve on the limited zoom reach of slow motion capable phones.
The RAW photo mode is not new for phones either; many already offer a RAW image recording format which helps with developing the detail and color of images but with a sensor size of 1/2.3″ there is really not much to be excited about here either.   The aperture limits of  f3.5 wide -6.5 10x zoom is also slow even by phone standards which have in some cases f2.2 wide angles.  With small sensors the aperture of a lens matters a lot. It seems the Hasselblad True Zoom is making a case for it's name by making the lens the centerpiece and focus of the entire module design.
Introducing Moto Mods™ – by Moto:
The real value of the Moto Mods ecosystem is that it is very easy to extend a phone's capabilities by just snapping a magnetic back. In a few iterations we may find that the camera we would really like to buy is just one module away and easy to add to your existing phone.
What would be the ideal camera module?
Support for E mount or m4/3 lenses with respective mounts.
High frame rate support 120fps, 240fps, 480fps or higher.
Internal Battery not relying on the phone exclusively.
4k video at 60fps
Larger micro 4/3rds or APS-C Sensor
RAW still Image format
Video codec at with 4:2:2 color support.
Ability to shoot detached from phone.
Included small pancake lens.
Under $500 USD.
Looking at the list above only 2 of our 10 wishlist requirements are met by the  Hasselblad True Zoom, #6 with Raw Image format and #10 which the module already surpasses with a $250 MSRP for the mod only.  We believe the inclusion of a fixed lens makes these module very limited and forces a small sensor.
Part of improving the photo experience compared to a phone is a larger sensor and absolute image quality. Having a fixed 10X zoom negates this possibility and makes it for an interesting but overly unnecessary add on for those seeking an improvement in their photo quality.
Hasselblad True Zoom camera's a boon for Moto Z modders by CNET:
Final Word!
If you really need a 10x zoom on your phone this is the camera module for you, but if you require a larger sensor, extremely improved image quality compared to your phone's camera and ability to grow with a camera system; this Hasselblad True Zoom module is probably not for you.
The real value in this first camera mod is that of paving the way for hopefully better and more full featured camera modules with better image quality and lens adaptability; if you add higher frame rates as well we won't complain!
More info on Moto Z and Mods like True Zoom here at Motorola!


(Visited 582 times, 1 visits today)