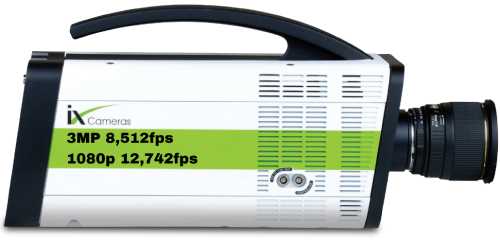 Not too long ago the Vision Research Phantom v2640 was amazing us with 4MP capture at 6,600fps with incredible quality. Now iX Cameras with offices in the UK, USA and Shanghai China is turning heads with an extreme spec sheet of 3 Megapixels 2048×1536 at 8,512fps and a Full HD 1080p frame rate of 12,742fps which is just 242fps higher than the Phantom v2640 at 12,500fps.
The relative camera memory speed and pixel capture rate is very similar between these two behemoths but you have to give the crown to the i-SPEED 726 for the 3 megapixel 8,512fps which brings in a whole new level of temporal detail at above Full HD resolution.  Of course, these cameras do not share their pricing unless you request a quote which you cannot share publicly. However, expect to pay high 5 figures for the best the technology has to offer.
i-SPEED 726 Main Specs:
High-resolution 2048×1536 pixel sensor
Full resolution to 8,512 frames/second
1080p resolution at 12,742 frames/second
Up to 288 GB of on-board memory for long recordings
Internal or external SSD drive for fast data transfer
Class leading 26 GP/sec throughput
Microlens sensor for exceptional light sensitivity
Wide Dynamic Range recording
Global electronic shutter to 1 µs
1 hour battery life
Compatible with all Nikon F and Canon EF mount lenses
Maximum frame rate – 1,000,000 fps
Flexible frame synchronization from 10 Hz to 200 kHz
Environmentally rugged package available
32 point integrated real-time health monitoring system
96 / 144 / 192 / 288GB RAM Memory
Mono ISO 5,000D(sat) / 40,000D(sat)
Color ISO 1,800D(sat) / 14,400D(sat)
IMAGER Specs:
Sensor type Custom CMOS
Sensor resolution 2048 x 1536 pixel
Sensor size 27.972 mm x 20.736 mm
Sensor diagonal 34.82 mm
Pixel size 13.5 μm
Bit depth 12 bit (36 bit color)
ISO (12232-2:2006, D, sat) Mono 5,000 / 40,000 (max)
Color 1,800 / 14,400 (max)
Maximum frame rate 1,000,000 fps
Shutter type Global exposure
Shutter time, standard 1 μs minimum
Shutter time, fast mode 277 ns
WDR Wide Dynamic Range
Lens mounts available:
F mount (Nikkor D) / F mount (Nikkor G)
C mount / EF mount
With a large sensor at 13.5 μm pixels and near 35mm diagonal it becomes a very good low light performer which is essential for high-resolution cameras that shoot high frame rates but don't want to sacrifice image quality due to the artifacts caused by smaller pixel sizes.  The mounting support is very good with both Canon and Nikon F+G mounts supported and the C mount option if needed.
This is an ideal camera for wildlife documentarians and filmmakers who need the next level of frame rate performance for their productions.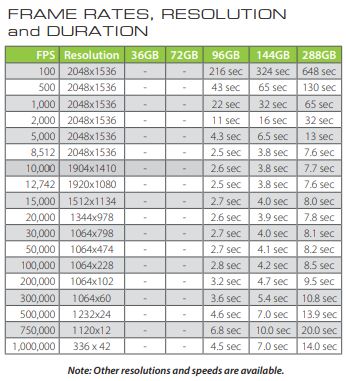 Video Samples:
Bloodhound SSC rocket test 2,000 fps and 4,000 fps mono and color by iX Cameras:
High-Speed Liquid Atomization, Particle Image Velocimetry and Spray System Compilation by iX Cameras:
The Hummingbird Feeder by iX Cameras:
Liquid Droplet Landing on Teflon Surface at 11,000 fps by iX Cameras:
i-SPEED 7 speed comparisons:
As you can tell from the samples above the camera with its 12 bit recording and 36bit color is producing clean and gorgeous files. To be expected considering the enormous data rates of 38.4GB/sec at full 3MP and 8,512fps necessary to record these speeds.
The internal 96GB of memory will fill up after 2.5 seconds of recording at the maximum resolution and speed 3MP – 8.5kfps so you will need to offload to the memory mags to continue your testing.  There is no denying that a camera like this is overkill for the common videographer and an edgertronic SC2X with 1080p at 2000+fps (Full Review Here) should suffice most users at a considerably lower entry point for full HD.
The best part about cameras like the iX i-SPEED 7 is that the technology advancement reached here will trickle downward with the passage of time. In ten years time, we might be talking about a sub 10k USD slow-motion camera with the same capabilities.  Of course by then the super high-end will be playing with 4k at 10,000fps and Full HD at 40k+fps.    The data rates then will be so massive that probably will need a several Terabyte magazine for just a few seconds of recording.   -HSC
For more information about the iX i

-Speed 7 and other cameras from their line, visit:

https://www.ix-cameras.com
(Visited 2,500 times, 1 visits today)