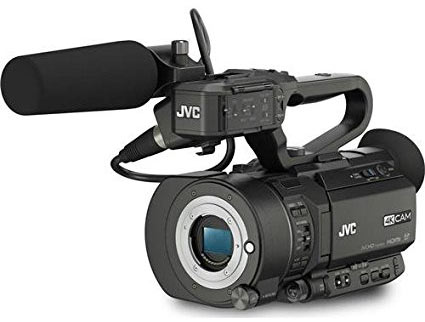 The JVC GY-LS300 camera had a firmware update last year that permitted the camera to shoot at 120fps full HD. Now the company is releasing a new update that adds the capability of recording of 4:2:2 (8-bit) 4K @ 24/25/30p video to internal storage. The camera previously only recorded at 4:2:0 color space.  Not only that, the camera now can output to the Ninja Inferno external recorder a 4k UHD stream at 50p or 60p for 4k slow motion goodness.
The Version 4.0 firmware upgrade is free of charge for all current GY-LS300 owners and will be available in late May.  This camera seems to continue to be supported by JVC due to its popularity and seems, for now, to be their best bet to offer a camera that competes with the Sony FS5 or Panasonic DVX 200 for example with a low price of around $2600 USD.
The Firmware update will be ready by the end of May 2017 and this link will direct you to it: JVC GY-LS300 Information Page!
JVC LS300 Slo-Mo Demo 120fps Firmware Update from 2016 by LeRoy Candelaria:
JVC LS300 Firmware 4.0 Press Release:

| | |
| --- | --- |
| | |
| GY-LS300CH w/Ninja Inferno | GY-LS300CH |
FOR IMMEDIATE RELEASE
NEW FIRMWARE FOR JVC GY-LS300CH CAMERA
ADDS 4K 4:2:2 RECORDING AND 60P OUTPUT
WAYNE, NJ (April 19, 2017) – JVC Professional Video, a division of JVCKENWOOD USA Corporation, today announced the Version 4.0 firmware upgrade for its popular GY-LS300CH 4KCAM Super 35 handheld camcorder that increases color resolution to 4:2:2 in 4K mode recording and expands Ultra HD (3840×2160) output to include 60/50p. JVC will demonstrate the new capabilities during the 2017 NAB Show (Booth C4315), which runs April 24-27 in Las Vegas, Nev.
Version 4.0 provides 4:2:2 (8-bit) 4K recording at 24/25/30p onboard to SDXC media cards. In addition, IP remote function will now allow remote control and image viewing in 4K. When using 4K 4:2:2 recording mode, the video output from the HDMI/SDI terminals is HD. The Version 4.0 firmware upgrade is free of charge for all current GY-LS300CH owners and will be available in late May.
The GY-LS300CH will also now have the capability to output Ultra HD at 60/50p via its HDMI 2.0b port. Through JVC's partnership with Atomos, the GY-LS300CH will operate seamlessly with the new Ninja Inferno and Shogun Inferno monitor recorders, triggering recording from the camera's start/stop operation. Plus, when the camera is set to J-Log1 gamma recording mode, the Atomos units will record the HDR footage and display it on their integrated, seven-inch monitors.
"The upgrades included in our Version 4.0 firmware provide performance enhancements for high raster recording and IP remote capability in 4K, adding even more content creation flexibility to the GY-LS300CH," said Craig Yanagi, product marketing manager, JVCKENWOOD. "Seamless integration with the new Ninja Inferno will help deliver 60p to our customers and allow them to produce outstanding footage for a variety of 4K and UHD productions."
JVC and Atomos will also collaborate on a special promotion when the GY-LS300CH and Ninja Inferno are purchased together at participating resellers.
Designed for cinematographers, documentarians, and broadcast production departments, the GY-LS300CH features JVC's 4K Super 35 CMOS sensor and an industry standard Micro Four Thirds (MFT) lens mount. With its unique Variable Scan Mapping technology, the GY-LS300CH adjusts the sensor to provide native support of MFT, PL, EF, and other lenses, which connect to the camera via third-party adapters. Other features include Prime Zoom, which allows shooters using fixed-focal (prime) lenses to zoom in and out without loss of resolution or depth, and a built-in HD streaming engine with Wi-Fi and 4G LTE connectivity for live HD transmission directly to hardware decoders as well as JVCVIDEOCLOUD, Facebook Live, and other CDNs.
ABOUT JVC PROFESSIONAL VIDEO
Headquartered in Wayne, New Jersey, JVC Professional Video is a division of JVCKENWOOD USA Corporation, a wholly-owned subsidiary of JVCKENWOOD Corporation. The company is a leading manufacturer and distributor of broadcast and professional video equipment, as well as D-ILA front projection systems. For more information, visit JVC's website at http://pro.jvc.com or call (800) 582 5825.
(Visited 1,655 times, 1 visits today)