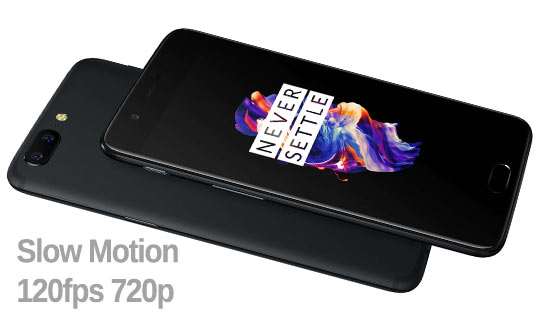 Now that the OnePlus 5 Phone has been shipping to customers for a few weeks it is time to re-visit the phone and the slow motion footage it can record. We were disappointed by the 120fps 720p limitation on the phone since most new flagship handsets aim at the 120fps 1080p and 240fps 720p spec as a competitive plateau.  Still, the OnePlus phones are very popular worldwide with the mix of great optics, lack of software bloatware and true performance unencumbered by ROMs that slow the phone down.
It is true that the phone slow motion will not win any prizes due to slight compression artifacts and aliasing that shows the sensor is skipping lines and applying a lower bitrate at the end.  Slow motion seems to be an afterthought in the OnePlus 5 while stills and 4k recording are solid. We are sharing new examples for you to judge.
OnePlus 5 Slow Motion Video Samples:
OnePlus 5 Slow Motion Video Sample of River + Flowers + BluePoppy by Sandeep Godiyal:
oneplus 5….slow motion by m.shanny nur iman ap:
One plus 5 slow motion review in the rain David Felix Raja:
Amazing Slow Motion Video Of Valley of Flowers by Sandeep Godiyal:
One plus 5 slow motion video Bindu zera by Hegde G:
ONE PLUS 5 (ONE+ FLASH) SLOW MOTION VIDEO by Praveen Rana:
One plus 5- Slowmotion video by Naitik Rathod:
One plus 5 slow motion camera tested!! by Mohammed ali:
Slow Motion Video Of OnePlus 5 by Gourab Paul:
OnePlus 5 slow motion funny recording. by Kumar Shubham:
Parrot bebop drone in Slow Motion Filmed Oneplus 5 by That Fox:
Bird Shot |One Plus 5 |Kota Kishor Talab| by Lucky Meena:
There you have it, it seems there are a couple of issues with the OnePlus 5 slow motion that you should be aware of. There is a tendency to refocus the shot continuously which produces a hunting effect. It can probably be locked with AF Lock but it means you cannot rely on auto settings for slow motion if you do not wish your video to pull in and out of focus.
The other is, of course, the compression with moire and aliasing present in every shot. Softness in this mode is also apparent due to data loss before saving the video file. It, however, can create some compelling shots as evidenced from the samples above.  Gold swings can probably be a good use for the phone if needed. It will not be in the running for a recommended slow motion phone but it is good to know it has a slow motion feature if you own or plan to purchase this handset which is quite good at almost everything else. Let's hope the OnePlus team addresses the slow motion aspects in an upcoming phone and do a real jump in performance. -HSC
(Visited 3,235 times, 1 visits today)