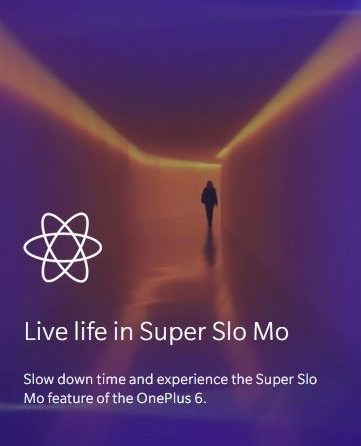 The folks at OnePlus have been busy and by the looks of the recently leaked images of the OnePlus 6, it seems the phone is almost an identical looking handset to the iPhone X design with notch included.  The invitation to the event on May 16th, 2018 for the unveil mentions "Live Life in Super Slow Mo" which we believe will be a 960fps slow-motion mode akin to that in the Galaxy S9 & S9+ or the Sony Xperia ZX2.
OnePlus has been one of the best performing handsets for Android users due to their use of the best components out there along with a streamlined ROM that does away with most bloatware on the main install. Users of these phones also routinely claim huge battery life due to the optimized nature of the background tasks. For Slow Motion, they have only been competitive on the mid-range but that will probably change if Slow Motion is a big feature on this new phone.
OnePlus 6 Newly Leaked Images of the  Hint at Apple Like Design:
Rumored OnePlus 6 Specs:
6in 2880×1440 QHD+ 18:9 display.
Glass notch design On  Screen Top!
Qualcomm Snapdragon 845 SoC
8GB RAM, 256GB Flash storage Included
Android 8.1 Oreo OS
Dual-lens 20MP/16MP rear-facing camera
Super Slo-Mo feature 960fps
Rear-mounted fingerprint scanner with Face Unlock
Dash Charge support
Waterproof IP68
Alert Slider
Blue, White and Black color body options
Wireless charging support
16 May Launch Event in London.
Rumored MSRP: $599 – $699 Price Range!
64GB, 128GB & 256GB options!
These leaks seem to imply that the OnePlus 6 will be the best performing phone for the price in the high-end smartphone market.  It will be a matter of testing the camera capabilities to see just how good and capable it will be and if the slow-motion mode will be able to compete or exceed the Sony and Samsung implementations in side by side testing.  We remain cautious with some reservations due to the past releases doing less than competitive slow motion. The Huawei P20 disappointed us by interpolating their 960fps mode from a lower source we believe it to be 480fps or possibly lower. If OnePlus with their new 6 handset is able to deliver real frame rates it will be the phone to beat at high speed this year. Somehow we remain unconvinced but hopeful. We will know more by May 16th when we have a direct spec sheet and possibly a plethora of samples to look at.  Stay tuned – HSC! 
OnePlus 6: First Ever Hands-On Leaks !! by DroidMonster Inc:
(Visited 1,156 times, 1 visits today)