The Ono U1 Smartphone reported in a post at HSC earlier this year was stuck between scam-land and outright vaporware with it's claim of 1080p 480fps video mode based on the Mediatek Helios X10 chip.  However it seems the Ono team has persisted and a phone that has been evolving with new features like a fingerprint reader, laser AF,  4GB of RAM, NFC and now Android Marshmallow might see the light of day as soon as the third or fourth week in November.
There has been a lot of interest with this particular phone and with good reason, it could become the phone to beat regarding portable slow motion capable devices. As a Smartphone it will be no slouch is the specs are solid and the phone eventually ships which is still up in the air.
Update: Pre order time has ended Ono has a new URL site here:
The Early backer or pre order price of $199 for the Ono U1 was $199 and that is set to expire tomorrow on the 29th of October after that the price will jump to $379:
Warning:  While the phone may or may not ship it is entirely your responsibility to buy or support this phone with your money. If it doesn't materialize you were warned.  Make sure you confirm Paypal buyer protection before ordering.  HSC is just informing of developments in the slow motion industry and is in no way recommending buying any products listed on this website including the Ono U1.   Do your own due diligence, HSC is in no way affiliated with Ono or other manufacturers.
What about the Slow Motion 480fps?
This is where things get a bit fuzzy regarding the information as no video sample or solid confirmation really exists but from their Facebook posts we can shed some light into what is happening when it comes to the slow motion 480fps 1080p feature. At least what we think is happening which may all be smoke and mirrors until we have a working unit to test. Facebook posts follow: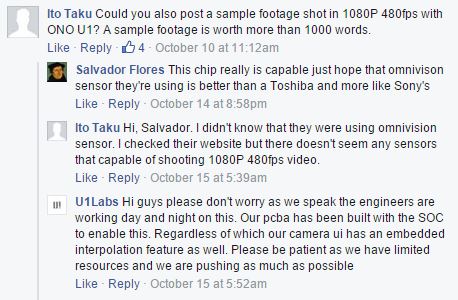 HSC: They mention interpolation which is a software feature however they also hint to real frame rate support. The Mediatek Helios X10 does support 480fps at 1080p as one of it's main flagship features.


HSC: So all in all it seems they are working on it to be shipped as  a feature on the phone or activated a short time later as they get the feature working in the Phone as a firmware update at a later time while the interpolation mode is included as an option which are not real frames so artifacts will show up. Below are two more conversations that shed more light: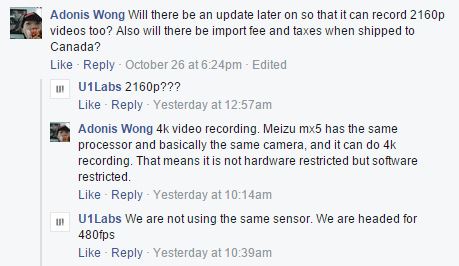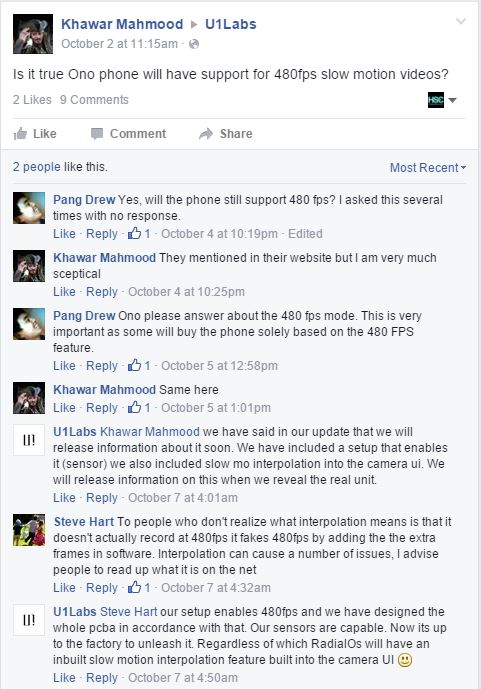 HSC: So they confirm they have designed the circuitry to support 480fps and that interpolation will also be in the software is needed in the camera module interface.  It will be a matter of the coders unlocking the feature to work with the phone.  However until we actually see the phone recording 480fps it is all up in the air.  There is no firm information to qualify it as marked in stone.
We encourage the Ono U1 team to post the slow motion feature support in detail and their plan for it in the phone specs with no run-arounds.  Digging into Facebook posts to get a sense of the final slow motion feature is not exactly a faith encouraging exercise.  
Final U1 Specs as Posted on their Facebook Page:
"The final specs of the U1. We will update the band within the stipulated time frame as we are double confirming the initial information garnered from the factory. In the best interest of our Pioneer`s we will run a second confirmation. This is crucial as we do not want anyone to make a mistake when it comes to the frequency bands in respect to countries that the beast would be wandering off to. More to follow is the slow motion recording update (sensor update 😛 ) bands, and PayPal notary. Thank you for your patience and support.
Brand U1 Labs@U1

"The Beast"

Silver
Dimensions: 157×76,8×9,4

Operating System
RadialOS (based on Android Marshmallow 6.0)
Stagefright Patch Included

CPU
MTK6795 Octa Core, 2.2GHz (Helio X10)
Cortex-A53
Cpu Governor Tuned By U1 Labs

GPU
PowerVR Rogue G6200

RAM
4GB

ROM
32GB

Expandable Storage
64GB

Display
Capacitive touch screen

Screen size : 5.5 inch
Screen resolution : 2560×1440 2K pixel screen
538 Pixel Density
Screen color : 16M colours

Network
Wireless connectivity :GSM, 4G, 3G, GPS, WiFi, Bluetooth

Frequency
GSM 850/900/1800/1900MHz
WCDMA 850/900/1900/2100MHz
FDD-LTE 1900/1700/2100/700/850 or 850/1800/2600/2100 (Awaiting Final Confirmation)
Within 24 hours

Connectivity
Bluetooth : Yes, 4.0
WiFi : Yes, Support 2.4G/5G Band, 802.11a/b/g/n/ac
GPS : Yes, GPS/Glonnas/BDS, tri-mode GPS, also support A-GPS
NFC : Supported

Camera
Camera type : Dual cameras (one front one back)
Back camera : 20.0MP with dual flash and Laser focus, Up to 4536*3024 pixels resolution, Support 1080P video record
Front camera : 8.0MP
Video recording : Yes

Dual SIM, Dual standby
TF card slot
Micro USB slot v2.0
3.5mm audio out port
Microphone Supported
Speaker Supported
Fingerprint Sensor Supported

Media
Video – 3GP, MP4, RMVB
Audio format – WAV, AMR, MP3
Image format – GIF, JPEG, BMP, PNG
FM radio : Yes

Language Pack
Afrikaans, Bahasa Indonesia, Bahasa Melayu, Catalan, Czech, Danish, German, Estonian, English, Spanish, Filipino, French, Croatian, Isizulu, Italian, Swahili, Latvian, Lithuanian, Hungarian, Dutch, Norwegian, Polish, Portuguese, Romanian, Romansh, Slovenian, Slovak, Finnish, Swedish, Vietnamese, Turkish, Greek, Bulgarian, Russian, Serbian, Ukrainian, Armenian, Hebrew, Urdu, Arabic, Persian, Hindi, Bengali, Thai, Burmese, Cambodian, Korean, Japanese, Traditional/Simplified,Chinese

Additional features
Miracast, Hotknot, Smart wake, Gravity sensor, Light sensor, Proximity sensor, Gyro LED notification

Battery
Battery Lithium
Capacity 4000mAh
Standby time : About 2~3 days (Expected)

Package Contents

1 × Phone
1 × Battery
1 × USB cable
1 × User manual
1 × Power adapter (AC Adapter will be sent as your shipping
country)
Single Unit Copper U1 Labs Earphone for Pioneers who have Pre-Ordered.

Pre-order period will end within 3 days.

Cheers Guys"
So what should I do?
We don't intend to encourage you to buy any product including the On U1 at HSC, we are just informing on our findings. However we have Pre-ordered an Ono U1 ourselves and will test out if the slow motion mode is solid.  We expect to receive the phone by the end of November and will be shooting with it and testing accordingly.  If all pans out we will issue a review then and then you can make your decision to order or not.  There is no guarantee that a phone will be shipped but we were willing to give Ono the benefit of the doubt.  Their pre orders are due tomorrow at $199 and then the price will go up considerably to $379 USD.   Pioneers as pre order people are called get a great deal if everything is true and the phone pans out. If not then it will be a matter of Paypal buyer protection being contacted and honoring.  After all this time it seems Ono is serious and has a product to sell. We just want to see it in the flesh before doing any outright recommendation.
If you decide to order good luck but you have been warned if it goes south!
More information about the Ono U1 on Facebook Here! 
More information about the Ono U1 on their site here www.wearono.com!
(Visited 2,815 times, 1 visits today)