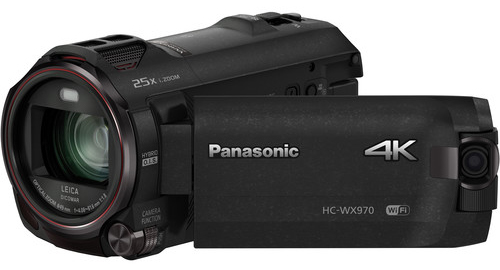 Some samples from the Panasonic HC-vx870 and  hc wx970 which are identical hardware sans the extra selfie camera on the pull out rotating screen have surfaced.
As expected the cameras perform fantastically well and are at this time still the best camcorder value for regular and slow motion video for your money.  Either for slow motion or 4k, the value is hard to beat. We have selected a few samples from the net so you can check out and judge the quality for yourself:
120fps Slow Motion Hockey Test of Panasonic HC-VX870 by ieProSports:
The slow motion quality is at least as good as last years Panasonic W850  and low light seems also improved.   The extra 4k feature and extra wireless features make these the camcorders to beat for the year. Panasonic continues to improve on a tested design that appeals for users that need a balanced high quality image that is extremely portable. The extra zoom is a big deal in such a small size. We are very glad the performance doesn't disappoint.
There is also a sample of footage straight from a PAL camera vx870 that shows 4k quality by riderslens:
Snowy winter day Norris Dam State Park vx870 by William Lehman
Panasonic HC-WX970 vs Sony FDR-AX100 Shoot out by Take2100:
Panasonic HC-WX970 Night Shot from Las Vegas by Take2100:
Here is an excellent Unboxing & First Look of the Panasonic HC-WX970 4K Camera for you to judge size and included kit by Paul Mori:
And finally an unboxing mini review of the Panasonic 4K HC VX870 by Real Ale Craft Beer:
If you do not need the selfie camera then the Panasonic vx870 is our pick for $100 less also it is the one that is in stock right now. However you can't go wrong with any of this options as an all around great camcorder.
Please share your opinion, samples and other insights on these cameras on the Forum Topic!
Amazon.com has the camcorders for immediate order available below at a great price:
Thanks for your support of HSC! 
(Visited 3,139 times, 1 visits today)