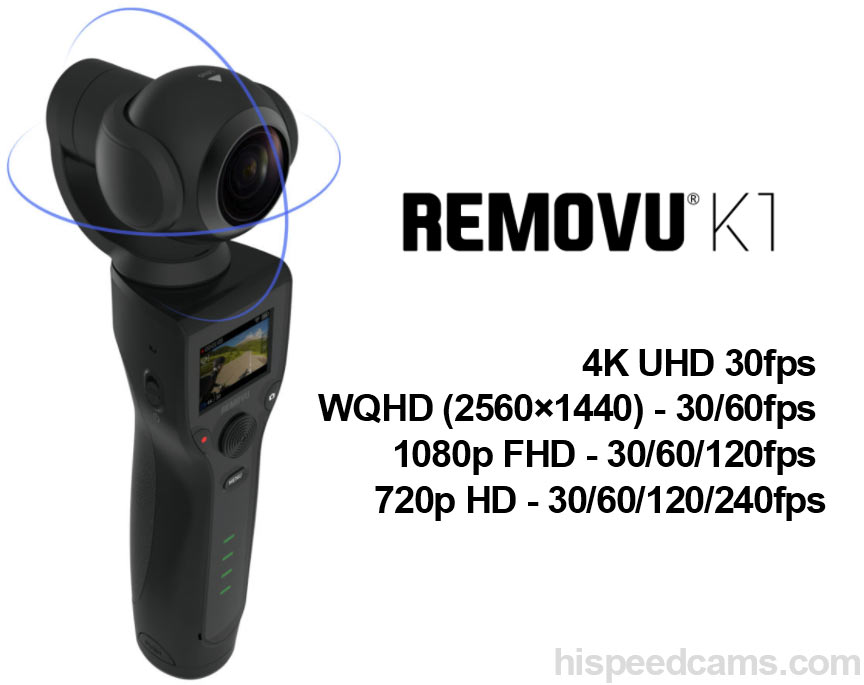 One of the few under the radar products that caught our attention is the Removu K1 all in one stabilized three axis gimbal camera system which has an included LCD screen and 4+ hours of battery life. It has advanced features for creating several kinds of moves, time lapse, panning motion and crane-like shots.
It also includes three high frame rate modes to spice up the package. It can shoot 1080p 120fps with GoPro Hero 5-6 like quality and 720p 240fps which we have yet to see due to a lack of samples. However, for a reasonable price of $429 USD this ultra-portable stabilized camera system might be the best option for vloggers on the move.  The 4k 30p quality is pretty respectable in itself with similar quality to the Hero 5 Black as they use similar components.
High Frame Rate Samples:
In the sample below by Mike Mu, the 1080p 120fps is very reminiscent of the quality we saw on the GoPro Hero 4 and 5 black cameras. Using a similar sensor and Ambarella chipset yields similar results. Not class leading but not that bad considering this is not the primary use for this camera:
REMOVU K1 Review – All In One 4K Camera – the App by Mike Mu:
We asked Removu for a 240fps 720p sample but they said it was still not released but they plan to do it soon.  However, we expect similar quality to the GoPro Hero cameras at 720p 240fps see below:
GoPro Hero 4 Black 240 fps – 720p by juan espinoza:
Availability and more info:
All in all, we believe the Removu K1 will be a big hit for a lot of people. It has excellent stabilization with competitive features and the unique ability to see the shot as it happens with the included LCD screen.  Such a simple idea but nobody had thought of including one until now on these gimbals.  Of course, Phone gimbals including the Osmo Mobile have the benefit of the phone screen but software support on Android is not ideal and the variety of phone cameras make it hard to get consistent results.
Usually, all of these are planned for the iPhone line first and Android as an afterthought. The Removu K1 has a pretty good camera already built in with 4+ hours of battery juice to go with it. That alone makes it one of the best features since there gimbals usually last at most 2hrs.
The ability to charge via USB is also a well thought out feature.  If you need a camera gimbal to do vlogging, cover events or take it out for creating a video that will not make your friends and family queassy then the Removu K1 should be on your short list. For $429 it may be a little more expensive than what you are willing to pay, however it comes ready to shoot with nothing extra to buy.
The Removu K1 Should be available in the coming month with the ability to Pre Order now at Adorama Camera for $429.99 free shipping: 
We hope to have 720p samples at 240fps soon and more 1080p samples for you to watch.  Removu is a relatively new company but with compelling products. It is good to have competition in this space and with innovation in their product range instead of being a copycat.   More info at the Removu Site: http://removu.com/k1/
The pre production review below should give you a good sense of it's capabilities-HSC:
REMOVU K1 Review – All In One 4k Camera – First Look Review by Mike Mu:
(Visited 1,358 times, 1 visits today)