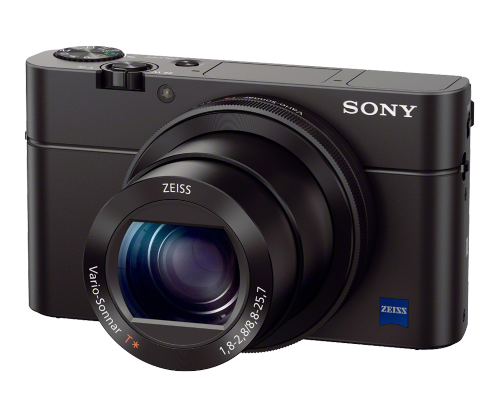 Out of left field in the 1″ inch compact camera category the replacement of the RX100 II, the new Sony DSC RX100 III has impressive video specs for such a small pocketable camera.
For starters it shoots regular 1080p at 60p at 50 Mbps in XAVC S or MP4 and or AVHD 2.0 formats. Higher quality than many pro SLRs. Further along the spec list it allows for a 120fps 720 HD mode at also 50 Mbps in the same format selection.
Specs:
1080p 24,30,60fps at 50 Mbps XAVC S
720p 120fps XAVC S
1″ inch 20.1 MP sensor
2.9x Stabilized Optical Zoom with F1.8(W)-2.8(T) Aperture
Built in Poppable Hi Res View Finder
MSRP 

$ 799

.99
Sony hasn't released any video samples from the camera but considering the high bit rate it may become the go-to camera for 120fps 720p  HD video. Once samples start to be released we'll let you know!
We expect competition in the affordable High Speed Camera market to intensify as we head to Photokina 2014 in September.
RX100 mk III First look Video from Sony:
(Visited 3,558 times, 1 visits today)