NAB 2014 has already started to look like a 4k camera and UHD workflow oriented show from all angles. Manufacturers seem determined to push 4k at all costs and it seems looking at the product ranges that it will probably be adopted fully by the production crews of major TV Shows and News outfits.  There are definite advantages to shooting 4k as opposed to 3D which is really a specialty format for limited uses. 4k can be used to create incredible looking crisp FHD 1080p that far out-resolves any 1080 camera to date, plus use footage as a canvas for re-framing and stabilization from wobbly shots.
What this means for slow motion cameras is that, as hardware has become 4x as powerful in order to capture and encode four times as many pixels as FHD 1080p, we get to reap the benefits in lower resolution modes.   4k capture permits lower resolution modes to jump as a side effect of more camera power as follows:
4k 24p

– 96fps at FHD 1080p  or  192 frames at 720p

4k 30p

– 120fps at FHD 1080p or 240 frames at 720p
But that is just the beginning as with 1080p 60, sports production demands more than 30 frames / sec which means technology for 60p 4k video will be here very soon.  Many also think 4k needs to be shot at 60p to get rid of the judder effect that these large detailed frames create in motion. The frame rates achievable in lower res HD by this will be something like this:
4k 48p

– 192fps at FHD 1080p  or  384 frames at 720p

4k 60p

– 240fps at FHD 1080p or 480 frames at 720p
So what does 2014 NAB shown so far in this respect?
-JVC

JVC enters the Pro-4k market with the hard to remember product name JVC GY-LSX1. "No Word On Price or Availability Yet"
Super 35 image sensor (developed by JVC)
PL lens mount

4096 x 2160 4K, 3840 x 2160 UHD recording up to 60p

1920 x 1080 recording up to 120p for smooth slow motion (1280 x 720 up to 240p)
MPEG-4 AVC/H.264 4:2:2 codec
Records to SDHC/SDXC UHS-I U3 memory cards
So 240p 720 is already here, in what quality or bit rate? Too soon to tell not to mention as a JVC pro camera it is probably going to cost as much as a small car. The important thing here is that the technology is already here and can be ported to the lower end products in a couple of refreshes.  Low cost hi speed in this product is not an option!
-Sony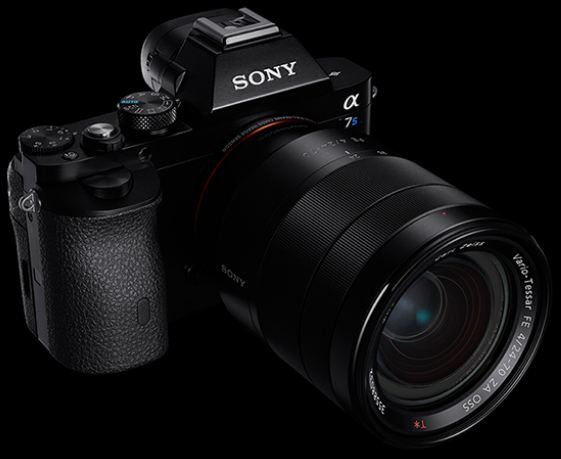 In the case of Sony they came out with the Alpha 7s which is a Full Frame Low Light Monster at just 12.2 Megapixels it should become the newest benchmark sensor in both Low Light Hi ISO performance and Dynamic Range. With a Sensor pixel size considerably larger than the 5D mk III 6.25µ, probably above 8.5µ.  It should create some of the most spectacular low light images ever captured by a digital sensor.
Main Specs:
12 Megapixels 4240 x 2832 Full frame

(35.8 x 23.9 mm)

CMOS Sensor.
1:1 – 4k Pixel readout of the full sensor.
No Aliasing or Moire.

No word on Rolling Shutter Yet!

120fps at 720p  at 50 mbit/s  60fps 1080p at 50 mbit/s 

XAVC S Codec

4k Video output will require external recorder.

No In Camera 4k!
Optional XLR audio module
Extreme ISO range ISO 50 – 409,600.
Micro HDMI 4:2:2 Output at 8bit for 4k and 1080p.
There are no real 720p 120 samples for download yet but we expect quality to be reasonable. The only sample is the Seagull Lamppost flight in the post below. Not as good as perfect 720p but a good approximation. Price is yet a rumor but it should be between $1699 US and $2599 US. Right in the area of the Panasonic GH4.
Clearly this camera is going to be a great choice for wedding shooters and people who look for the utmost dynamic range and ISO performance. there is no way a GH4 with a m4/3 sensor as good as the low light has been shown to be is going to fair well against this FF sensor with such a clean image.
Sony Footage Samples:
……
……
Full a7s camera Spec Sheet PDF Here.
-AJA, Black Magic Design, Others…
Black Magic has decided to go full steam to production cameras. Frame rates are capped at 60p for all the new cameras so above 60 frame slow motion is not going to be an option on these new cameras.
URSA Production Camera 60p 4k  and HD Max $5999
Black Magic Studio Camera 60p HD Max $1995
AJA – CION MSRP $9,000
Full 4k professional Camera  with:

120p full 4k RAW Output – Massive Data-rates.

Max 60p HD modes
CMOS Global Shutter Sensor
4K APS-C sized, 22.5mm x 11.9mm
PL Mount with AJA Pak media Storage
AJA seems to have created an Alexa and RED competitor for a much lower initial cost.  It will be interesting to see if the 12 stops in dynamic range can compete in a 14 stop world.  No Rolling shutter is a great feature to have for production and Special Effects.
More info on the CION here and PDF here
As far as hi speed companies go, Vision research will be showing the Phantom Flex 4k wich can shoot 4k up to 1000fps RAW video. Also we have the TS4 from Fastec and other Hi Speed focused companies. Some of these will cost more than a small home so they are not in the scope of this website's radar. After all we are in the quest for low cost Hi Speed!
We expect more companies to announce new gear as NAB 2014 unfolds over the next three days including more hi speed related news. Stay tuned!
We recommend to tune in to the Teradeck live stream here for live video feeds from NAB 2014.
(Visited 324 times, 1 visits today)