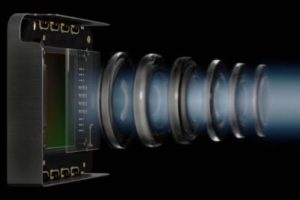 There was a lot of expectation regarding the slow motion capability of the iPhone 7.  Apple has been dominating the spec since the early days on the iPhone 4s. However while the processing and sensor quality have improved; the resolution and frame rates have stayed the same in the iPhone 7.   There are huge speed increases and much more memory available to do a lot of things in video but Apple has chosen to stay at the same spec level in it's latest phone.
The slow motion performance of the phone has improved with every iteration when it comes to quality and it will probably have a better dynamic range rating as well as better overall noise control. The spec remains at the top range in smart phones but it is not pushing the boundaries of what can be done in current hardware. We were expecting 480fps at 720p and 240fps at 1080p as possibly moving forward with the feature.
7 Plus: 12MP camera + 12MP wide-angle and telephoto cameras
 ƒ/1.8 aperture
Wide-angle: ƒ/1.8 aperture
Telephoto: ƒ/2.8 aperture
Digital zoom up to 5x
Optical zoom at 2x; digital zoom up to 10x
Both models:
Optical image stabilization
Six‑element lens
Quad-LED True Tone flash
Panorama (up to 63 megapixels)
Sapphire crystal lens cover
Backside illumination sensor
Hybrid IR filter
Autofocus with Focus Pixels
Tap to focus with Focus Pixels
Live Photos with stabilization
Wide color capture for photos and Live Photos
Improved local tone mapping
Body and face detection
Exposure control
Noise reduction
Auto HDR for photos
Auto image stabilization
Burst mode
Timer mode
Photo geotagging
Video Recording
4K video recording at 30 fps
1080p HD video recording at 30 fps or 60 fps
720p HD video recording at 30 fps
Optical image stabilization for video
Optical zoom at 2x; 6x digital zoom (iPhone 7 Plus only)
Quad-LED True Tone flash
Slo‑mo video support for 1080p at 120 fps and 720p at 240 fps
Time‑lapse video with stabilization
Cinematic video stabilization (1080p and 720p)
Continuous autofocus video
Body and face detection
Noise reduction
Take 8-megapixel still photos while recording 4K video
Playback zoom
Video geotagging
As you can see the camera slow motion feature remains pegged at 120fps 1080p and 240fps 720p. What is really improved is that now you get two features that have nothing to do with the higher frame rates but improve them non the less.
#1 Image Stabilization:
The first one is the image stabilization at 1080p and 720p. This should translate well to stabilized slow motion shots which can show rolling shutter much more than regular speed.
Apple Event  Camera feature detailed at 1hr 02 minutes:
#2  IP67 Weather Sealing:
From Apple: "iPhone 7 and iPhone 7 Plus are splash, water, and dust resistant and were tested under controlled laboratory conditions with a rating of IP67 under IEC standard 60529. Splash, water, and dust resistance are not permanent conditions and resistance might decrease as a result of normal wear."
What this means is that slow motion, video and photos can now be safely shot in rain and dusty environments. What it probably won't allow is to use the phone underwater for any extended period or depth.   So don't throw that action camera away just yet, the iPhone 7 will not follow you into the ocean to scuba.
Pricing:
iPhone 7: Starting at $649
iPhone 7 Plus: Starting at $769
Same prices as the 6s when released, you get an improved phone for the same price, however if you own a 6s or other older iPhone, you just lost a lot of resale value.
 Introducing iPhone 7 by Apple Showing Camera Features:
Samples?
We will have slow motion samples from the iPhone 7 when they become available. As of now there are no official 120fps or 240fps footage samples available to share, there are a bunch of hoaxes on youtube but none are real demos.  That said we don't expect the iPhone 7 to be much better than the 6s in terms of slow motion besides noise control.  Thanks for reading- HSC! 
(Visited 37,919 times, 1 visits today)