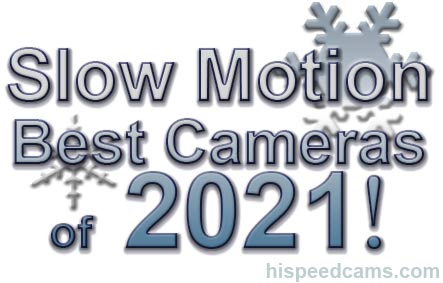 We have passed another year in slow motion land and while camera releases were more plenty than expected considering the chip shortage and teh COVID disruption, it's time to take a look back through the year's camera releases, and see which delivered on the price/performance scale when it comes to slow motion frame rates.  Phones are stagnationg while high end cameras are getting more frame rate options in higher resolution. Our Best Slow Motion Cameras Of 2021 have been selected and ordered by recommendation!
The continuation of 4k slow motion 120fps on many more cameras is encouraging and we should be able to see 240fps at UHD in 2022 as technology forces the hand of marketers to offer something more than the stangard lens, body and expected features. We are a bit surprised to see Apple and other phone manufacturers remaining still and focusing on refinement rather than pushing the envelope. It seems high frame rates for now continue to take a back seat in handset land. Keep on reading for our 2021 picks!
BEST SLOW MOTION CAMERAS of 2021:
Without further ado here are what we believe are the best value slow motion cameras in their respective categories for the year 2021:
Best Slow Motion Phone Category:
3rd Place) Sony Xperia 5 II:
 For the second year in a row the Sony Xperia 5 II is all about capturing the best video possible on a smartphone and in HDR. The kick here is that the phone is capable of 4k 120fps in full HDR which is pretty much class-leading.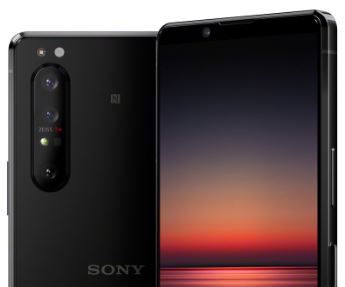 The footage below will give you a taste of what the phone can do. In good light, it will let you capture excellent quality 4k 120p footage with the possibility to grade as it records a gradable flat profile.  In low light, it will be a pretty unremarkable image with grain and artifacts as could be expected from the light requirements when shooting at high speed.
Sony Xperia 5 II: 4K 120fps video footage by CNET Highlights:
Sony Xperia 5 II Slow Motion Specs:
This is one of the first phones to offer 120fps in 4k which will probably become a standard spec in 2021 for flagships. However absent is the slow motion at 1080p which considering the 4k oomph, it should have been capable of 480fps at 1080p or similar. It is a shame that the spec was completely avoided considering HDR in 120fps 4k requires 240fps full pixel readout before merging.  In theory, 240fps non-HDR is possible on this phone but not available for unspecified reasons. Phones are becoming more powerful by the day and this is one that has our attention. The just under $1k price tag is not ideal but some of the best phones are going to cost you.
2nd Place) Samsung Galaxy S21 Series: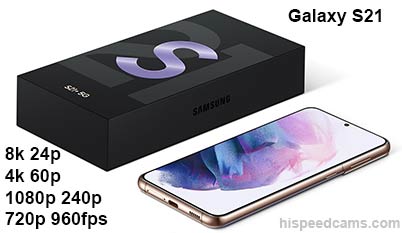 There is no question that the best all-around phone in the Android platform in 2021 has been the Samsung Galaxy S21 series. Excellent screen, performance, and assorted cameras make for a very impressive package considering the price. It is more affordable than many other options and offers very little compromise in return. The Galaxy S22 is nearly out and it will be interesting to see if it will be better in slow motion than the S21 which is good but could finally improve by offering the coveted 120fps 4k feature, and just maybe surprise us with better 1080p in 240p and maybe 480fps. 
Galaxy S21 Slow Motion Specs:
8k 24p
4k 60fps
1080p 240fps
720p at 960fps. 
The slow motion quality at 1080p is good not great and the same goes for the 720p 960fps mode which is a little soft and grainy with a touch of color loss in less than ideal lighting conditions. It will work to show you sport moves like your tennis wrist motion and or your golf swing but it will not really deliver the video quality to use as a serious lab or production tool.  Good to have but will not change your life. 
1st Place) Huawei  Mate 40 Pro & P40 Pro: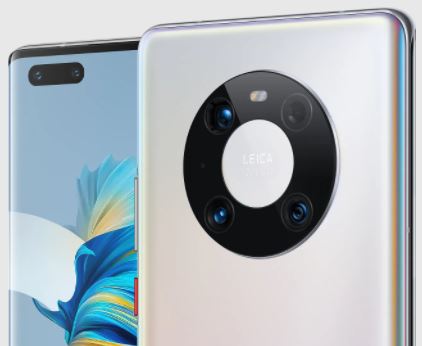 Huawei has kind of shifted in high frame rates oin 2021 to focus on better low light performance which means slow motion took a back seat. Therefore the Mate 40 series is still the one to get for slow motion modes as they can shoot real 1920fps at 720p and up to 480fps at 1080p.  Then they can interpolate up to a crazy slow 7680fps on the P40 Pro and 3840fps on the Mate 40 Pro. The interpolation is very good and built with machine learning algorithms that got updated half way in the year. It is still the best bet for hyper frame rates in smart phones today. 
Huawei Mate 40 Pro Super Slow Motion Video! by FoneTech:
https://www.youtube.com/watch?v=yY4fuaqXMgs
P40 Pro : [email protected]/60fps, [email protected]/60fps, [email protected], [email protected]
Mate 40 Pro: 4K@30/60fps, [email protected]/60/120/240/480fps, [email protected], [email protected]
Huawei P40 Pro Slow Motion – 7680 FPS Ultra Slow Motion by MKP Captain:
We have to point out that Huawei phones are restricted in the USA by not allowing carrier sales and or google apps and app store to be installed from the factory. Some hacks exist that allow you to make the phones work more normally but it is a step many people just don't want to mess with. It is clear Huawei is ahead of every other manufacturer including Samsung and Apple when it comes to camera hardware and features.  We may see some of this tech start to reach other brands as competition increases.
We hope other manufacturers get more serious in slow motion modes soon so we can have more compatition without restrictions. 


Note on iPhone 13: Apple's iPhone 13 Pro and 13 have the same 240fps 1080p maximum slow motion recording feature as the iPhone 12. It offers the same great quality with some improvements in dynamic range, color, and codec bit rate compared to the iPhone 12 variants.  These are great 120fps and 240fps phones but by not going higher in fps, we had to leave them out for this year again. Apple has clearly opted for bigger lenses and less capable sensors frame rate wise, and pushed for more cinematic imaging in 2021.

Mid Range Professional Cameras:
This year we have quite a few new cameras that have great quality slow motion we have chosen 3 finalists that really allow you to shoot quality production-ready high frame rate footage.
3rd Place: URSA Mini Pro 12k: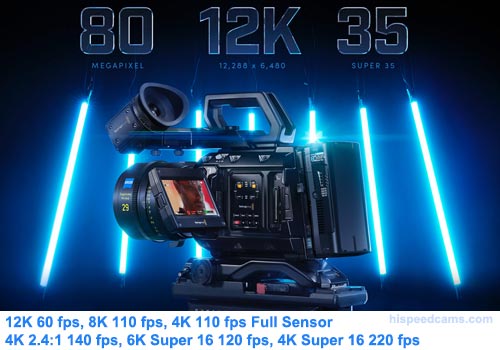 The URSA Mini Pro 12k builds on the pedigree of the URSA line of cameras to shoot an astounding 8k,12k image up to 120fps and a 4k image in Super 16 crop mode of up to 240fps. IN their BRAW with is their RAW like format with very little quality loss and minimum flexibility trade-offs with a  dramatically lower bit rate.
URSA Mini Pro 12k High Speed Frame Rates:
12K 17:9 full sensor up to 60 fps
12K 2.4:1 up to 75 fps
8K DCI full sensor up to 120 fps
4K DCI full sensor up to 120 fps
8K 2.4:1 and 4K 2.4:1 up to 160 fps
6K Super 16 up to 120 fps
4K Super 16 up to 240 fps
Ursa Mini Pro 12k Slow Motion by JSFILMZ:
As you can see from the footage above, 8k and 4k slow motion is crisp and impeccable even in 12:1 compression. It is really a production-ready format with fantastic dynamic range and reduced artifacting.
Pricing & Availability:
The URSA Mini Pro 12k is available at authorized resellers for $9,995 USD. It is not cheap but considering the amount of features and quality shown here, you really can't go wrong with this powerful and future-proof camera. Just make sure you factor in lenses and SSD storage in your budget.

2nd Place: Canon EOS C70 Cinema Camera
The Canon EOS C70 is a strange camera, it is a mirrorless do-it-all with a super 35mm sensor which is geared for film production and not for stills shooting.  The best part is, this camera shoots gorgeous 4k 120fps video and very good 180fps in 2k and 1080p which is in our view ahead of most Panasonic implementations. This makes the camera more than a simple cinema shooter and more of a serious motion capture tool for many situations.  
Canon C70 | 180fps Demo by Meridian Media:
As you can see, this strange camera was first shown in 2020 but shipping in 2021 in quantity is a really good performer even with its somewhat hard to swallow price. We wish it did even higher frame rates with the crop APS C sensor but Canon had to optimize for image quality first on the C70. Props to them for including 120fps 4k and 180p 2k which is more than what many others attempt. 
1st Place: Sony FX6 Full-Frame Cinema Camera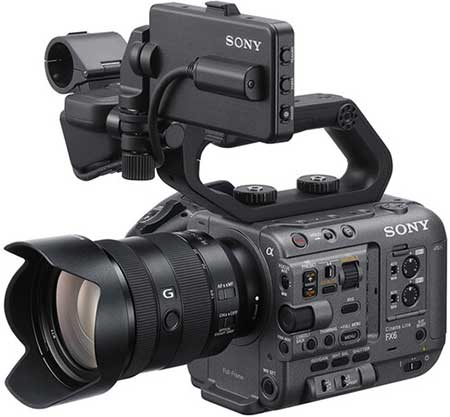 For the second year in a row as head of this category, the Sony FX6 Full-Frame Cinema Camera is taking the a7s III compact camera sensor and adding a professional body interface with ergonomics, grip, better cooling, a variable ND filter and a plethora of video capture options along with the industry-leading low light with a base ISO 800  & High sensitivity ISO 12,800 to Max ISO 409,600 which can literally see in the dark.
As far as high frame rates are concerned, the camera is no slouch as it can shoot 120fps UHD 4k and up to 240fps in 1080p.  All In XAVC Long GOP and XAVC-I All Intra 4:2:2 10-bit color.
Variable Frame Rates
DCI 4K: 1 to 60 fps
UHD: 1 Up to 120 fps
1080p: 1 Up to 240 fps
While the cameras on this category above can shoot higher resolution and frame rates, the low light performance this camera offers along with the much lower price tag at just $5,998 USD for the body.  It is a dependable camera that is production-ready and battle-tested by Sony to perform on most every lighting challenge.
240 fps on Waterloo Bridge – filmed with the Sony FX6 by Philip Bloom:
As you can see from the footage both 4k UHD at 120fps and 1080p at 240 fps is professional looking and very usable in production.
Full frame camera with 4:2:2 internal recording,  15 stops of dynamic range, unbeatable low light, and the ergonomic features that are class-leading makes the Sony FX6 our Midrange professional camera of 2020.
You really can't go wrong with this kit as it is compatible with a plethora of adapters and lenses. It also offers some of the best Autofocus around.
Test SONY FX6 120fps 4k UHD by Actionmovieitaly:
The Sony FX6 is available in two kits. The Body only for $5998 USD and a  Camera/Lens kit with a 24mm to 105mm Lens with full AF tracking capabilities for $7198 USD.

Action Camera:

GoPro Hero 10 Black!
GoPro has again released a camera that is evolutionary but extremely capable in the action cam world. With competition focusing on lower prices, GoPro has decided to stand firm in the $400+ price range with the Hero 10 Black to offer a quality product that produces compelling footage in most situations with even better stabilization thanks to the new GP2 chip which is much faster and more efficient than the GP1 which was now 3 years old.   The HyperSmooth 4.0 Image Stabilization feature is so good that many sports videographers have completely forgotten about gimbals. 
4k Frame rates: 120fps, 60fps
1080p Frame rates:
Linear Lens 240, 120, 60, 30, 24 fps
Linear + Horizon Leveling 240, 120, 60, 30, 24 fps
Narrow Lens 240, 120, 60, 30, 24 fps
2.7K Max Frame Rate:
240 fps Recorded at 2704 x 1520p
The camera now shoots in H.265/HEVC in most modes which is great for allowing better color depth and detail without sacrificing quality while reducing file size.
Hero10 Slow Motion/ SO Hott!!/2.7k 240fps! by Steve WB: 
​As you can see from the video above the 2.7k footage at 240fps is pretty remarkable for such a low-priced camera. Give it enough light and you really can create some top-notch content from this tiny camera. You will get some compression and color posterization compared to the 4k modes but it is still a big step forward to have now 240fps in a resolution such as 2.7k in an action camera. 
GoPro Hero 10 Black // 4K 120fps // Skydiving in epic Slow- Motion by Stefan Podlesak:
The 120fps 4k mode is even better than the 2.7k 240p in quality. It is not just usable but it has already been used in broadcast productions all over the globe. This is an excellent video mode for anyone looking for high resolution along with a 4x slow motion effect.  There is really nothing to worry about in this mode besides some compression artifacts here and there and some banding in gradients that should pose very little trouble in modern editor bays with the use of color and noise reduction filters that eliminate most macro blocking and some posterization.
Congratulations to GoPro on keeping the promise of better frame rates in their camera's once more. The only thing we would have loved to see is 480fps in 720p or 1080p, but for what they offer considering the price, you simply can't go wrong with the Hero 10 Black!


Professional but Affordable Slow Motion Cameras: 
3rd Place: edgertronic SC2X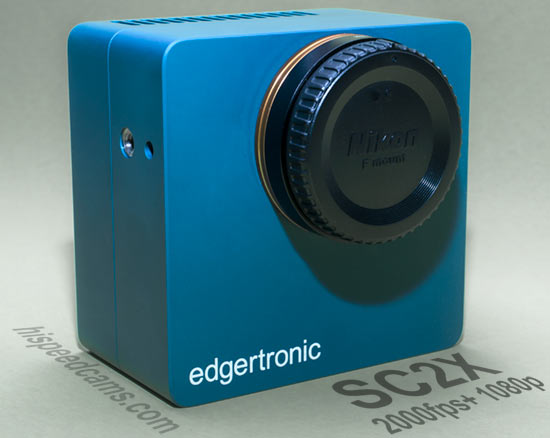 There are very few quality slow motion cameras you can actually afford. The edgertronic SC2X with over 2000fps full 1080p HD quality using an APS-C sized sensor is our pick for uncompromising broadcast-quality high-resolution slow motion capture.  See our full review of the SC2X here!
The camera launched with 1910fps 1080p as a top broadcast spec but an  Overclocking Software Update transforms the camera into a 2000fps, 2200fps and up full 1080p HD monster. As with all software updates on the edgertronic line, these are free of charge.
While the camera's price tag at $15,990 may put off some enthusiasts and small studio buyers, it is really a steal for this kind of quality. A camera that does full HD 1080p at over 2000fps is usually reserved to $50k USD kits without it being ready to shoot. Those other cameras require expensive memory modules, cabling, monitors and more just to start recording.   The edgertronic SC2X comes in a ready to shoot package which also includes a Nikon f1.8 50mm lens and all the cables you need to start shooting out of the box. It even includes an 8GB SD card which allows you to save about 40 clips in H.264 high-quality 1080p format and over 60 clips in lower quality compression which is still better than most.
In our full review, we took the camera through its paces and it impressed us with the ability to retain excellent detail across all of our adapted lenses with no hints of aliasing or moire that could ruin shots. This camera is ready for TV and Film production which is the primary market of the SC2X.   The camera also does 2,814 fps at 720p HD if you need more speed and if you add overclocking up to 3,642fps at that resolution. The camera tops out at over 24,000fps at the reduced resolution of 1920*96 pixels.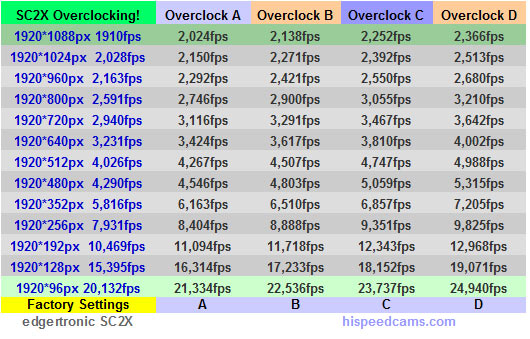 The edgertronic SC2X is the first affordable Full HD 1080p camera that you can really own, with ease of use to boot; this makes it our professional camera of the year and should be top on the list for any serious video producers that want that edge in super slow motion!

2nd Place: Chronos 2.1 HD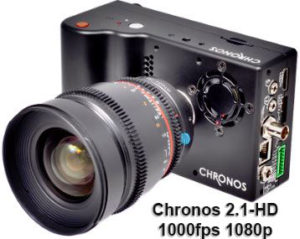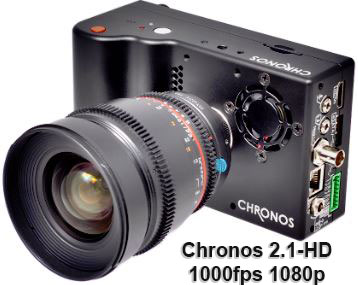 The Chronos 2.1 is the evolution camera that spawned from the excellent Chronos 1.4c Kickstarter camera project. While this camera launched in April 2019, it was just widely available in early 2020 and then it dried up again due to component shortages from Asia exacerbated by COVID 19. However the backlog of camera parts is mostly over and you can get a camera ordered and delivered in a few weeks. 
Chronos 2.1 HD Main Specs:
1080p, 4/3" format image sensor captures 2.1 gigapixels per second for 1004fps at full resolution, and up to 100 000fps
at lower resolutions.
8GB, 16GB and 32GB high-speed RAM buffer options for 2.5, 5.5 and 11 second record time respectively.
High sensitivity base ISO of 500 (Color) and 1000 (Monochrome) enables shooting with modest lighting.
Completely standalone, untethered operation.
Field-swappable internal battery EN-EL4a lasts for 1 hour of recording.
Runs indefinitely on AC adapter or external power source.
H.264 Recording In Camera & Uncompressed DNG RAW
Many lenses supported: Nikon F, Canon EF, Micro Four Thirds and C mounts available as field-swappable options.
Focus peaking highlights sharp edges for quick and perfect focus.
Zebra lines help you set correct exposure.
Pixel pitch 10um
Electronic global shutter, 1/fps to 10us (1/100 000 s)
Dynamic range 10.3 stops (62.4 dB) (preliminary)
Bit depth 12-bit
5″ 800×480 capacitive touchscreen, 1000 nit daylight visible
Cooling Active cooling, variable-speed fan
Dimensions 155mm x 96mm x 67.3mm (6.11″ x 3.78″ x 2.65″) without lens
IR Filter 650nm, user removable, 24 x 16 x 1.1mm
Cooling Active cooling, variable-speed fan
Network: Gigabit Ethernet
Trigger Two Trigger inputs/frame strobe outputs (BNC and Aux)
Audio* Microphone/Line input, headphone output
Video HDMI monitor output
USB USB type A (host) and micro B (device)
SATA eSATA 3Gbps

Krontech.ca has provided a special code for readers of HSC when purchasing their gear.  Use code: "HISPEEDCAMS5" for 5% discount at checkout on Chronos store, One use per new customer!
Chronos 2.1 HD Unboxing & Demo Shots! by HarrisonTheEditor
We have been impressed by the performance and quality of this camera since it launched and it still represents the best price / performance combination in the high speed video world.  A larger 4/3 " sensor delivers much better image quality than what the 2/3rds inch in the original Chronos 1.4c could deliver. 1000fps at 1080p RAW DNG for $5000 USD is unbeatable.
There have been reports of vertical and horizontal banding with this camera at lower light levels and at higher frame rates. As with any camera that shoots slow motion, the calibration in black is paramount, and in the case of the Chronos 1.4 and 2.1 cameras you need to let the gear warm-up to get the components to a hot enough temperature that the black calibration gets rid of most of the noise and banding.  We have ordered a Chronos 2.1 HD Camera and it should arrive early next year, then we will be able to test and offer our full review and tips. We expect to get clean images at proper calibration and be able to produce broadcast quality material without much trouble.
Update for 2022: The latest firmware version Chronos V0.7.0 Full Release is a wonderful update as it fixes a lot of the image quality issues and reduces banding in many situations to the point it is no longer a problem. If you get one of these cameras, be sure to install this update before using it as the footage produced will be  alot better quality than before. There are still color issues to deal with in future updates especially in RAW modes but in H.264 it is clearly a superior experience than any firmware before. They now also have a m4/3 mount adapter that lets you use a speedbooster with this camera and adapt many more lenses see here. 
We recommend the Chronos cameras for ease of use, affordability, and performance for anyone looking for serious slow motion gear that is truly affordable.
For more information about the Chronos 1.4c and 2.1 HD cameras plus ordering information please visit:  http://www.krontech.ca
Krontech.ca has provided a special code for readers of HSC when purchasing their gear.  Use code: "HISPEEDCAMS5" for 5% discount at checkout on Chronos store, One use per new customer!
1st Place: Freefly WAVE 4k Slow Motion Camera!
Out of the blue, the Freefly WAVE 4k slow motion camera launched in early October of this year. It is the first camera by the company that started the three-axis gimbal stabilizer craze with the MOVI earlier in the decade.  It is also the first slow motion camera that is widely available which uses a flash memory system to record multi-minute super slow motion at a variety of resolutions.
The recording is limited by your available internal SSD memory only and in theory, it could increase as fast SSD memory modules increase in density. This is the same kind of recording system first pioneered by the fps1000 camera line which sadly went out of business as development costs overwhelmed the project. While a few of those cameras shipped, it was never a widely available product.
Wave Camera 4k Slow Motion Specs:
Continuous Capture Time:
4096 x 2176, 422fps, 1TB 

19min

4096 x 2176, 422fps, 2TB 

39min

2048 x 1088, 1461fps, 1TB 

23min

2048 x 188, 1461fps, 2TB 

45min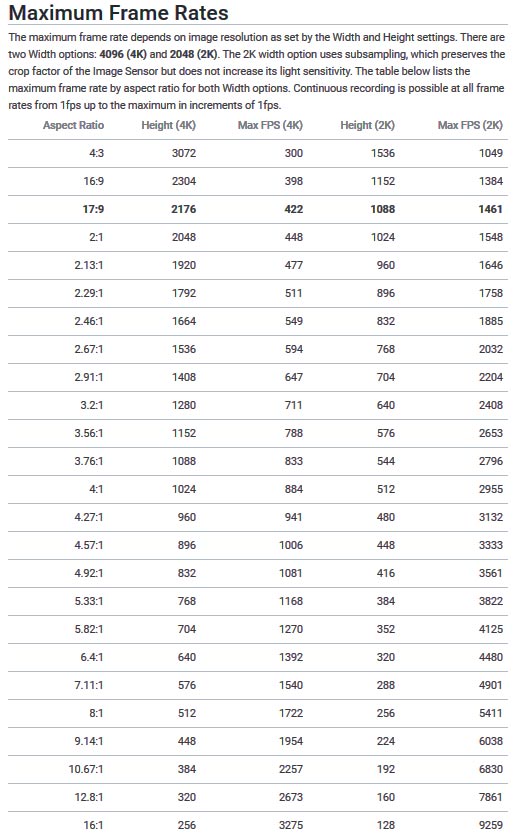 The camera uses a 4:3 aspect ratio from the sensor which is kind of odd but allows for a variety of frame sizes including anamorphic capture if stretch in post. This seems to be an ideal camera for Anamorphic slow motion.  Of note is that the Krontech Chronos 2.1 HD is also using a 4:3 sensor which in theory can be used with Anamorphic glass.
— Image Sensor —
Format – 

S35

Aspect Ratio 

4:3

Pixel Size 

5.5μm x 5.5μm

Native Resolution 

4096 x 3072

Active Area 

22.53mm x 16.90mm

Shutter Type 

Global Electronic

Native ISO 

250
— Lens Mount —
Standard Lens Mount – 

E-mount

Removable – 

Yes

Positive Locking – 

Yes

Electronic – 

No
— Recording —
Media

Internal SSD

Media Size – 

1TB or 2TB

Format –

Compressed Bayer RAW

Native Bit Depth –

10-bit

Compression Ratio

Typical – 

5:1 to 6:1
The Price of the WAVE starts at $9,995 for the 1TB Model
Wave with 1TB SDD – $9,995
Wave with 2TB SSD – $10,995
The image quality we have been able to see is very good and it should only improve from here as the imaging code matures. This is real 4k recording at 420fps which is really only reserved for cameras that cost orders of magnitude more like the Phantom Flex 4k. That camera can shoot 1000fps in 4k RAW but that will also push you back anywhere from 75k to 120k USD depending on the setup. The Freefly WAVE is as of now the most innovative camera we have seen this year and one that may finally usher a plethora of 4k slow motion cameras.
We believe this is the camera of the year at HSC even with the lack of a built-in screen which may put off some buyers. If this is their first camera, then a version 2 building on their first effort could really make Phantom Flex performance something attainable for the midrange professional.
For more information on the Freefly WAVE Please visit their official site here!

P&S  Prosumer Cameras:

 Sony RX100 VII & Sony RX100 VA!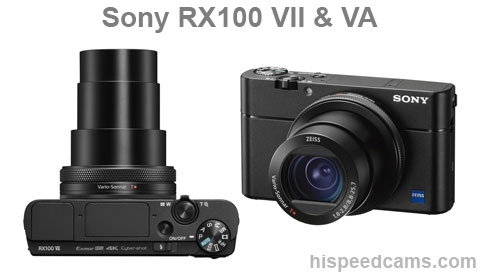 For the sixth year in a row, the RX series by Sony is featured in this category as there is no good comparable alternative. These cameras have up to 960fps in the US and 1000fps in Europe as specs and have up to 3.8 seconds recording in high-quality mode at higher frame rates.
The latest model RX100 VII brings all the technology of the RX100 VI with its super long compact zoom at 24-200mm F2.8-4.5 lens attached to this little camera plus the killer capability of shooting 20fps stills with no blackout with full subject tracking by using the Sony Pro Autofocus technology on their Alpha cameras reduced to a pocket P&S camera. It also adds S-Log3 and HLG gamma settings, 2.36m-dot OLED electronic viewfinder, 3.0″ 921.6k-dot LCD touchscreen with Bluetooth and Wi-Fi connectivity for sharing imagery to a linked mobile device
Sony RX100 VII | What a $1,199 Point and Shoot Gets You by Potato Jet:
The big selling point of the camera is the 315 AF Phase detect points with full eye-tracking which is probably the best in the business.  Still the lens is so long, meaning that low light shooting will be less forgiving than the RX100 VA of 2018 which we still recommend as a second option here in this category.
The RX100 VA has a f/1.8 to 2.8  8.8 to 25.7mm (35mm Equivalent Focal Length: 24 to 70mm)   2.9x optical zoom which is ideal for shooting slow motion sequences. The video quality on the slow-mo HFR mode is identical in the RX100 VII and the VA so it ends up being a choice about lens light-gathering power vs reach and the better AF module on the RX100 VII.  We still believe that if you only need the HFR version, then the RX100 VA is the clear option once again in this segment and deserves your attention as an all-around shooter for any situation.
RX100 VII & VA HFR Resolution Table:
1920×1080 (120p/100p/60p/60i/50p/50i/24p)
1824×1026 (250p/240p)
1824×616 (500p/480p/250p/240p)
1292×436 (500p/480p)
1244×420 (1000p/960p)
912×308 (1000p/960p)
The Sony RX cameras remain the best performing cameras in the prosumer space without interchangeable lenses, their 1″ sensor is very good in low light and the video quality in good light is nearly flawless.
Sony RX100 VII slow motion test – 960 fps by gadgets and tech:
Be aware that all the RX series only record near Full HD quality at up to 240fps, everything after that resolution the quality drops considerably and pixels are up-sampled to 1080p for the recording.  Resolution above 240fps is under 720p HD and at 1000fps its under NTSC VGA.
Sony RX100VA night video test, slow motion & color grading & cinematic video by International Departures:
The Sony RX Series continues to be the best slow-motion camera for value in the point & shoot prosumer market, no other brand comes close. Their CMOS Stacked Sensor technology with included memory and 1/32000 shutter speed allow for some amazing capabilities with a lower price tag.
The Sony RX100 VII for longer zoom, better Autofocus and RX100 VA for Pocketable all-rounder earn our HSC Top Pick for 2020 for this segment!

Mirrorless Cameras with High Frame Rates:
This category is all about robust features for stills and video in a mirrorless camera body from a major manufacturer. We have three choices that all offer higher frame rates. Sadly not a single of these options has it all so you have to decide and compromise on which one to choose regarding the maximum frame rates they offer and at what quality.
3rd Place: Nikon Z9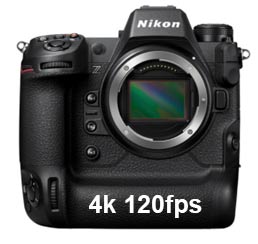 The Nikon Z9 is probably the all-around camera of the year for 2021 in many lists. It is a beast of a stills camera that can shoot 45MP images at 30fps in burst mode in JPG or 20 in RAW. That is some serious performance, the image quality is breathtaking and the noise control is next level. The weight is also down by ditching the SLR mirror housing and Nikon really is back in the professional high end with this camera. The video mode is no slouch for a full-frame camera with Stills as its main focus. The 4k 120fps mode is visually stunning and since it shoots in 10 Bit mode internal, it is also broadcast quality.
The Nikon Z9 camera also does 8k video at 30p but slow motion is capped at 1080p at 120fps also which is not really a happy feature.  In any case, we had to include this camera as it is really a tool for professionals that can create stunning footage We only wish it was also a frame rate beast when it came to video mode, a 240fps 4k mode would have put in in a class of its own. Well done Nikon!
Video Recording Modes
H.265 4:2:2 10-Bit
UHD 8K (7680 x 4320) at 23.976p/25p/29.97p
UHD 4K (3840 x 2160) at 23.976p/25p/29.97p/50p/59.94p/100p/119.88p
ProRes 422 HQ 4:2:2 10-Bit
UHD 4K (3840 x 2160) at 23.976p/25p/29.97p
H.265 4:2:0 8-Bit
UHD 4K (3840 x 2160) at 23.976p/25p/29.97p
H.264 4:2:0 8-Bit
UHD 4K (3840 x 2160) at 23.976p/25p/29.97p
Full HD (1920 x 1080) at 23.976p/25p/29.97p/50p/59.94p/100p/119.88p
Nikon Z 9: 4K 120p Video by Nikon USA:
The Nikon Z9 is not a cheap camera but it is competitively priced in this segment. for $5,496.95 you could just buy a Chronos 2.1 HD for dedicated slow motion but if you just need the best stills camera hybrid ever made, you just can't go wrong with the Z9, which should begin to ship in early 2022. 
2nd Place: Canon EOS R5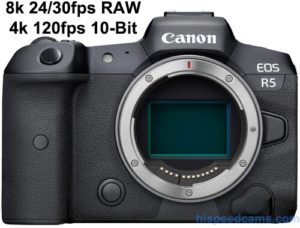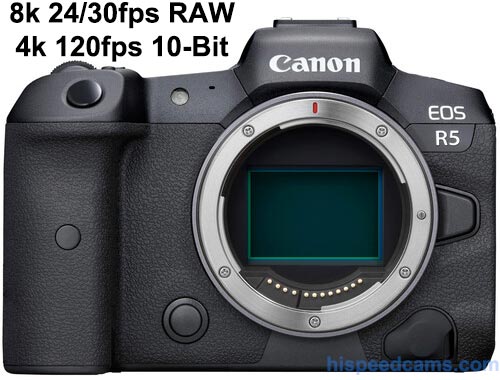 Canon has now completely transitioned to a mirrorless future for its midrange cameras. SLRs sales have been drying up and that trend seems to continue indefinitely. The benefits of mirrorless like low light viewfinders, hybrid AF, faster operation, and smaller body sizes make it the clear choice for the engineering focus going forward. The Canon EOS R5 is the clear successor for the Canon EOS 5D SLR line as it builds on the true and tested body style and creates a camera that is not only class-leading but industry-changing.
Canon EOS R5 Recording times:
8k RAW 30p/24p – 20 Minutes rec time
8k NON-RAW 30p/24p – 20 Minutes rec time
4k 120fps – 15 Minutes rec time
4k 60p – 35Min Rec Time No Crop
4k 60p – Crop Mode 5.1k Oversampling – 25 Min Rec Time
4k High-Quality 30p- 8.2k Oversampling- 30 Min Rec Time
4k 30p – No Overheating Limit
This is now an 8k capable camera with 24p, 25p, and 30p recording in the new resolution albeit for a limited time before overheating. There is also a very good 120fps 4k recording option that allows up to 15 minutes of continuous recording in this mode.  We are now seeing several cameras that are able to record at 4k UHD at 120fps and we expect 2021 to have many more cameras able to do this as standard.
Canon EOS R5 – 120fps 4K Real World Test Film – Tea by the Lake by James M. Williams:
As you can see the video quality at 120fps 4k is quite good and will be able to shine in your production. It is of note that no other high frame rates above 60p are available at lower resolutions. Could be a limitation of the sensor and not a deliberate oversight. We however feel that this camera should have been able to shoot at least 240fps 1080p with little trouble and maybe reach 480fps Full HD with some engineering behind it.
This is a camera that is great for stills and outstanding for video if you can live with the overheating.  Excellent autofocus in video and stills, portable and dependable. The EOS R5 is the camera that Canon was able to bring to the market as a first real try at professional mirrorless EVF cameras.   Now imagine if they push this technology further? They can literally regain all the market share they have lost to Sony and Panasonic due to them resting on their laurels when it comes to improved footage features.
The camera is widely available at $3,799 body only or $5, 425 for the Canon EOS R5+ RF 24-105mm F4 L IS USM Lens kit!
1st Place: Sony a7s Mark III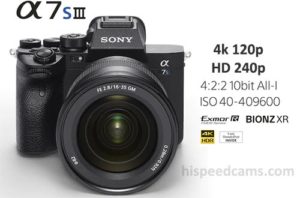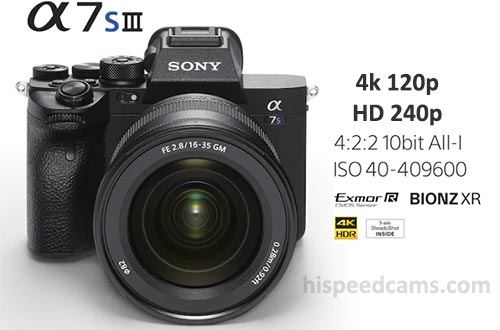 Sony sure took its sweet time to release the successor to the a7s Mark II. The new a7s Mark III is an evolution of the previous model with a lot of improvements in speed, battery life, and powerful features. It even has better noise handling at high ISOs which are the strength of this camera line.  Now we have 1080p 240fps and 4k UHD at 120fps.  The 4k is excellent quality while the 1080p is really  1408 x 804 pixels at 240 or 200 fps.  This makes the feature good to have but not production quality.  By having this feature added it becomes a better slow motion camera than the Canon R5 but we would have loved to see a flawless quality 240p at 1080p on the a7s Mark III.
Sony a7s III Main Video Specs:
Video Recording Modes
H.265/XAVC HS 4:2:2 10-Bit
UHD 4K (3840 x 2160) at 23.976p/25p/29.97p/50p/59.94p/100p/119.88p [50 to 280 Mb/s]
H.265/XAVC HS 4:2:0 10-Bit
UHD 4K (3840 x 2160) at 23.976p/25p/29.97p/50p/59.94p/100p/119.88p [30 to 200 Mb/s]
H.264/XAVC S-I 4:2:2 10-Bit
UHD 4K (3840 x 2160) at 23.976p/25p/29.97p/50p/59.94p [240 to 600 Mb/s]
Full HD (1920 x 1080) at 23.976p/25p/29.97p/50p/59.94p [89 to 222 Mb/s]
H.264/XAVC S 4:2:2 10-Bit
UHD 4K (3840 x 2160) at 23.976p/25p/29.97p/50p/59.94p/100p/119.88p [100 to 280 Mb/s]
Full HD (1920 x 1080) at 23.976p/25p/29.97p/50p/59.94p/100p/119.88p [50 Mb/s]
H.264/XAVC S 4:2:0 8-Bit
UHD 4K (3840 x 2160) at 23.976p/25p/29.97p/50p/59.94p/100p/119.88p [60 to 200 Mb/s]
Full HD (1920 x 1080) at 23.976p/25p/29.97p/50p/59.94p/1

00p/119.88p [16 to 100 Mb/s]
SLOW & QUICK MOTION (SHOOTING FRAME RATE) :
NTSC mode: 1 fps, 2 fps, 4 fps, 8 fps, 15 fps, 30 fps, 60 fps, 120 fps, 240 fps
PAL mode: 1 fps, 2 fps, 3 fps, 6 fps, 12 fps, 25 fps, 50 fps, 100 fps, 200 fps
By being an excellent low light camera ISO up to 409,6003 and 15+stop dynamic range, the a7s Mark III is ideal for higher frame rates as it allows to shot the 4k 120fps mode in very low light conditions with excellent results as you can see in the video above. We recommend it as a 4k 120fps camera with no reservations other than it has a 1.1x crop in this mode which is not a deal-breaker. It is however a camera that can fully track any subject even at 120fps 4k with its class-leading Autofocus.
The Sony a7s Mark III is available for $3,498 body only and in a variety of lens kits.  This is probably the best mirrorless video camera ever released which makes it an easy decision to acquire.


End of 2021 Message to Our Readers:
2021 the second year of the COVID 19 Pandemic,  has been a very difficult year for many folks, some more than others and it has also been a year of heroes in the frontline of this crisis, these include our first responders, doctors, nurses, hospital employees, grocery delivery personnel, and many more that risk their lives every day for others.
Inflation has been a constant lingering problem for a variety of products and cameras have not been immune. Many older cameras have increased in price and newer cameras have alos upped the sticker price far and above what it used to be just a couple of years back.  Expect prices to continue to climb so if you want to buy a camera, do not wait long as prices will again climb due to supply chain issues and sticky price inflation. 
Thank you for visiting our site and contributing with tips, comments or just your frequent visits. Our site will remain open as long as you are interested in the information we present to you.
We strive here at HSC to catalog and weed through the camera market to find the hidden gems that are able to produce high frame rates on a budget. By using our links to products and clicking our banners you help us continue to exist.  Even if you do not buy a product directly from a link, any product that you buy through our links helps us continue our mission.   So the next time you visit and need to buy something, please click a product link first and then continue shopping at no extra cost to you.
We thank you all and we hope you have a great and healthy 2022!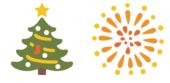 Shoot Great Slow Motion Stuff! -HSC
Check out: Best Slow Motion Cameras of 2021!
Check out: Best Slow Motion Cameras of 2020!
Check out: Best Slow Motion Cameras of 2019!
Check out: Best Slow Motion Cameras of 2018!
Check out: Best Slow Motion Cameras of 2017!
Check out: Best Slow Motion Cameras of 2016!
Check out: Five Best Slow Motion Cameras of 2015!
(Visited 3,323 times, 1 visits today)