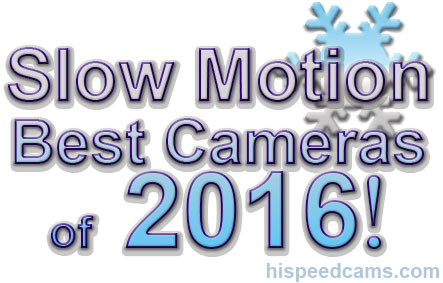 The end of 2016 is upon us and now it is time to look back across the year and see what delivered in affordable slow motion gear.  While many cameras had higher frame rates, only a few really shined and delivered on the promise of offering HD quality and higher than normal frames per second "fps" at an attractive price point.
Many promised lots of performance and didn't deliver and some have yet to ship which means they will not be counted in the running. Only cameras that are shipping and fully available are being considered for this list. However we will mention upcoming promised cameras as a side note for future consideration.
BEST SLOW MOTION CAMERAS of 2016:
Without further ado here are what may be the best value slow motion cameras that are leading their respective categories for the year 2016:
Best Slow Motion Phones:

iPhone 7, 7 Plus & Google Pixel, Pixel XL!
The best slow motion phones of 2016 are the iPhone 7, 7 Plus and the Google Pixel and or Pixel XL  which offer 120fps at 1080p and 240fps at 720p with pretty great quality considering they are portable handsets.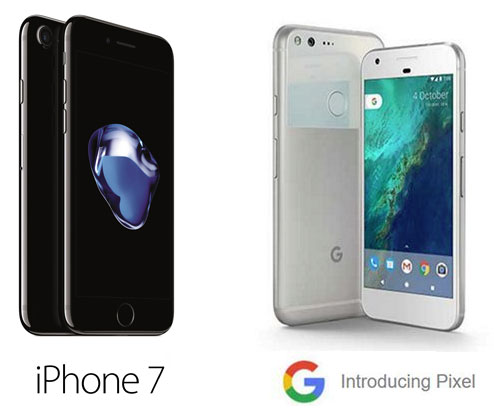 Congratulations to Google venturing into their own branded hardware this year without attaching a  3rd party manufacturer brand name in the case and to keep including higher frame rates at quality bit rates on their phones. The Apple iPhone continues to be the benchmark for slow motion quality recording on smartphones but with no real change or innovation in over 2 years.
The Google Pixel has some problems when it comes to waterproofing and full weather-sealing that the iPhone 7 does not suffer from.  So if you want the best waterproof experience the Apple is the way to go. If you plan however to keep your phone dry then the Pixel and or Pixel XL are on par as slow motion phones.


Mid Range Professional:

Panasonic HC-X1!
The Panasonic HC-X1 $3,199.00 is kind of an odd product in the fact that the Panasonic DVX200 $3,849.00 it's slightly higher quality in the spec department but identical when it comes to the Slow Motion quality.  For $600 less you get most of the DVX200 features but will have to do with a smaller 1″ sensor instead of the 4/3rds on the DVX200.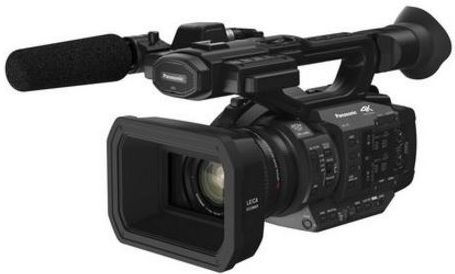 The Slow Mo Specs of 60fps at full 4k UHD and 120/100fps at 1080p full HD are in line with what we expect from a professional 4k camera today.   However the Panasonic HC-X1 is using a very good low light sensor and the smaller footprint let it be more stealthy than the larger cameras.   If you need an event camcorder with higher frame rates this year the HC-X1 and or the DVX200 should be at the top of your list.


Action Cameras: Sony FDR-X3000 & GoPro Hero 5 Black!
The action cameras that shined this year are plenty but there are no better two examples than the Sony FDR-X3000 and the GoPro Hero 5 Black when it comes to the best higher frame rate capable action cams that also do 4k 30fps. Both do 240fps at 720p and 120fps at full HD 1080p.
We are partial to the Sony FDR-X3000 due to the slightly less wide angle distortion, true SteadyShot™ in lens stabilization and what may be the best quality video per picel on action cameras. However the GoPro Hero 5 Black is no slouch with better looking 240fps 720p slow motion by a smidge and the compatibility with many Drones and Handheld Gimbal stabilizers that the Sony's shape is simply not optimized for.  The Video quality is very close between the two and you really cannot go wrong with any of them.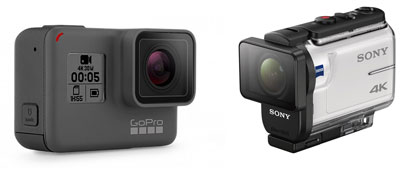 If you have been in the GoPro ecosystem for a while the Hero 5 Black is the way to go if you want to replace a Hero 3+ or older camera but not a Hero 4 Black which is very comparable in features and quality.  If you are buying your first action camera the Sony FDR-X3000 deserves your full attention.


Professional but Affordable Slow Motion: edgertronic SC2 and SC2+!
For really serious slow motion needs with interchangeable lens support there was no higher spec camera that is really affordable; than the edgertronic SC2 and SC2+. With a top speed at HD 720p of 4,456fps it is a real monster when it comes to performance and image quality. For scientists, industrial uses and some high end visual FX houses needing some ultra slow motion power the edgertronic SC2 and SC2+ deserve your full attention before looking for other options.
With a price range of $9,990 USD 3,350fps 720p for the edgertronic SC2 to $12,990 USD  4,456fps 720p for the SC2+ or fastest model in the series in either color or monochrome; it may not seem cheap at first glance but these cameras are 1/5th to 1/10th the price of comparable options with very similar performance and dependability.  A rental for such a camera would cost you a quarter of the price of the camera every week or two so owning your own makes it sound financially.
The small footprint and easy portability in the field with wireless capability using an external micro router and the addition of an Apple or Android Tablet make it a breeze to use with live view.  See here for our full review of the edgertronic SC2+ to see what it's capable of.
For More Information and ordering visit https://edgertronic.com/
P&S / Prosumer Cameras:

Sony RX10 III  & Sony RX100 V!
Sony has been very involved in advancing super slow motion on their cameras since the advent of the Sony FS700 a few years back. Last year Sony surprised us with the development of a 1″ sensor package with super fast memory cache that was able to achieve 1,000fps in reduced resolution and 240fps at near full HD 1080p with great quality for a point and shoot camera.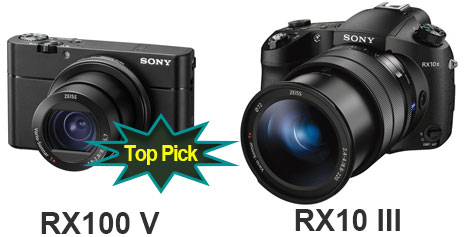 The problem last year was that the recording time in quality priority mode in the high speed mode was limited to 2 seconds which is not ideal. However this year the Sony RX100 V doubled the camera spec to 4 seconds in quality mode and nearly 7 seconds in time priority mode.  The cameras are nearly identical in looks but offer very different performance metrics.  Another cool feature is the ability for the RX100 V to shoot up to 24fps at full 20 megapixels in RAW for 150 shots or 6.24 seconds.  Essentially offering a 6k RAW image at 24p in the palm of your hand.  No audio will be recorded but for small vignette shots it is quite remarkable.
The Sony RX10 III is a better version of last year's RX10 II offering a better lens with larger glass elements and a zoom equivalent of 25x vs 10x on the last model.  Other than that the camera is nearly identical in function.  The RX10 IV is expected to be launched next year to have the same spec with the extra slow motion recording time of the RX100 V. However the RX10 III is no slouch and if you can live with 2 seconds  recording in super slow motion quality priority it should be in your short list.
If we had our pick for the best bang for your buck in 2016 for a slow motion camera it has to be the Sony RX100 V with its great quality and affordable price under $960 USD. It earns our HSC Top Pick for 2016!
Limited Availability Cameras and or Shipping Next Year: The fps1000HD and Chronos 1.4!
2016 was also a year of crowdfunded cameras in the high speed sector taking shape. We cannot count these cameras in our top list due to limited availability or not shipping this year status but that may change next year.
On the one hand we have the second fps1000 iteration Kickstarter campaign with the fps1000HD capable of 1000fps at 720p HD resolution in RAW DNG Format with a 5″ touch screen, C Mount and many professional features for under $2500 USD and a 2 full minute recording time at 720p with 256GB of flash memory.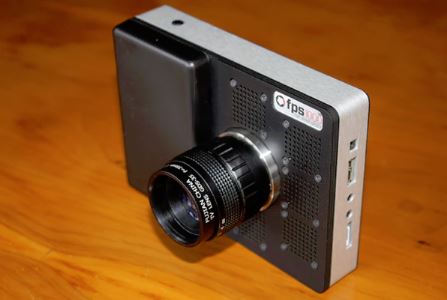 More Info and Ordering for the fps1000 Here:  http://theslowmotioncameracompany.com/
On the other we have the brain child of David Kronstein a Canadian electronics engineer the Chronos 1.4 which has surpassed all expectations with a Kickstarter campaign closing in $400k USD in funding.  The camera capable of 1500fps at HD 720p with a C Mount and 5″ touchscreen as well.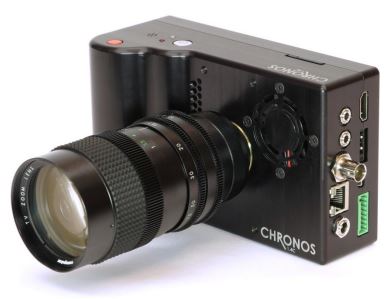 To visit and gather more information and possibly ordering a Chronos 1.4 Camera visit the Kickstarter Page: https://www.kickstarter.com/projects/1714585446/chronos-14-high-speed-camera/
Both of these cameras are engineered to be truly portable but are still not shipping in quantity or at all. Early next year these cameras are expected to be available to the mass public in their respective web stores.
In the mean time we encourage you to check their respective websites and do your research so you have an idea of their capabilities.  Until they are shipping in quantity we cannot fully recommend any of these options unless you are inclined to wait a few months for delivery and maybe more.  Still these cameras are fully developed hardware wise and should be pretty sure bets as long as you know the risks of investing in camera startup products.
End of Year Message:
When HSC started in early 2014 it was meant to fill a void in the camera news world when it came to slow motion cameras. Nearly 3 years in and approaching on 3.5 million visitors we are very excited about the future of the website.
We thank all of our readers and those who have supported us in one way or another with comments, information and by purchasing our recommended products to make it able to host and maintain this site. Our mission is strongly renewed to bring you coverage of the affordable high speed market in 2017.
We are humbled by your continued interest and it gives us encouragement to continue strongly with this blog next year.  
Happy Holidays and Happy New Year! -HSC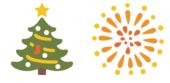 Check out: Best Slow Motion Cameras of 2020!
Check out: Best Slow Motion Cameras of 2019!
Check out: Best Slow Motion Cameras of 2018!
Check out: Best Slow Motion Cameras of 2017!
Check out: Five Best Slow Motion Cameras of 2015!
(Visited 96,600 times, 1 visits today)