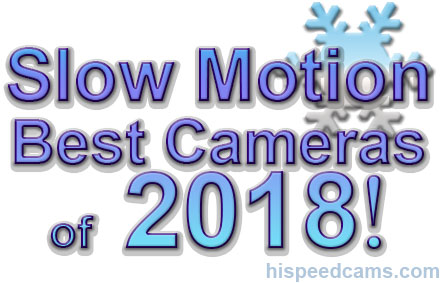 As 2018 comes to a close it is time to look back through the year's camera releases and see which delivered quality at an affordable price in slow motion.  Phone slow motion options above 480fps were a big surprise this year and the frame rate quality improved in other cameras up to 240fps.
There has been a stagnation in the mid to professional camera range at the 240fps with no big improvements afterward. The best quality and value once again came from the Chronos 1.4c from Krontech and the edgertronic cameras which offer professional quality results at a very reasonable price. Read on for our best of 2018 results!
BEST SLOW MOTION CAMERAS of 2018:
Without further ado here are what we believe are the best value slow motion cameras in their respective categories for the year 2018:
Best Slow Motion Phones:

OnePlus 6, 6T, Samsung Galaxy S9 and Note 9, Sony Xperia XZ2 and XZ3 series!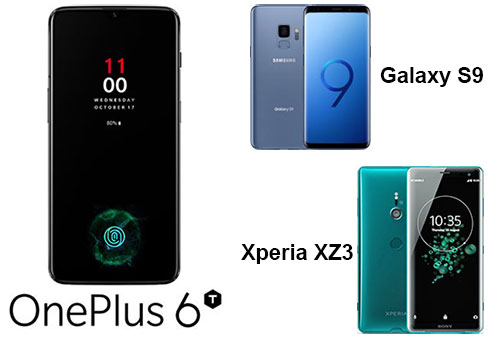 The best slow motion phones of 2018 are in our view the OnePlus 6 & OnePlus 6T which offer the same Slow Motion quality and features at 480fps 720p with a recording time of 3.75 seconds which translate to a full minute of playback at a 30p frame rate timeline. This is unmatched by any phone and while the quality is still not ideal, it is, however, the undisputed king of usable slow motion.
Other phones in the running like the Galaxy S9 and Note 9 offer 960fps recording for up to 0.2 and  0.4 seconds which is a very short time frame to catch the action. Sure they offer twice the frame rate as the OnePlus 6 at 720p HD as well but the time restriction just gets it to second place. The Samsung phones do have better 240fps continuous recording which is something to take into consideration.
The Xperia Sony Phones XZ2 and XZ3 are 960fps phones that record at 1080p resolution which is a first for any phone. Problem is they record at just a very tiny sliver of time. The 0.1-second recording is so small a window that the phones are just next to useless for serious slow motion use.  Furthermore,  the phones at 720p only double that time recording to 0.2 seconds which is 6.4 seconds of slow motion at 30p playback.
OnePlus 6 vs Samsung Galaxy S9+ super slow-mo by Fun4sure:
The big surprise in the phone space was the iPhone is no longer a class-leading slow motion phone, same goes for the Google pixel which capped performance at up to 240fps only.  Both of the big tech companies nearly forgot about slow motion this year while our phone leaders OnePlus, Sony and Samsung used it as one of the top features to tout the feature set.
As a Side Note, OnePlus just released a new variant of the OnePlus 6T called the 6T McLaren Edition which also offers the exact same camera performance in the regular 6 and 6T. The big change comes in faster charging and a 10GB RAM memory configuration which will probably be unnoticeable compared to an 8GB 6T in real use. The extra price tag is mostly for the look and feel so we recommend the 6T and regular 6 OnePlus variants as better options for value. All of these phones have the exact same slow motion specs.
Winner: OnePlus 6T and OnePlus 6!
Mid Range Professional Cameras:

 Panasonic GH5s, Sony a7 III, and Sony PXW-Z90V!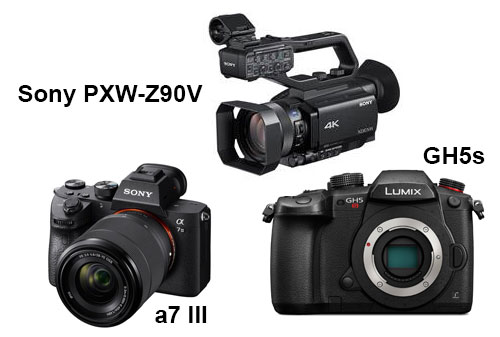 3rd Place: We were excited by the announcement of the Panasonic GH5s earlier in the year as the rumors showed 240fps 1080p continuous recording.  Sure the spec was included in the camera but the results were an aliased and moire prone image that made it unusable for professional use at 240fps. The camera does offer excellent 1080p at 120fps and slightly reduced resolution at up to 190fps.  The 240fps mode is usable but you will not want to shoot anything for a client with it as the quality drop is severe.  The Panasonic GH5 of 2017 is actually a higher quality 180fps image than the GH5s which seems to be based on the sensor itself being able to out resolve and scale the image down with more detail retention. We still think that unless low light is your prime focus, the Panasonic GH5 is still the better choice for frame rates in the Panasonic portable Mid-Range Professional cameras.
Panasonic Lumix GH5S + DJI Ronin-S | 240fps Slow-Motion Footage by Tom's Tech Time:

2nd Place: Next up the release of Sony's a7 Mark III is the democratization of full frame cameras for the masses at a 2k and lower price tag for the body only. A Full-frame capable camera that shoots excellent quality 120fps video at 1080p with full motion tracking which the Panasonic cameras lack in slow motion mode.  The a7 III is a beautiful mixture of refinement with a video mode that offers very few compromises. If you need 120fps 1080p and want dual pixel full AF tracking in this mode, this camera is our pick for 2018 as the epitome of affordability vs quality image in the 1080p 120fps segment!
The Sony a7 III with better low light and perfect 120p quality is a better overall option than the GH5s aliased image even when it offers no 240fps mode.
Sony A7III Low Light Test | 120p Slow Motion Mac Olink:
1st Place: The Sony PXW-Z90V is a fixed lens video oriented camera which may not fit your idea of flexibility but we were impressed with it offering the following slow motion frame rates attached to a real professional tool.
Quality Priority 4 Seconds:
240fps/250fps (1824×1026)
480fps/500fps (1824×616)
960fps/1000fps (1244×420)
Shoot Time Priority 7 Seconds:
240fps/250fps (1824×616)
480fps/500fps (1292×436)
960fps/1000fps (912×308)
You will note that the Z90V is essentially the same camera as Sony's RX series cameras of this year with a better lens and video professionally oriented design with audio inputs.  You are getting up to 1000fps at near 720p resolution for 4 seconds in quality priority mode which may be good enough for some extreme slow motion shoots that are not focused on absolute image quality.  The 480fps/500fps quality is above 720p as well for 4 seconds which is also much better than previous professional Sony offerings.
Honorable mentions are the Panasonic EVA1 and ZCam E2 which both offer 240fps capability but their package requires a much larger investment for not a lot of gain.  The ZCam E2 does offer 4k 120fps which is of note but this is a camera that really needs a full monitoring and SSD setup to work. In that case we rather use that money for a more slow motion oriented camera.
SONY PXW-Z90 Slow Motion TEST by Mathieu Clavel:
Winner: The Sony PXW-Z90V is our Professional Midrange camera of the year for offering excellent optics and frame rates far above other offerings, creating a very compelling package for a low price MSRP of $2,799.99 which is a very good value considering the capabilities.  It would be great to have an improved version of this camera next year with interchangeable lens capability!
Action Cameras: 

GoPro Hero 6 Black & Sony RX0!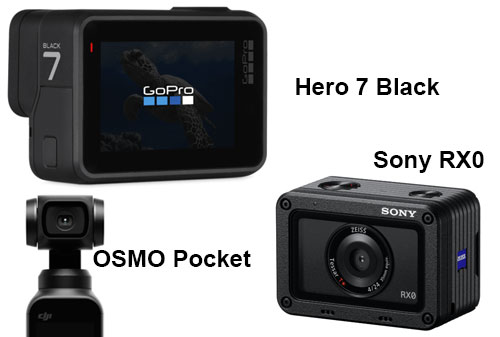 The Action camera market keeps evolving every year with more competition and lower number sales. There is an over-saturation in the segment and there is a sense of stagnation that is hard to shake off.
2nd Place: The Sony RX0 of 2017 is still in the running as a great option because it is using the sony Stacked sensor Motion Eye technology in the RX and Xperia products to good use in this camera.  It offers frame rates that other cameras in the action market lack but it remains an expensive camera with a tiny market. We feel it could be greatly improved with a new release with better resolution in all video modes including internal 4k which it lacks.
Sony RX0 Frame rate options:
Quality Priority 2 Seconds Record Time:
240fps/250fps(1,676×942)
480fps/500fps(1,676×566)
960fps/1000fps(1,136×384)
Shoot Time Priority 4 seconds record Time:
240fps/250fps(1,676×566)
480fps/500fps(1,136×384)
960fps/1000fps(800×270)
1st Place: The Hero 7 Black is our action camera of the year by offering the same slow motion performance as the Hero 6 Black of 2017 but now with improved stabilization:
4k Recording:
Wide FOV: 60,30,24 with HyperSmooth!
Super View: 30, 24fps
4:3 4k  30,24
2.7k Recording:
Wide FOV: 120, 60, 30, 24 fps
SuperView FOV: 60, 30, 24 fps
Linear FOV: 60, 30, 24 fps
1440p Recording:
Wide FOV: 120, 60, 30, 24 fps
Linear FOV: 60, 30, 24 fps
1080p Recording:
Wide FOV: 240, 120, 60, 30, 24 fps
SuperView FOV: 120, 60, 30, 24 fps
Linear FOV: 120, 60, 30, 24 fps
960p Recording:
720p Recording:
As you can see the GoPro Hero 7 is a very flexible camera when it comes to frame rates.  We think it is the best value for money in this space for 2018 by doing good image quality in all modes with now 60fps 4k with stabilized Hyper Smooth.
Honorable Mention: DJI OSMO pocket!
The DJI OSMO Pocket was a late announcement in the year and its 120fps mode was almost scrapped as the release neared.  It however survived but the quality is not ideal with heavy compression and aliasing that does make the image a tad unusable for professional use in the slow motion mode. The 4k, however, is crisp and does a very good job for this inexpensive little camera with real gimbal stabilization which is the big feature this new segment has for it.
DJI Osmo Pocket Slow Motion footage by Newsshooter:
What the OSMO pocket does do is open the future for small cameras that offer a real gimbal stabilizer and with cinematic motion capture higher frame rates. We can't wait to see a pro version of this little camera from DJI or a competitor that offers 480fps or above which will be an ideal setup on the move.  The OSMO Pocket is a milestone product by creating a new category of portable action cameras that deliver more than its weight can muster.
Professional but Affordable Slow Motion: 

 

edgertronic SC2X & Chronos 1.4!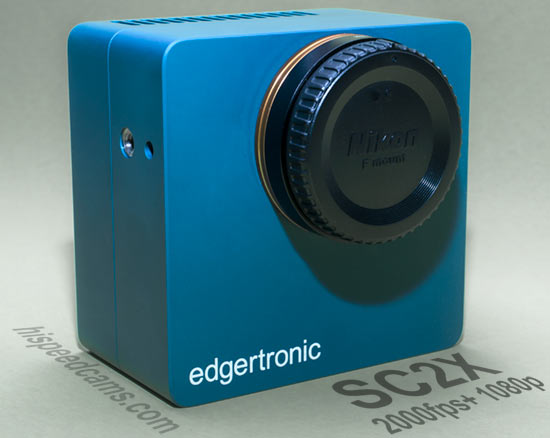 In 2018 again there is no contest when it comes to excellent quality slow motion cameras you can afford. The edgertronic SC2X with over 2000fps full 1080p HD quality using an APS-C sized sensor is our pick for uncompromising broadcast quality high-resolution slow motion gear.  See our full review of the SC2X here!
The camera launched with 1910fps 1080p as a top broadcast spec but an  Overclocking Software Update transforms the camera into a 2000fps, 2200fps and up full 1080p HD monster. As with all software updates on the edgertronic line, these are free of charge.
While the camera's price tag at $15,990 may put off enthusiasts and small studio buyers, it is really a steal for this kind of quality. A camera that does full HD 1080p at over 2000fps is usually reserved to $50k USD kits without it being ready to shoot. Those other cameras require expensive memory modules, cabling, monitors and more just to start recording.   The edgertronic SC2X comes in a ready to shoot package which also includes a Nikon f1.8 50mm lens and all the cables you need to start shooting out of the box. It even includes an 8GB SD card which allows you to save about 40 clips in H.264 high-quality 1080p format and over 60 clips in lower quality compression which is still better than most.
In our full review, we took the camera through its paces and it impressed us with the ability to retain excellent detail across all of our adapted lenses with no hints of aliasing or moire that could ruin shots. This camera is ready for TV and Film production which is the primary market of the SC2X.   The camera also does 2,814 fps at 720p HD if you need more speed and if you add overclocking up to 3,642fps at that resolution. The camera tops out at over 24,000fps at the  reduced resolution of 1920*96 pixels.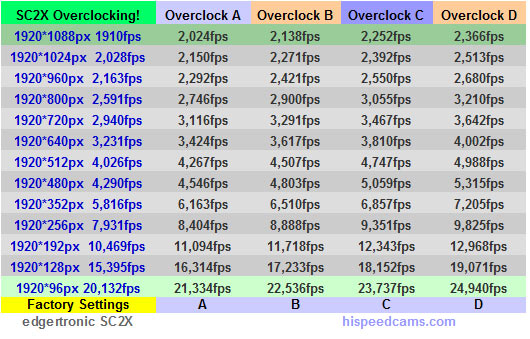 The edgertronic SC2X is the first affordable Full HD 1080p camera that you can really own, with ease of use to boot; this makes it our professional camera of the year and should be top on the list for any serious video producers that want that edge in super slow motion!

Option #2: Chronos 1.4c
The Chronos 1.4c was a camera that got its Kickstarter Campaign late 2016 and was featured in our camera list for 2017.  The big improvement for this year is RAW DNG recording in camera and the ability to output HDMI to a monitor which makes it a real professional tool for very little money when you give it ample amounts of light.
The camera is a self-contained ready to shoot block with included 5″ touch screen and it is very easy to use once you get the hang of it.
1280×1024 1057fps CMOS image sensor with 1.4Gpx/s throughput  1,502fps at 720p HD

Global shutter LUX1310 image sensor –  8.45 x 6.76mm, 6.6um pixel pitch
As you can see for a starting priuce 8GB model $2,999 USD, there is a lot of value here for run and gun shooters.  Its price is really groundbreaking when it comes to serious slow motion devices.
Krontech.ca has really done a good job of providing a solid camera at this price.  However, it is not our #1 recommendation because the small 2/3″ sensor has several drawbacks compared to the APS-C of larger cameras like the edgertronic.  The low light ability is limited, with pixels at 6.6 µ instead of the SC2X at 1.0 µ which are gigantic by comparison.   Compression on the Chronos 1.4c is very good at about 40mbps for 720p but image artifacts are also encoded due to the smaller sensor.  Noise and banding become problems in non-ideal conditions which means this camera needs a lot of light to deliver a good HD image.  There is also some moire and aliasing patterns in detailed objects and the extra kit lens is an ok lens but quite soft wide open.
Chronos 1.4 high-speed camera after TWO YEARS (review) by TAOFLEDERMAUS:
The Chronos, when shot properly, can deliver excellent image quality especially in RAW DNG when not using C mount lenses which tend to be softer and full of aberrations compared to Nikon or Canon for example. The Camera with adapted 35mm lenses really shines and allows for extreme reach with a  4x crop. For example, a 100mm lens is equivalent to a 400mm, while a 400mm lens becomes a 1600mm lens. This is a plus for nature enthusiasts but a pain for studio shooters. You will need to use super wide angle lenses for tight spaces.  We found the camera with a 20mm lens is pretty usable indoors giving it enough back throw space for 80mm.
The Chronos 1.4c is a very new camera which is still evolving in software. Support for most of the side camera ports as of this writing is not ready but planned to be released next year, this, however, doesn't impede the camera to shoot as is.  It is certainly a great option for 720p shooters who do not need very sharp and detailed image quality for a client that demands broadcast quality.
It is a great camera for education, experimentation, and youtube but if you need uncompromising quality you need a different camera with a larger sensor area. Maybe Krontech will release a 1080p camera with a larger sensor one of these days.
For more information about the Chronos 1.4c camera and ordering information please visit:  http://www.krontech.ca

P&S / Prosumer Cameras:

 Sony RX10 IV & Sony RX100 V!
For the third year in a row, the RX series by Sony takes the entire prosumer category. These cameras have up to 960fps in the US and 1000fps in Europe as specs and have up to 3.8 seconds recording in high-quality mode at higher frame rates.
The new RX100 VI brings all the technology of the RX100 V but with a new 24-200mm F2.8-4.5 zoom lens attached to this little camera plus a good touch screen and full AF. Which at first glance sounds good but when you consider the light loss to be about half of what the previous lens could do it begins to be a choice in lens reach vs image quality. Therefore we recommend the RX100 VA which is an RX100 V with improved Autofocus tracking and a better EVF as the winner of the value class in the RX series for 2018.  For $898 MSRP this is the camera of 2018 for value!
RX100 VA HFR Resolution:
1920×1080 (120p/100p/60p/60i/50p/50i/24p)
1824×1026 (250p/240p)
1824×616 (500p/480p/250p/240p)
1292×436 (500p/480p)
1244×420 (1000p/960p)
912×308 (1000p/960p)
Sony RX100 VI – Slow Motion Video, High Frame Rate Mode, HFR by Jay SonyAlphaLab:
Sony RX10 IV Camera Specs:
20.1MP 1″ Exmor RS BSI CMOS Sensor
BIONZ X Image Processor & Front-End LSI
Zeiss Vario-Sonnar T* f/2.4-4 Zoom Lens
24-600mm (35mm Equivalent)
2.36m-Dot OLED Tru-Finder EVF
3.0″ 1.44m-Dot Tilting Touchscreen LCD
UHD 4K30 Video, Full HD 1080p at 960 fps
Fast Hybrid AF System with 315 Points
ISO 12800 and 24 fps Continuous Shooting
Built-In Wi-Fi and Bluetooth
MSRP $1,698.00
Sony RX10 IV Recording Frame Rates & Resolutions:
Video Recording
Yes, NTSC/PAL
Resolution
3840 x 2160p: 30 fps, 25 fps, 24 fps
1920 x 1080p: 60 fps, 50 fps, 30 fps, 25 fps, 24 fps
1920 x 1080i: 60 fps, 50 fps
1280 x 720p: 30 fps, 25 fps
1920 x 1080p: 240 fps, 480 fps, 960 fps
1824 x 1026p: 240 fps, 480 fps, 960 fps
1676 x 566p: 240 fps, 480 fps, 960 fps
1920 x 1080p: 250 fps, 500 fps, 1000 fps
1824 x 1026p: 250 fps, 500 fps, 1000 fps
1676 x 566p: 250 fps, 500 fps, 1000 fps
Be aware that all the RX series only record near Full HD quality at up to 240fps, everything after that resolution the quality drops considerably and pixels are up-sampled to 1080p for final recording.  Resolution above 240fps is under 720p HD and at 1000fps its under NTSC VGA.
Greenfinch and Chaffinch argue. Sony RX10 IV slow motion 250 fps by Lothar Lenz:
The Sony RX Series continues to be the best slow-motion camera for value in the point & shoot prosumer market. Their CMOS Stacked Sensor technology with included memory and 1/32000 shutter speed allow for some amazing capabilities with a lower price tag.
The Sony RX10 IV for larger body size and RX100 VA for Pocketable earn our HSC Top Pick for 2018 for this segment!
End of 2018 Message and an Appeal to our Readers:
2018 was a tough year for HSC. Ad revenue dropped significantly due to ad blockers being used and some services paying much less per click. Added to that the amount we got from Amazon referral sales also dropped considerably by the lack of purchases from our readers from our product links.   The sales have been reduced so much that we have been forced to lower the number of posts a month in order to be able to continue with our mission.
Blogging took a big hit in 2018 worldwide with revenue for websites dropping almost everywhere.  While this trend may reverse we estimate that it will probably continue.  You can help us by using our product links before your purchase at no cost to you and by visiting our sponsors when you can and are inclined to do so by the ads.  This way we can continue to have HSC deliver news and reviews on the Slow Motion market for budget-conscious consumers. We will try our best to continue this website but it sure will be a hard battle, having you support us will make a big difference.
We thank you all and we hope you have a pleasant holiday season with your loved ones!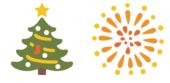 Shoot Great Slow Motion Stuff! -HSC
Check out: Best Slow Motion Cameras of 2020!
Check out: Best Slow Motion Cameras of 2019!
Check out: Best Slow Motion Cameras of 2017!
Check out: Best Slow Motion Cameras of 2016!
Check out: Five Best Slow Motion Cameras of 2015!
(Visited 33,937 times, 1 visits today)