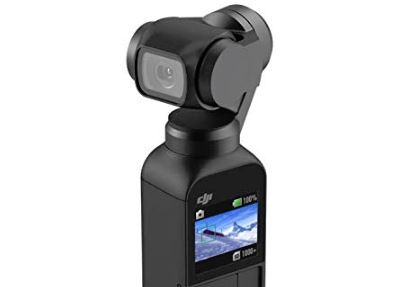 Early on in the beta testing of the device, the OSMO Pocket by DJI released this week had gimbal stabilized 1080p 120fps included in the specs. However, by launch, the slow motion frame rate disappeared. There were anecdotal discussions that the device overheated in the mode and that is why it was pulled out of the product launch. However, there are no official statements to back this up.
DJI Should release the new firmware update for the OSMO Pocket by December 15th just in time for Christmas delivery of the product. At Just $349 USD, it will probably be a GoPro killer as a stocking stuffer during the holiday season.  Initial samples show the low light video quality besting the GoPro but the slow-motion mode is still less detailed than the Action Camera.  The stabilization is incredible and beats everything in its price range including the Hero 7 Black.
DJI OSMO Pocket Video Camera Specs:
Sensor
1/2.3" CMOS
Effective pixels: 12M
Lens
FOV: 80° F2.0
ISO Range
Photo: 100-3200
Video: 100-3200
Electronic Shutter Speed
8s-1/8000s
Max Image Size
4000×3000 pixels
Still Photography Modes
Single Shot, Panorama, Timelapse, Motionlapse
Video Resolution
4K Ultra HD: 3840 x 2160 24/25/30/48/50/60p
FHD: 1920 x 1080 24/25/30/48/50/60/120p
Video Recording Modes
Auto; Slow Motion
Max Video Bitrate
100 Mbps
Supported File Formats
FAT32 (≤32 GB), exFAT (≥64 GB)
Photo Formats
JPEG/JPEG+DNG
Video Formats
MP4/MOV (MPEG-4 AVC/H.264)
Supported SD Cards
microSD (Max. Capacity: 256 GB)
Audio Output
48 KHz AAC
DJI OSMO Pocket Slow Motion Mode:
In this amazing video sample by Newsshooter you can clearly see that the camera stabilization is movie-like and extremely good with real gimbal performance in a tiny package.
DJI Osmo Pocket Slow Motion footage by Newsshooter:
Sure the slow motion is pretty much the same as in the drone version of this gimbal and records the footage to a 30p wrapper file format. So you have a pre-slowdown footage capture with compression that seems to be a bit harsh.  The GoPro should give better slow motion performance at 240fps than the OSMO Pocket's 120fps but it is still better than most phones out there in quality due to the better camera pipeline.
What about low light?
Osmo Pocket vs Hero 7 Black (Low Light Test On Motorcycles) by My First Drone:
You can clearly see the OSMO Pocket does better in low light performance compared to the Hero 7 Black by GoPro. Also, the stabilization in the GoPro while very good, it suffers from being EIS or software based which uses internal sensors to estimate motion, then corrects the image.  There is more crop on the OSMO so if you really want super wide angle the OSMO Pocket is still not GoPro like in that respect.
The OSMO Pocket is like having a portable version of the DJI Mavic AIR drone camera system with some portable gimbal like features. We see it as a big replacement for Vloggers that use heavy camera systems that do not need to have pristine quality audio since this is a spec that will need improvement in the future.
This take-anywhere camera that really fits in your pocket and records excellent quality 1080p and 4k footage will bring a whole new evolution in portable camera systems.  We expect GoPro and Sony to bring something like this to compete in the market sooner rather than later.  The new action camera format has been shown by DJI in clear innovation to the norm, if GoPro does not respond with similar features and performance which they should be able to do with better slow motion frame rates, we see harsher times for the company in the future. -HSC
You can buy the OSMO Pocket at the DJI official store here:
Or at Amazon.com here in time for Christmas:
(Visited 4,024 times, 1 visits today)