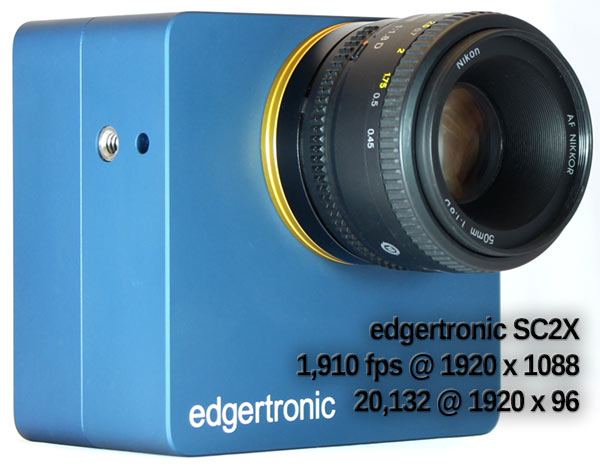 edgertronic has unleashed what could be the most important affordable slow motion camera release this decade.  The new SC2X aims to finally jump the 1080p barrier of over 1000fps that has been the wall of performance for cameras under $50k USD.  The camera goes overboard with 1910fps at 1920*1088 pixels which offers TV, film, and web video production a new realm of possibilities with native resolution frame rates.
The camera looks and works exactly the same as the previous SC2+ release but with a flange ring in yellow golden color. The camera will work with all existing edgertronic cases, accessories and support systems as it is a direct upgrade for the line and maintains dimensions. The camera continues the use of the Nikon F mount which allows for manual aperture and focus on the supported lenses which are plentiful.
edgertronic SC2X SPECIFICATIONS:
| | |
| --- | --- |
| Model | SC2X |
| Color / Monochrome | Color |
| Video memory | 16 GB |
| Exposure | 1/30 to 1/800,000 sec |
| ISO range [1] | Color – 1,200 to 19,200 |
| Supported resolutions | 1920 x 1088 to 256 x 96 |
| Maximum frame rate | 20,132 fps @ 1920 x 96 |
| Maximum resolution | 1,910 fps @ 1920 x 1088 |
| 1280 x 720 | 2,940 fps |
| 1280 x 128 | 15,395 fps |
| 640 x 480 | 4,290 fps |
| 320 x 240 | 9,024 fps |
| IR Filter | Always installed |
| Subsampling | No |
| Enhanced dynamic range | No |
| Overclock | No |
| CMOS sensor active area | 19.20 x 10.88 mm |
EDGERTRONIC PRODUCT FAMILY FEATURES
Global Shutter technology allows crisp exposures without rolling shutter jello effect
Stores captured videos in H.264 format on a removable SD card
Web-browser based control panel with live preview (Google Chrome only)
Video overlay support for frame number, text, and graphic logo
Field upgradeable software/firmware
I/Os: 10/100 Ethernet, 2 USB ports, external trigger, multi-camera genlock
12 VDC Power, 2.5/5.5mm locking connector 2.5A
Type III Hard Anodized Aluminum enclosure
Trigger button and 4 status LEDs
Accepts Nikon F-mount lenses (manual and D series)
Built in fan
Standard 1/4-20 tripod mounts on bottom and side
Size: 111x108x79 mm exclusive of lens
Weight: ~862 gr exclusive of lens
INCLUDED ACCESSORIES
Airline Grade Custom Fitted Hard Case
Nikon 50mm f1.8D Lens
AC Power Adapter
12V Car Adapter
Ethernet Cable
Wired Remote Trigger and Extension Cable
SC2+ vs SC2X: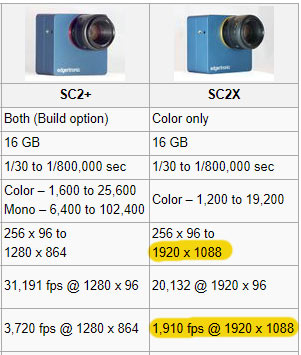 As you can see the SC2+ and SC2X are similar beasts but the differences are significant when it comes to performance vs resolution.  The SC2+ is intended for maximum frame rate at 720p resolution with 4,456fps at that resolution and options for monochrome or color depending on the end users needs. 
The SC2X is intended for broadcast and film production with ISO maxing at 19,200 vs 25,600 (SC2+) for the color versions and a color only option is locked on the SC2X.  Makes sense that monochrome is discarded due to the predominant use of color for video production.
Pricing wise both cameras are also different, with the SC2X coming in at $15,990.00 and the SC2+ $12,990.00. A $3,000 USD difference. Both cameras are still kings of price performance when it comes to dependable quality at excellent resolution with large APS-C sensors. 
Another change is that the SC2X will come bundled with an IR filter option with no option to remove it.  IR is more commonly used with black and white imagery so it makes sense that the color only option is ditching that filter-less option.
What the SC2X Release Means:
When we started this website in 2014 the edgertronic SC1 with 701fps at 720p was the best affordable slow motion camera when it came to price/performance. The edgertronic SC2+ last year obliterated the performance curve at 720p by offering 4,456fps at that resolution.
The SC2+ is an incredible camera that performs in any environment with solid and dependable results. Read our review of the SC2+ here!
With the launch of the SC2X edgertronic camera, Sanstreak corporation has broken the barrier of full HD slow motion performance that stood for over a decade above the $100k USD price range.  This is not only significant but a milestone in the democratization of slow motion digital video. With full 1080p resolution at 1910fps it is safe to assume that the era of higher resolution high speed that will not break the bank is here.  We can't wait to see the edgertronic SC2X video samples and marvel at what kind of temporal magic it can reveal.
We congratulate Mike Matter and the edgertronic team for stepping up to the plate and creating what was once a dream to many; a tangible reality that will provide the means to artists and scientists to observe the world in temporal details that were once the realm of hyper expensive gear.  We will update information and footage on the edgertronic SC2X when available. -HSC
Ordering & More Information:
You can order an edgertronic SC2X and or SC2+ camera directly at the edgertronic site here: www.edgertronic.com 

edgertronic

 

Software Version 2.2.2 – Released!
Edgertronic also released version 2.2.2 firmware today which adds important new features that bring the camera line forward in usability and dependability. The camera has added since April "Review before saving" which is in our view a must have feature for any high-speed camera. Well done software team!
Software Version 2.2.2 – Please update your edgertronic
We've just released Software Version 2.2.2 which adds several new features since 2.1.7:
Support for SC1, SC2, SC2+ and SC2X edgertronic cameras.
Added Review before Saving interactive control of saved video start and end points.
Fixed a defect where it displayed ISO values were lower than the actual photometric ISO.
Added Video Overlay with frame numbers, settings, notes, logos and/or other user selectable fields on each video frame in the movie file.
Significantly improved Live Preview latency and frame rate.
After updating to version 2.2.0, or later, future updates will save the camera settings.
Support for user supplied configuration files including encoding pipelines, user added URLs and camera code, and various network configuration files for network configuration, NTP, DNS, FTP, and multicast network trigger.
Added saving and reloading favorite camera settings.
Improved web U.I. response time when changing camera settings.
Reduced time from post trigger buffer full until the next multishot can be triggered to <100ms.
Improved SC2 and SC2+ image quality.
Improved loading user supplied configuration files.
Pipelines file can disable preview while saving to improve file save performance.
Fixed a problem with SC2/SC2+ operation at very cold temperatures.
Fixed defect moving status boxes in review mode.
Improved overlay notes UI/UX.
Fixed web UI defect if the cookie was in an unexpected format.
Added keyboard control of Review Before Saving sliders.
To update your camera, go to: http://wiki.edgertronic.com/index.php/Software_releases and follow the instructions carefully. As always, our software updates are FREE!
(Visited 3,455 times, 1 visits today)