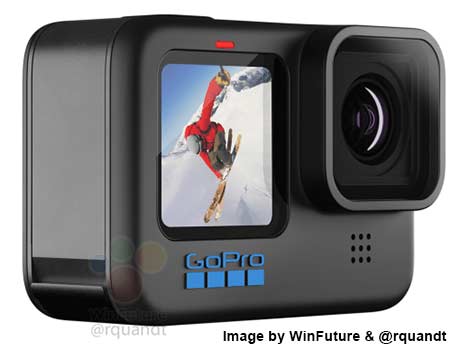 It seems the leaks have come down heavily on the to be formally announced Hero 10 Black from GoPro. The latest by Winfuture.de & @rquandt. The most important part of the leak speaks about the use of the new GP2 chipset which is at least 2x faster than the already long in the tooth GP1 which was a great processing unit when released a few iterations back but now has a bit of catch up to do.
The leak also talks about new Hypersmooth 4.0 which seems to use also the oversampled sensor to deliver gimbal-like motion stabilization performance for the camera without the use of a physical stabilizing unit. We really like Hypersmooth 2 and 3 and if the GP2 is such a better processing core, it should in theory yield even better smoothness on most footage resolutions.  Frame rates have also taken a big leap here, and we speculate on what it could mean for slow motion enthusiasts.
GoPro Hero 10 Black supposed Leaked Specs:
5.3k video at 60fps (30fps in Hero9)
4K video at 120fps (60fps in Hero9)
2.7k video at 240fps (120fps inHero9)
23mp photos (20mp in Hero9)
HyperSmooth 4.0 stabilization (replacing Hypersmooth 3.0)
TimeWarp 3.0, or new version of hyperlapse of the feature in Hero 9.
Speculated Other Frame rates: (Full HD at 480fps, 720p at 960fps)?*
MSRP $449.99 or $349.99 on the GoPro Cloud Subscription
Looking at the specs in the new GP2 it seems we have a doubling of power from the earlier generation GP1.  Looking at frame rates alone, the doubling at 4k, 5.3k and 2.7k shows that processing and bandwidth has easily doubled this time around. We now have the very much awaited 120p in 4k which is becoming a standard on new prosumer cameras. 
But the most impressive spec shown in our view is the 2.7k video at 240fps which is a record for action cameras and many others for consumers.  If the quality is really good, it could start to rival higher priced offerings by delivering frame rates in near 3k that large cameras can only dream of.  Which gets us into speculation mode concerning 1080p full HD video mode.  If 1080p was limited to 240fps in the Hero series with the GP1, the now more powerful GP2 should in theory be able to support 480fps 1080p video and possibly 960 or 1000fps 720p in crop modes. That is, if the sensor used by the camera supports such high frame rates. It takes the processing unit, memory system  and the sensor in combination to deliver the necessary specs for higher frame rates. You need all three specs to be beefed up to get there.  It would not surprise us to see higher frame rates for HD and full HD in this camera at least when shot in short bursts due to memory buffer limitations. 
GoPro HERO 9 2.7K Cinematic Video | ModLife by Smodster Studio:
The video above shows the 2.7k 120fps mode on the Hero 9 Black. If the Hero 10 can maintain that quality at 2.7k 240p or even improve it, we are in for a great surprise. 
The new sensor is also higher in megapixel count to 23 from the previous 20 which means that the new part could be better at higher frame rates and offer better quality in slow motion modes with less line skipping and aliasing. 
The body size and design is very similar to the Hero 9 which is a good thing, that means most mounts and attachments will work with this camera as well. There are a few blue accents on teh body to differentiate it but nothing major. Most of the changes are internal which probably means a full rdesign to accomodate the new GP2 architecture. 
We are very excited by the GP2 and the future of GoPro by finally jumping the specs by using a new imaging engine powerful enough for the expected performance of today. If GoPro delivers on the promise with great video quality, it will probably be a must-have upgrade for most GoPro users and a Must-have action camera for sports shooters and amateurs. We will probably be recommending it as a killer option for slow motion on a budget. Let's hope HD and full HD modes are not ignores with higher frame rates, this could make the Hero 10 Black the camera we have been waiting for since the GP1 first debuted in 2017 for the Hero 6 Black.  More info as soon as it becomes available. -HSC
The full info leak and many more pictures including packaging at: WinFuture.de here!
(Visited 1,879 times, 1 visits today)