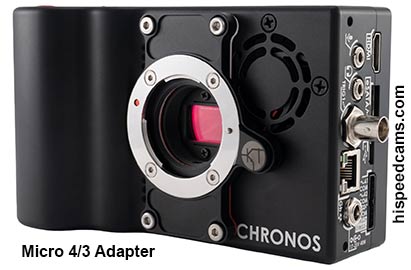 The two existing Chronos cameras, the 1.4c 720p at 1502fps & the Chronos 2.1 -HD 1t 1080p 1000fps are identical when seen from the outside but very different inside as they contain different sensor and memory boards. However one constant is that both use the C mount as the default for lens adapters. The camera usually comes with a Canon EF or Nikon F mount adapter depending on the buyer preference which screws on the C mount thread and allows for support of classic lenses from Macro to telephoto. 
One request from the community has been the support for other lens mounts like Micro 4/3ds which lets you adapt a variety of lens mounts and the much coveted speedbooster adapters which allow a 1 f-stop improvement in light gathering for micro 4/3ds systems. Today Krontech, the company behind the Chronos high-speed camera is introducing a passive Micro 4/3rds adapter for both the Chronos 1.4c and 2.1-HD and uses the body screw terminals near the lens thread mount to place a solid connection that allows such lenses.
Chronos Camera m4/3rds Lens Adapter Kit Contents:
1x Micro Four Thirds (MFT) adapter
4x M4 screws
1x 3mm Allen Key
1x MFT body cap
2x 0.5mm shims (red)
2x 0.6mm shims (black)
4x 0.3mm shims(white)
Installation instructions.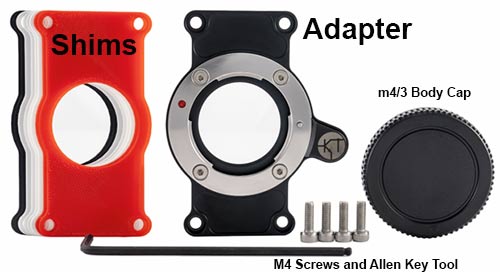 As you can see, the kit is easy to install and straightforward. The Shims are there to allow for back focus which can occur due to some lenses that have protruding back elements be too close or too far from the sensor plane. The Shims come in 0.5mm 0.3mm and 0.6mm so you can easily achieve correct focus with any lens that has a special adjustment to be made. We recall having such an experimental adapter sent to us early on by Aimed Research a high-speed camera rental company that used similar shim plates to achieve compatibility. We had limited success with that adapter but Krontech seems to have fixed all the kinks and solved all the lens compatibility problems with their adapter.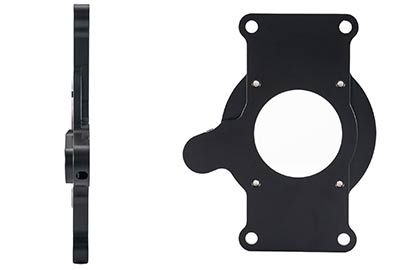 The adapters are built with the same aircraft grade aluminum and stainless steel as the Chronos cameras so the fit and finish should be perfect.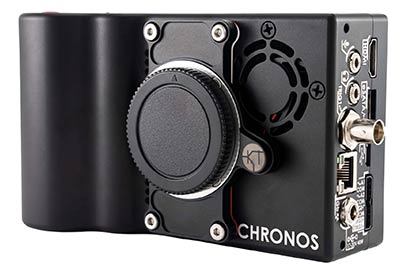 Do I need this for my Chronos Camera?
We think the choice of Micro 4/3ds as the mount for the Chronos is the correct choice. There is a plethora of adapters for m4/3 cameras that range from old Minolta and Leica lenses to the best Canon EF and Nikon F mount glass ever produced. 
By using a metabones speedbooster for  Micro 4/3rds for example you can easily adapt Canon or Nikon lenses and gain a full stop of light which for a high speed camera is a big plus. This should be reason enough to get the adapter.  It is of note that while the Chronos m4/3 adapter is passive, there are electronic micro 4/3ds adapters and speedboosters that can draw power from USB power banks and allow for full aperture control on electronic lenses.  This is another great feature you gain from this adapter on the Chronos.  Speedboosters also allow for a field of view increment that converts a m4/3 sensor to a visual aesthetic closer to that of APS-C so you get the bokeh quality of a larger sensor in the process. 
We have even seen aperture blade adapters that go behind Canon or Nikon glass for the micro 4/3rds system and allow for passive and manual aperture control with added back blades which work with a variety of lenses to be able to rapidly adapt to lighting conditions while shooting, this is very convenient in the field where you have limited lens change opportunities. 
For anyone who has Nikon F or Canon EF lenses, we believe this adapter is an excellent choice while using it with a variety of lens adapters and speedboosters.  The Chronos cameras become a much more valuable kit when these options are available. 
For more info visit the official Chronos adapter site!  -HSC
Full Official Press Release Below:
The new Micro Four Thirds Adapter for the Chronos 1.4 and 2.1-HD is out now!

Burnaby, British Columbia, Canada – Kron Technologies Inc. is proud to announce a passive
Micro Four Thirds (MFT) adapter will be added to its growing lineup of accessories for the
Chronos 1.4 and Chronos 2.1-HD high speed cameras.

The newly released passive MFT adapter, designed exclusively to fit Kron Technologies Inc.'s
line of Chronos cameras, allows the Chronos 1.4 and 2.1-HD high speed cameras to accept
lenses with an MFT mount. Since there are many more adapters for MFT than there are for C,
the new mount allows our forward-thinking community of users to have access to a wider range
of lens options to explore their creative needs. This new adapter also allows the use of "speed
booster" accessories, which can increase light sensitivity to help with the challenging lighting
requirements of high speed videography and photography.

Constructed using the same aircraft grade aluminum and stainless steel as our cameras, each
MFT adapter is anodized in black and compatible with Kron Technologies Inc.'s Chronos 1.4
and 2.1-HD. Precision CNC machining ensures accurate focusing at infinity with the option to
adjust back focus with the included plastic back focus shims. Each purchase of the MFT adapter
comes with a 90-day limited warranty.
The MFT Adapter from Kron Technologies Inc. is passive and does not contain any electronics.
Digital lens control is not possible, so only manual lens control options are available. EF, F and
PL mount lenses can be used with appropriate adapters.

The MFT adapter kit includes 1x Micro Four Thirds (MFT) adapter, 4x M4 screws, 1x 3mm Allen
Key, 1x MFT body cap, 2x 0.5mm shims (red), 2x 0.6mm shims (black), 4x 0.3mm shims
(white), and installation instructions.

Pricing and Availability
Kron Technologies Inc.'s MFT Adapter is available today for a suggested price of $245 USD.

Purchase your MFT Adapter or Chronos camera today by visiting our official website at
www.krontech.ca.
For detailed product information of the MFT Adapter, please visit
https://www.krontech.ca/product/mft-mount.
Kron Technologies line of Chronos 1.4 and 2.1-HD high speed cameras
Kron Technologies Inc.'s line of Chronos cameras offer cost effective high speed cameras in a
robust, hand-held, feature rich package.

With a maximum resolution of 1080p @ 1000fps (Chronos 2.1-HD) and 720p @ 1069fps
(Chronos 1.4), the line of Chronos cameras can reach frame rates of 24 046fps (Chronos
2.1-HD) and 40 413fps (Chronos 1.4) at lower resolutions. Equipped with a bright 1000nit 5"
LCD screen, removable internal battery, and a variety of triggering options, Kron Technologies
Inc.'s line of Chronos cameras offers a complete solution for your high speed camera needs.
Kron Technologies Inc.'s line of Chronos 2.1-HD cameras are available at the following memory
price options: $6,095 USD (8 GB), $6,495 USD (16 GB), and $7,095 USD (32 GB).
For the Chronos 1.4 cameras, our memory pricing options are as follows: $3,995 USD (8 GB),
$4,395 USD (16 GB), $4,995 USD (32 GB).

For more information, including accessory prices, please visit www.krontech.ca/shop.
About Kron Technologies Inc.

Kron Technologies Inc. is a Canadian high speed imaging system design and manufacturing
company located in the heart of the Greater Vancouver Area (British Columbia). Kron
Technologies Inc. was founded by David Kronstein on the idea of making high speed imaging
accessible to everyone.

When David was an engineering student in 2006, he was fascinated by the slow motion imagery
captured by Mythbusters and similar TV shows. David went on the hunt for a high speed
camera and soon found out that high speed meant a high price tag. Frustrated with the lack of
low-priced options, he embarked on the task of creating his own high speed camera from
scratch.

After ten years and one very successful Kickstarter later, we are a company centered around
the principles of making the wondrous world of high speed imaging available to the masses. Our
focus is providing a solid, fully-featured product at an affordable price. Our cameras feature
open-source software, and no features are locked out in software, unlike most other
manufacturers.

For more information, please visit www.krontech.ca or follow Kron Technologies on Facebook
and LinkedIn. For Twitter, Instagram, and YouTube, follow @chronoscameras.
Availability and other specifications are subject to change without notice.
Press/Media Contact
Corporate Communications
Kron Technologies Inc.
info@krontech.ca
(Visited 1,320 times, 1 visits today)