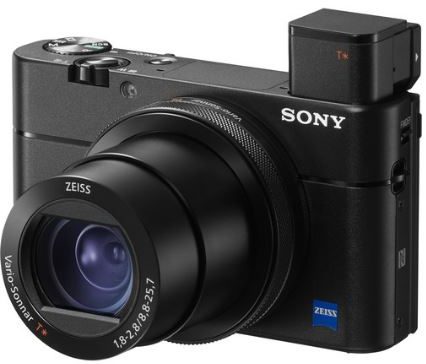 Sony today announced the Sony Cyber-shot RX100 V portable 1″ sensor camera. It replaces last year's excellent RX100 IV which is at #8 rank in our HSC Camera Guide for slow motion gear on a budget.   This next iteration is more robust in several aspects including HFR record time which is nearly doubled due to a larger and faster frame buffer. This makes it much more useful in Quality Priority mode offering up to 4 seconds 240fps NTSC or 250fps PAL at almost Full HD 1080p resolution.
The camera has also new tricks up it's sleeve like oversampling the pixel area of the sensor by 1.7x to deliver a down-sampled artifact free 4k result using a larger area of the sensor plane to avoid the crop in previous models.  The sensor read out is also much faster according to Sony which should further reduce rolling shutter skew and aid in the slow motion capture aspects for better fidelity.
Sony RX100 V Main Specs:
20.1MP 1″ Exmor RS BSI CMOS Sensor
BIONZ X Image Processor & Front-End LSI
Internal UHD 4K Video & S-Log2 Gamma
Zeiss Vario-Sonnar T* f/1.8-2.8 Lens
24-70mm (35mm Equivalent)
Fast Hybrid AF System with 315 Points
HFR Mode for Full HD Video up to 960 fps
0.39″ 2.36m-Dot OLED Pop-Up EVF
3.0″ 1.23m-Dot 180° Tilting LCD
ISO 12800 and 24 fps Continuous Shooting
1.7x Pixel Readout for 4k Video Oversampling
Near 5k Video Like Photo Burst 24fps for 6sec
HFR High Frame Rate Recording Mode Frame Rate Breakdown:
Audio cannot be recorded in HFR Mode!
[PAL] mode:  XAVC S Codec PAL:
50p 50 M (1,920×1,080/250fps)
50p 50 M (1,920×1,080/500fps)
50p 50 M (1,920×1,080/1000fps)
25p 50 M (1,920×1,080/250fps)
25p 50 M (1,920×1,080/500fps)
25p 50 M (1,920×1,080/1000fps)
[NTSC] mode XAVC S Codec NTSC:
60p 50 M (1,920×1,080/240fps)
60p 50 M (1,920×1,080/480fps)
60p 50M (1,920×1,080/960fps)
30p 50 M (1,920×1,080/240fps)
30p 50 M (1,920×1,080/480fps)
30p 50 M (1,920×1,080/960fps)
24p 50 M (1,920×1,080/240fps)
24p 50 M (1,920×1,080/480fps)
24p 50 M (1,920×1,080/960fps)
Sensor Readout Number of effective pixels HFR:
Quality Priority – Near 4 Seconds rec time:
240fps/250fps (1,824×1,026)
480fps/500fps (1,676×566)
960fps/1000fps (1,136×384)
Shoot Time Priority- Near 7 Seconds rec time:
240fps/250fps (1,676×566)
480fps/500fps (1,136×384)
960fps/1000fps (800×270)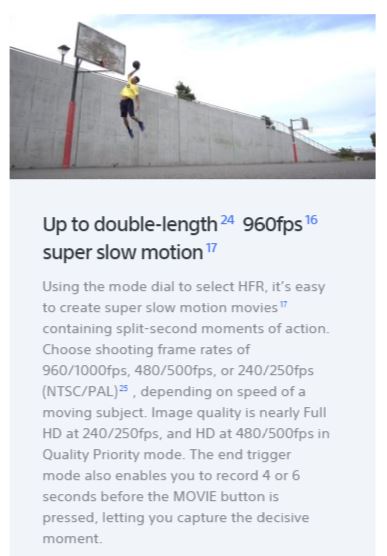 How much better is the HFR Slow motion mode?
The HFR Mode in the Sony RX100 V is now a step further in usability due to the larger frame buffer allowing next to 7 seconds in Shoot Time priority mode and close to 4 seconds in Quality Priority time.  It may not sound like much but in slow motion land; every second gained it is extended a long time when played back at 24p, 25p or 30p regular video speeds.
A 250fps capture for 4 seconds at  Quality priority mode "Near 1080p Quality" can be played back at 24p at 41.66′ seconds which makes it an excellent duration. Same goes for all other modes except pixel dimensions will be reduced the higher the frame rate used.
All in all this is a much better upgrade for slow motion fans than expected; this camera is now going to compete higher in the top spots of our list at only $1000 USD.
Sony | Cyber-shot | RX100 V – "Basketball" Super Slow Motion:
What about 24fps Image capture burst?
The other highlighted feature aided by the larger and faster frame buffer is the inclusion of a 24fps full sensor read out frame in RAW or JPG for an entire 6 seconds. This is movie quality 5k like 20.1 Megapixel frame capture in RAW mode if needed for 6 seconds.  This alone could make it an ideal crash camera for movie sets as it is cheap, great quality and good enough for quick takes.  If it can be activated remotely with the Sony app to shoot the 24fps burst then it makes it better still.
Sony | Cyber-shot | RX100 V – "Dance" Super Slow Motion:
What if I own an RX100 III or IV?
The RX100 IV in particular is still very relevant and if you can live without the faster speed and larger buffer you should not be pressured to upgrade. The new camera has a new Sensor, New Frame buffer design with larger depth, 315 AF points, better low light and faster processor with improved viewfinder to boot. There is no question this is a better camera than the III and IV ever were.  If you an get a decent price for your current camera or give it as a gift then the RX100 V looks like a direct upgrade path that should last you a few years delivering top notch quality for a 1″ sensor.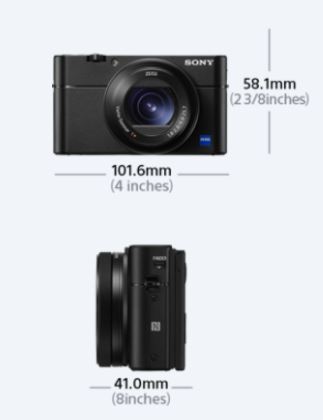 We also expect the RX10 III to be replaced by an RX10 IV using this new sensor block sometime soon; probably by end of year. So if you need more zoom with similar features that will be the camera to wait for.
Sony RX100 V new AF 315 point System Video:
Sony RX100 V – 4k and video Improvements?
There are also 4k improvements, faster read out time still not specified but according to Sony it is faster than on the RX100 IV. The recording time in 4k is going to be limited to 5 minutes in order to prevent over heating, this is about what you get on the previous models.  The biggest improvements come in the AutoFocus algorithm with 315 points covering over 60% of the frame for dependable subject tracking.  We still do not know if the focus change can be adjusted to be slower and less abrupt.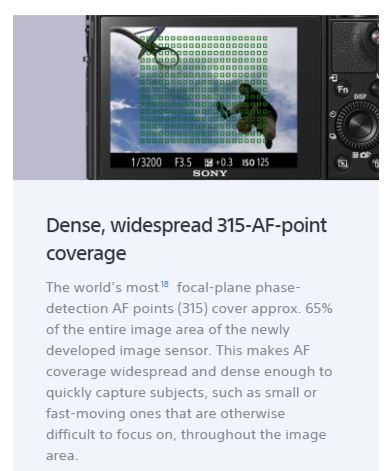 In the video below it works wonders to keep subjects in focus but at the cost of a smooth transition, This is not ideal for videography and if it cannot be adjusted it could be a big negative for video enthusiasts.
Sony RX100 V 4k Demo Footage:
The other huge improvement is the 1.7x oversampling of the 4k image to deliver a near full frame allocation of pixels and down sampled to have outstanding aliasing and moire free images. This is a feature most commonly found in cameras like the a6300 which was also replaced today by the a6500 which we will cover in a separate post.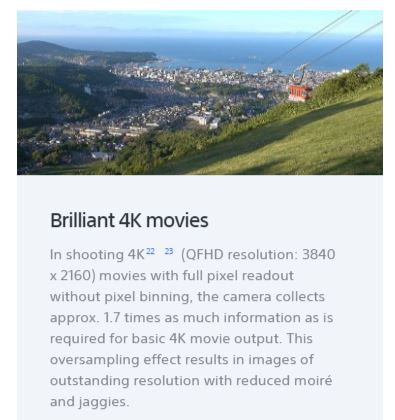 Final Notes:
It's clear that with the release of the Cyber-shot RX100 V, Sony is not playing catch up but leapfrogging the compact camera segment. We are hard pressed to find a better alternative in this form factor from any manufacturer including Panasonic. The amount of features and performance packed into this relatively affordable and portable package is pretty astounding.  You can really shoot professional looking video and images with this camera; the slow motion mode is vastly improved with increased recording time, better sensor, better rolling shutter performance and a 6 second pre-trigger HFR mode to never loose a short moment.
If you are looking for a do it all camera that does better slow motion than most anything out there for under $1,000 the Sony RX100 V is our current pick.  It may be so good as to be our pick of the year for price/performance when ti comes to slow motion cameras on a budget; it is that good!
We will have more samples of the slow motion mode as they become available. -HSC
All below will ship free with Adorama Camera:
Sony Cyber-shot DSC-RX100 V Digital Camera, Black $998.00
http://adorama.evyy.net/c/102764/51926/1036?u=http://www.adorama.com/isorx100m5.html
Ship date: 10/14/16
Sony MPK-URX100A Underwater Housing for RX100 series $328.00
http://adorama.evyy.net/c/102764/51926/1036?u=http://www.adorama.com/isompkurx100.html
Ship date: 11/30/16
Sony Alpha a6500 Mirrorless Digital Camera Body $1,398.00
http://adorama.evyy.net/c/102764/51926/1036?u=http://www.adorama.com/isoa6500.html
Ship date: 12/06/16
Sony Full RX100 V Press Release Below:
Sony Announces New Addition to Acclaimed Line of Cyber-shot® RX Cameras
New Compact RX100 V Model Boasts World's Fastest AF Speed1, World's Most AF Points and World's Fastest Continuous Shooting1 for a Compact Camera1
NEW YORK, Oct. 6, 2016 – Sony – a worldwide leader in digital imaging and the world's largest image sensor manufacturer – has today announced a new flagship model for their popular Cyber-shot RX100 series of compact cameras, the RX100 V (model DSC-RX100M5).
The exciting new camera brings a new level of AF performance and speed to today's compact camera market. It is equipped with a Fast Hybrid AF system with the world's fastest AF acquisition1 at 0.05 seconds2 and world's highest number of AF points on sensor1 with 315 points covering approximately 65% of the frame. The camera can also shoot continuously at speeds of up to 24 fps3 – the world's fastest for a compact camera1 – at full 20.1 MP (approx. effective) resolution with AF/AE tracking for up to 150 continuous shots4.
The RX100 V is equipped with a newly developed 1.0-type stacked Exmor RS™ CMOS sensor with a DRAM chip, a ZEISS® Vario-Sonnar T* 24-70 mm5 F1.8 – 2.8 large aperture lens and an enhanced image processing system with a new front-end LSI chip that maximizes processing speed, expands the memory buffer and optimizes image quality, in particular at high ISO settings. The camera also features 4K video recording with full pixel readout and no pixel binning6, super slow motion recording at up to 960 fps7 with extended recording time and more.
"Featuring a level of power and performance that has never before been achieved in a compact, the new RX100 V redefines what it means to be a 'pocket camera'," said Neal Manowitz, Vice President of Digital Imaging at Sony Electronics. "This camera is yet another example of Sony innovating to a level far beyond what exists in the conventional marketplace."
Fast Focusing, Fast Shooting
A first for Sony's RX100 series of cameras, the new RX100 V model features a Fast Hybrid AF system that combines the respective advantages of focal-plane phase detection AF and contrast detection AF and ultimately enables the camera to lock focus in as little as 0.05 seconds2. This high speed focusing is a perfect complement to the 315 dedicated AF points that cover 65% of the sensor, and ensures that shooters will be able to capture their intended subject with high speed and accuracy, even if it's moving rapidly in unpredictable directions.
Additionally, processing speed has been greatly enhanced through the addition of a front-end LSI that perfectly supports the camera's BIONZ X® image processing engine. These two components combined with the powerful AF system allow the camera to shoot continuously at speeds of up to 24 fps 3 at full 20.1 MP (approx. effective) resolution for up to 150 shots4 with AF/AE tracking. Viewfinder blackout between shots has also been minimized in this high-speed shooting mode, which greatly improves photographers' ability to follow fast action and capture the decisive moment. Silent shooting is also available in these high-speed modes as well8.
Other advancements to AF performance on the new RX100 V include the addition of AF-A mode, which allows the camera to automatically switch between continuous and single-shot AF modes. Users can also manually select if they'd like the continuous AF and phase detection AF areas to be displayed live on screen while they are framing a shot.
The RX100 V also has a high speed Anti-Distortion Shutter (maximum speed of 1/32000 second) that minimizes the "rolling shutter" effect commonly experienced with fast moving subjects. This fast shutter speed also allows the camera to capture sharp, crystal clear images with a wide open aperture at brightness levels up to EV199. Shooting at wide aperture with the fast shutter speed allows photographers and videographers to capture beautiful content with sharply focused subjects and defocused backgrounds under some of the most difficult, bright lighting conditions.
New on the RX100 V, users can freely select the initial magnification ratio when shooting in a mode with Focus Magnifier, and can select between "focus point" and "center of display" for the location of Focus Magnifier.
Professional Movie Functionality
The pocket-friendly RX100 V is packed with a variety of video capabilities that will satisfy even the most demanding video enthusiasts.
With Fast Hybrid AF, the focal plane phase detection AF sensor ensures accurate focusing and tracking performance, even for the severe focusing requirements of 4K movie shooting. AF drive speed and AF tracking sensitivity can also be adjusted via the menu system, giving shooters plenty of flexibility based on their focusing preferences.
In 4K mode 6, the new RX100 V utilizes full pixel readout without pixel binning to ensure that all the finer details of 4K video are captured with minimal moire and 'jaggies'. These high-quality results are achieved through use of the XAVC S codec, which records video at a high data rate of up to 100 Mbps during 4K recording and 50 Mbps during full HD shooting10.
Additional professional caliber video features include Picture Profile, S-Log2/S-Gamut, 120p HD Full HD mode and more. Users also have the ability to manually select a frame from a recorded movie and save it as a still image file of approximately 8 MP during 4K shooting or 2 MP during HD shooting.
The RX100 V is able to record super-slow motion video7 at up to 40x slower than the standard rate, and can do this for about twice as long as the RX100 IV model. This extended time allowing users to capture a series of high-speed, fleeting moments of action with incredible detail, resolution and clarity.
Prior to shooting, users will have the ability to choose among 960fps, 480fps and 240 fps frame rates and among 60p, 30p and 24p playback formats to optimize the recording to fit the speed of the moving subject, with the option to use the movie record button as a 'start trigger' to begin recording once button is pressed or 'end trigger' to record footage up until the button is pressed.
Pocket-Friendly Design, Premium Performance
The new RX100 V maintains the convenient pocket-sized design of the remainder of the RX100 family and is equipped with a high-contrast 2.35 million dot XGA OLED Tru-Finder™, ensuring true-to-life image preview and playback functionality. The EVF conveniently retracts in and out of the camera body based on user preference, and features optics with ZEISS® T* Coating.
The new camera is also Wi-Fi® and NFC™ compatible and can access Sony's growing range of PlayMemories Camera Applications. Learn more at www.sony.net/pmca.
Another convenient addition is the ability for users to freely set the leading three characters of saved file names for easier sorting and organization.
There will also be a new underwater housing (model MPK-URX100A) that will be available as a separate accessory for the RX100 V and all other RX100 series cameras. Designed exclusively to fit the RX100 cameras, the housing features a depth level of 40m/130ft.
Pricing and Availability
The new Sony Cyber-shot RX100 V (model DSC-RX100M5) compact camera will ship this month for about $1,000 US and $1,250 CA.
The new underwater housing (model MPK-URX100A) will ship in November for about $350 US and $450 CA.
Both products will be sold at a variety of Sony authorized dealers throughout North America.
(Visited 32,910 times, 3 visits today)