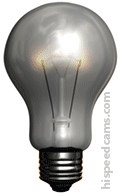 Flicker is the "F" word of the slow motion video world.  It can ruin shots or make them distracting enough to fail in conveying the message to the viewer.  It is hard to detect while recording and even with tools to minimize it on set it can still show up later as faint throbbing light.
There are however a few solutions that can take care of the flicker of a vast majority of affected shots after the recording has been made. There is no do it all Swiss army knife for fixing flicker on a shot; no real 100% foolproof plugin or method to get rid of it exists. However a few solutions come very close and that means great news for people on an inexpensive light budget.
Flicker comes from the subtle fading and increase in luminosity from light sources. All light sources flicker to some degree from the incandescent bulb to LED diodes and ultimately the Sun.   However the Sun flicker does not pose a threat to slow motion video capture until you get in the trillions of frames realm which is not feasible today. The sun flickers imperceptibly to us and while it is not infinitely bright, it is considered a constant light source on earth.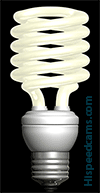 As for other light sources LED lights at full power are sometimes flicker free and HMI lights with fast refreshing ballasts which cost a pretty penny are also good options. Most regular incandescent  and fluorescent lights flicker badly when used for slow motion. CFL bulb ballasts are slow and will show heavy flickering in any fast frame rate video.  Regular incandescent light bulbs flicker because the heating element cools and heats up by the factor of the 50Hz-60Hz refresh from the electric current.
The trick in Slow motion capture is to find a light source where the flicker frequency is not lower than the refresh rate of the camera sensor. The reason why a camera from the US that records 30fps if taken to Europe generates flicker when artificial light is present; is because the light fixtures in Europe operate on a 50Hz frequency. Cameras in the US are refreshing at 60Hz so that 10Hz disparity generates flicker.
In slow motion the problem is increased if the frame rate and the refresh rate are mixed and not in line with the light fixtures. Hence why in fast frame rate video the flicker is much more apparent.  What also works against a slowmo shot flicker is that the actual shot is detailing a moment in time with much more criticism from the viewer. If a shot lasts 30+ seconds instead of the 2-5 seconds of a regular speed shot in a video work then you are more prone to notice it.
Solutions:
We are focusing on four different solutions, two of them free "VirtualDub and Frame Blending" and two of them require the purchase of a software plugin "GB Deflicker and Flicker Free from Digital Anarchy".
*In this part 1 we are focusing on the frame blending method. Part 2,3 and 4 will cover the rest.
Frame Blending Fix:
The first method can be all you might need if your flickering problem is not as pronounced.
Step 1-
The method consists of layering the same footage in two layers and moving the upper layer offset by 1 frame. This means pushing the video track only one frame to the right. However this is not all as the upper video will obscure the lower track and you will see no effect.
Step 2-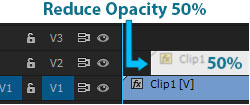 The final step is to reduce the opacity the top video layer which was offset by one frame. Reduce the opacity by 50% to fix the flicker. The percentage amount will vary depending on the clip. Be sure to trim the upper clip by 1 frame at the end to avoid a visual artifact in the edit.
Pros: Easy quick fix that works for standard 50Hz and 60Hz light fixtures in a shot. Does a pretty good job.
Cons:
a) By offsetting one frame you create a ghosting blur effect that trails the original footage for that frame time. Most of the time it's unnoticeable especially if the frame rate is higher but generates a very visible artifact if the frame rate is lower ie: 60 or 120fps.
b) Will not work for every shot and will not cure banding or flicker that is in itself coming from two different light sources that are off sync. Not ideal for Timelapse flicker.
Video Example:
Filmmaker and all around nice bloke Phillip Bloom offers a cure for slow motion flicker of light strobing in this great quick video tutorial explaining the technique:
The frame blending method can be used with any modern video editor like final cut, Vegas, Premiere Pro or After Effects. It is a simple way to fix it without spending cash on software and it is very quick to boot.
In future articles we will analyze other de-flickering options. Stay tuned!
If you feel this site has helped you in any way support it by clicking and shopping on our affiliate banner links. Thank you!
(Visited 87,637 times, 1 visits today)