In previous parts of this article we saw three methods to combat flicker in some form or another; in this part we will look at what may be the most advanced Flicker Removal tool available since the inception of software.
Flicker Free by Digital Anarchy is a plugin for "Adobe After Effects, Adobe Premiere and Final Cut Pro 7 & X, Avid Media Composer and Da Vinci Resolve" Mac and Windows that eliminates most any kind of flicker with ease.
While testing the product we were so impressed that decided to get our own copy and skip the trial and watermark associated with it. Some of the most demanding scenes that we believed impossible to fix were completely free of flicker with jaw dropping results.
We tried tungsten, CFL and even LED light flicker in solo and in combinations to make it difficult for the software. Only in the most extreme test with the three light sources generating flicker was the plugin struggling to fix it completely but it still did a pretty amazing job.
HSC Video Test of Flicker Free:
Regarding the slow motion flicker which is our main interest in the software it was almost unbelievably good at eliminating the flicker from AC light sources. Suddenly using cheap 500 w work lights for shooting slow motion became a possibility again. If you wanted to shoot with cheap lights in slow motion the flicker would completely ruin the shot before Flicker Free. This can bring some substantial savings in lighting when you are shooting slow motion.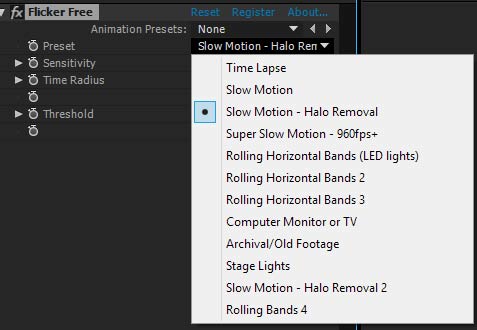 The interface is very simple, after applying the plugin you get a very handy set of presets that let you test different parameters that work with the type of problematic footage you want to eliminate. There is everything from Timelapse and Slow Motion to Stage lights and Rolling banding common in CMOS sensors like those on DSLRs.
If the presets do not get you near where you want to be then you can alter the three main sliders to create thousands of combinations and then save our own presets for best results. We found that using the regular presets and just slightly moving the sliders yielded instant perfectly flicker free results in most situations.
A lower sensitivity number is ideal for slow motion as it will detect changes in very few frames and eliminate them.   A higher sensitivity will be ideal when the flicker is at lower frame rates like that of time lapse where the changes in illumination are not periodic and can change depending on many factors.
We also found that as with most things you really can't have a free lunch; In some instances object halos may appear and or ghosting in frames. It has to do with the way the frame is fixed by the software. It is using information from multiple frames to generate the final result which depending on the severity of the flicker problem it may generate some ghostly artifact. There is a preset specifically designed for reducing halo artifacts and we found that it helped a lot and further tweaking created an even better result from out footage test.
You really can use the software by just applying presets and be done with it quick; but it is also powerful enough to allow some freedom to tweak the settings further to a specific piece of footage. Not all footage is created the same and a specific light or camera/sensor combination could be a nightmare that you will have to tweak further.
 Timelapse Results:
To say that this is the best de-flickering software we have used for time-lapse is selling it short. It de-flickered well every single time-lapse we threw at it. GB Deflicker was good but this is much better, it fixes things that were previously unfix-able and distracting on timelapse.  It can also create halo artifacts if pushed too far but we only encountered a few instances where further tweaking of presets helped to minimize the effect and be transparent.  If you do timelapse footage of any kind you want this plug-in in your arsenal no two ways about it. It is that good!
Slow Motion:
Slow motion is notorious for flickering even with the most expensive HMI Ballast lights depending on the frame rates.  You would need a set of lights for a 1000fps camera that is upwards 5k in cost per light to get you a couple of thousand watts.  Flicker free at $149 US could be the best investment if you plan on shooting slow motion video with studio or indoor lights.
But the question remains can you really skimp on lights for that paid gig by using flicker free and cheap lights?  In some cases absolutely and even with expensive lights flicker can appear and ruin your shots at great cost. So you really need it if you are an amateur or pro, you can't really leave it to chance.  You can try shooting some tests with cheap lights  and see how the plugin reacts to your footage by even using the demo version available here…   Then see if your style and gear will be enough to not write that big check for expensive HMI or LED panel lights that control flicker.
Flicker Free Tutorial Video by Digital Anarchy:
It is true that most LED lights control flicker very well at 100% intensity but in many cases you can get contamination or intermittent flicker due to AC power fluctuations which will again be helped by the Flicker Free software.
For slow motion you really can't go wrong by getting this software, you can fix that pesky flicker finally and once and for all especially if it was the only shot possible as it is usually the case in slow motion.
Pros:
Works Wonders On All Timelapse Footage
Fixes Most Slow Motion Flicker With Ease
Removes Most Banding on Footage Including Monitors and TVs
Many Presets Work With One Click
You Can Tweak Settings And Improve Results Manually
Works On LED, CFL and Tungsten Light Flicker
Fixes Old Archival Footage or Modern Film Scan Flicker
Very Fast Working Almost Real Time – No Pre Calculations
Inexpensive Solution
Cons:
Some Ghosting May Appear If Pushed Too Far
Some Halos Can Appear In Severe Flickering Situations
Requires 3rd Party Software Ownership
No Standalone Flicker Removal App Available
May Fail In Some Severe Multi Flickering Light Combinations
May Require Some Trial And Error On Harsh Flicker Footage
Conclusion:
Flicker Free by Digital Anarchy is somewhat of an unexpected out of left field piece of software. It does so many things and so well that it almost seems like voodoo magic in your screen.  We tried to get some info from the software  gurus at Digital Anarchy but the inner workings are closely  guarded.  Their main coder is from ILM fame which goes to show what kind of greatness is behind this software.
While not perfect it is by far the best flicker removal software we have ever encountered. If you can get it in your budget; do so with confidence. You will need After Effects, Premiere or Apple Final Cut 7 or X, Avid Media Composer or DaVinci Resolve so depending on your editing software there can be additional cost associated.
In the end we are impressed and excited about the possibilities Flicker Free brings to the slow motion video production crowd and even the timelapse author.  If you only can afford a single new piece of software this year we believe Flicker Free would be our choice.
We give Flicker Free Our Highest Award "Platinum" for advancing the science of slow motion video processing forward.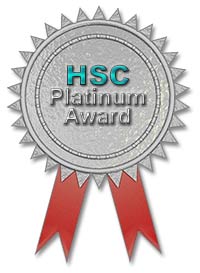 You can get Flicker free here for $149 US . Check out also their other video plugins like Beauty Box for Skin Blemish Removal In Video and others.
Flicker Free Demo Reel Video:
Disclaimer: HSC did not receive any compensation or deal from the software maker for writing this review. We do not gather any compensation from sales of their software.
Thanks for your support of HSC by visiting our sponsors you help keep this site alive!
(Visited 9,507 times, 1 visits today)