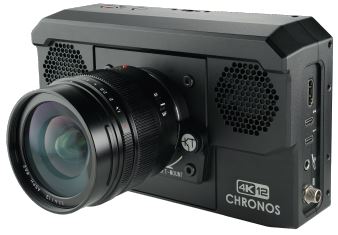 Krontech the Canadian Hi-speed camera company has released press information for two new global shutter camera releases due to ship in 2024.  While they did excellent work with the Chronos 1.4 720p and Chronos 2.1 HD 1080p slow motion cameras, many users of the platform clamored for more resolution and better image quality.  Enter the new Chronos 4k12 a full 4k Camera capable of 1,397 FPS at 8 bit 4096 x 2160 resolution or at 3840 x 2160
UHD 1,491 FPS.  
To put this in perspective, the Phantom 4k camera does 4k at 1k fps and costs around $80k USD for a starter kit.  This new Chronos camera has some serious punch for the TV, Web, and Film industries that need the extra resolution. We can see many production houses adopting this camera for production without breaking the bank in a compact and fully contained package. 
Chronos 4k12 Hi-res slow motion comes to the mid-range!
The first thing about these new cameras that catches your attention is the super compact and rugged form factor that is a clear step up from older models of the Chronos camera line. These new cameras are ready for long record sessions as dual fans and an all-metal body with optional lens mounts in C-Mount, E-Mount, F-Mount, EF-Mount, and MFT-Mount in non-electronic interchangeable plates that make it easy to exchange on the field if needed.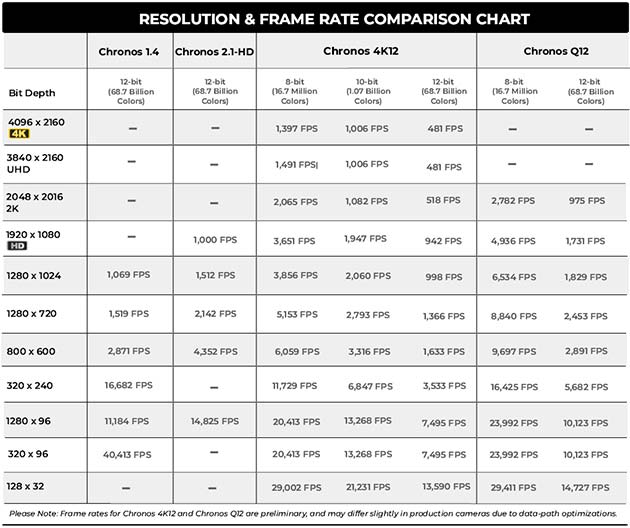 Chronos Q12 2k professional camera for a variety of applications!
The second camera the Q12 has a larger sensor built on an APS-C S35-sized sensor die compared to the Micro 4/3 sensor in the 4k12. The resolution is lower at 2k but has 9µ Micron pixels instead of 4.5µ Micron pixels for the 4k12. So 2x the pixel size translates into a massive low light advantage and dynamic range on this lower resolution model. 
It also shoots at 2,782fps at full 2k resolution and an astounding 4,936 fps at HD 1080p resolution. So nearly 5kfps at full HD will come in handy for scientific and industrial clients which are probably the first market segments intended for the Q12 camera. 
The lower spec versions of both cameras will include 64GB of onboard memory for about 5.5 seconds record time with an optional 128GB for a higher price offering 11 seconds. Both cameras also sport an internal 1 TB NVMe SSD drive for on-the-field storage.  You can transfer files to SSD cards and or connect the camera via its built-in USB-C connector port.
Keep in mind that 5 or 11 seconds at 1000fps for example is equivalent to 2.6 minutes for 5sec and ver 5 minutes playback for 11 seconds when conformed to 30fps.  These are massive record times which are more than enough for most hi-speed events. We expect both cameras to be able to edit video files from memory before saving just like previous Chronos cameras which further enhances their storage capabilities for crucial shots. 
Chronos 4k12 and Q12 Launch Video from Krontech!
From the launch video above we can see that these cameras offer some serious image quality improvements to the Chronos camera line, we can easily see a quantum leap in resolution performance that competes with the best professional slow motion cameras out there.
Being pre-production gear, we expect even better image quality as the code base matures and the cameras receive improvements in processing software. Both cameras are capable of shooting in  10bit (1.07 Billion Colors) and 12bit (68.7 Billion Colors) in reduced frame rates if needed for better image fidelity compared to the 16.7Million colors of 8bit which might exhibit banding artifacts in color patches. 
Pricing and Availability:
The Chronos 4k12 will start at $14,495 USD for 64GB memory and 1TB internal SSD .
The Chronos Q12 will start at $19,995 USD for 64GB memory and 1TB internal SSD .
These cameras while pricy for the common camera enthusiast, represent a very aggressively priced alternative to cameras from Vision Research and or Photron which can cost 5x or 6x the price for entry-level gear packages. 
For more information about these cameras, please visit the Krontech official website for details. Pre-orders can be placed today and will ship in February 2024. https://www.krontech.ca/chronos-4k12/ -HSC
(Visited 121 times, 7 visits today)