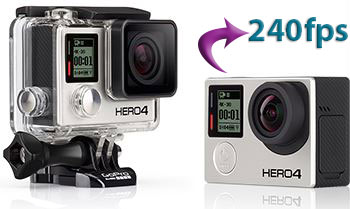 What had been just a rumor just a few months ago before the release of the Hero 4 Black now its a reality. The camera will regain the feature of 240fps at 720p which it was rumored and lost at launch. All rumors speculated that this frame rate would be included but was scrapped at the last minute.  Be it stability or heat concerns, the extra slow motion spec is now going to be brought to life by a firmware update.
Full Firmware Specs:
HERO4 Black and HERO4 Silver
Time lapse video mode – Capture Time Lapse videos automatically—no post-production needed. Showcase a sunrise, road trip or family gathering as a short, sharable video.
30/6 burst photo – Introducing a new way to never miss a moment. Capture 30 photos in 6 seconds—perfect for longer duration fast-action activities like surfing and snowboarding.
Auto rotate – Automatically adjusts capture orientation to right-side up when the camera is mounted upside down.
HERO4 Black
720p240 fps video – Record ultra high frame rate video at a staggering 240 frames per second for liquid smooth slow-motion playback
2.7K60 fps video – Capture cinematic, high-resolution 2.7K footage at an impressive 60 frames per second
HERO4 Silver
Add HiLight Tags during playback – Now you can mark key moments both while recording video and playing back content on the built-in touch display to quickly find highlights for easy editing and sharing.
The Hero 4 Black will also gain the ability to shoot 2.7k 60fps which is pretty good for that resolution and makes it ideal for aerial drones.  It seems like Sony with it's action cam might have forced the hand of the developers to offer enticing features for the Hero 4.  We still think Image Stabilization on the Sony is the most important feature consideration of the two cameras and one that GoPro simply has no game unless you stabilize in post sacrificing precious resolution. It will probably be a feature implemented in future GoPro cameras in order to compete.
Competition is a good thing as it forces a one-upmanship game of specs at ever lower or standard pricing.  We applaud the decision of GoPro to offer buyers of the Hero 4 Black, all that the camera is really capable of without waiting for  a Hero 4+
The Update will be released in February, no word on a specific date but estimation is in the middle of the month.
GoPro Hero 4 Black Slow Motion test by Alexandr Zhurkov
(Visited 2,858 times, 1 visits today)