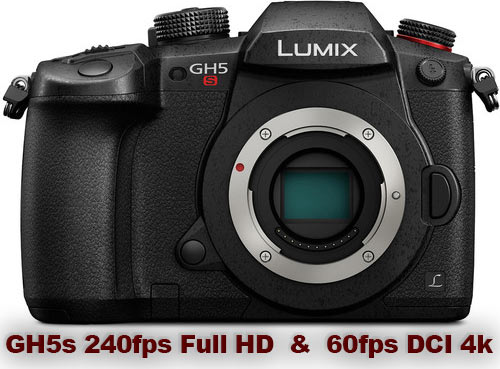 As expected based on early comments of the slow motion mode on the GH5s, the camera has pronounced aliasing "seen in this video by Max Yuryev" and softness the higher the frame rate goes. Even at 120p it is less detailed than the standard GH5.  It may be a function of supersampling in the higher megapixel  20MP GH5 vs the 10.2MP GH5s which is creating the new artifacts.
While the GH5s can shoot up to 192fps without cropping the sensor, anything above that up to 240fps it has a slight sensor crop which further decreases quality.  While the VFR mode on the camera is better than most cameras in the price range that attempt the feat, it is of note that the quality instead of increasing or remaining the same as the sister model takes a hit which may kill it as an option for slow motion needs.  We still believe the standard GH5 is the best Lumix option even when compared to the G9 in VFR mode.
GH5S Review – Shocking Lowlight for a Micro 43 by Max Yuryev:
In the video above by Max Yuryev you can see at playback position 5:30 the slow motion test between the cameras. Excellent test by Max and the subject matter clearly shows what the camera loses in detail retention.
All is not a loss as the 4k footage coming from the GH5s is as detailed as the GH5 with excellent quality and no aliasing and moire problems. The new camera is a low light beast and it shows it's prowess in the rest of the test. You are buying this camera for the high ISO performance and not the slow-motion necessarily and gladly to see the new camera performs beautifully compared to most any camera out there.
GH5s Slow Motion Samples Addendum:
GH5S SLOW MOTION 240 FPS by MrBeto:
Slow motion – Panasonic Lumix GH5S by Automotive Photo & Video:
Panasonic Lumix GH5s in slow motion at 240fps by 2011peopleasia:
Panasonic GH5S 1080p/200fps NO CROP Slow Motion by 4K Shooters:
GH5s Slow motion first test GH5s by Adrian Balaceanu:
Panasonic GH5S|VFR – 96, 120, 180, 240fps by Osamu Hasegawa Films:
As you can see from the samples above, you can still get some decent slow motion shots with the GH5s but noise and compression also take a hit at 200/240fps.  Seems the quality drop is not only in the resolution department but the noise performance drops a couple of notches. The mode even in daylight seems to be noisy which is something we also saw on the Panasonic EVA-1 which has a similar 240fps mode.  That camera has slightly better quality but still not up to professional standards when it comes to high frame rates.
It is encouraging to see 240fps taking center place in the camera spec sheets which seem to imply that more and more cameras will shoot the spec.  Sony with their RX series already has better 240fps performance but that is limited by only 4 seconds recording albeit free of big artifacts and noise.  The GH5s has unlimited recording time in all modes with a fast SD card so that is surely a thing to consider.  We hope to see camera makers improve in the frame rate department and aliasing should be out of the picture at 240fps soon enough. -HSC
(Visited 12,793 times, 1 visits today)