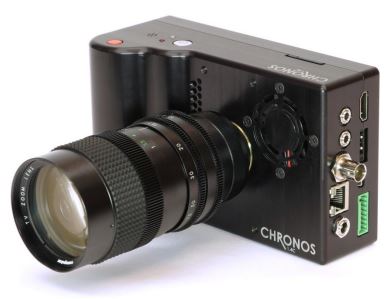 We have been following the evolution of the Chronos high speed camera for some time and been amazed at the speed and refinement that David Kronstein the creator from Vancouver Canada has been able to reach in the space of a year.  With the Kickstarter campaign being launched today you now have the chance to fund his project and get a camera of our own.
The camera will start at $2,499.00  USD for the 8GB memory version that can record 4 seconds at full speed 1,057fps at 1280*1024 or 1,502fps at 720p. This is some aggressive pricing especially in a  self contained package.  This beats the pants off self contained cameras  of  a few years ago which maxed out at 725fps for over 15k USD.  The Chronos also has several professional features like Gigabit Ethernet, SATA 3G, HDMI Peaking and Zebra assist.
Chronos 1.4 Main Features and specs: 
See the full specs in the Chronos 1.4 Datasheet
Chronos 1.4 Campaign video on Kickstarter:
1280×1024 1057fps CMOS image sensor with 1.4Gpx/s throughput
Higher frame rates at lower resolution (see table below)
Sensor dimensions 8.45 x 6.76mm, 6.6um pixel pitch
Global shutter – no "jello" effect during high-motion scenes
Electronic shutter from 1/fps down to 2us (1/500,000 s)
CS and C mount lens support (Other Mounts Adaptable)
Focus peaking (focus assist) and zebra exposure indicator
ISO 320-5120 (Color), 740-11840 (Monochrome) sensitivity
5″ 800×480 touchscreen (multitouch, capacitive)
Machined aluminum case
Record time 4s (8GB) or 8s (16GB)
H.264 Video Directly recorded to SD card.
Continuous operation on AC adapter (17-22V 40W)
1.75h runtime on user-replaceable EN-EL4a battery
Gigabit ethernet remote control and video download*
Audio IO and internal microphone*
HDMI video output*
Two channel 1Msa/s waveform capture*
Storage: SD card, two USB host ports (flash drives/hard drives), eSATA 3G
Trigger: TTL, switch closure, image change*, sound*, accelerometer*
Low-noise variable-speed fan – camera can run indefinitely without overheating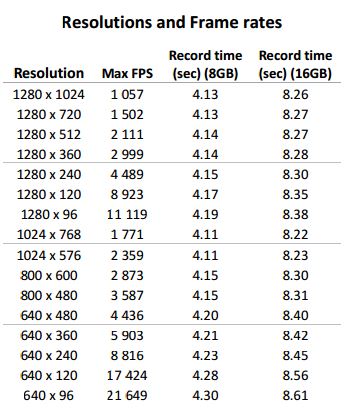 Chronos 1.4 tech features by tesla500:
The Jog wheel pictured above is one unique feature this camera has over the competition. There is a certain finesse that can only be realized by using analog controls that no touch screen can match.  The Camera can use the jog wheel to select areas of a footage sample to save in and out points for final recording.
As you can see the camera is pretty robust and with 24/7 operation in mind with AC Adapter you can easily monitor and work with the camera over a network if working in a lab or industrial setting.  You will notice as is the case with all high speed cameras that the Monochrome version will have better light sensitivity and ultimate resolution that is not curtailed by the Bayer sensor of the color version.  If you do not need color and aim for the best low light sensitivity and detail the Monochrome will be the way to go.
Chronos 1.4 Footage demo video:
Stretch goals for the campaign!
WiFi dongle support ($200,000)
Android remote control app ($400,000)
If the stretch goals are met which will go above the $50k USD campaign goal or $65k Canadian Dollar; the goals above will be worked on. WiFi would certainly come in handy as will a phone app that can interface remotely with the camera for recording functions.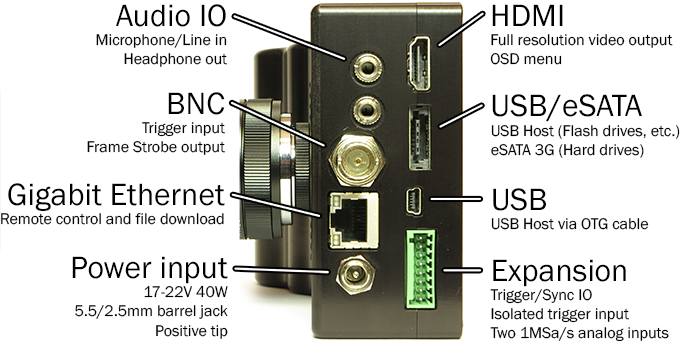 Launch Time Table:
As you can appreciate the camera is scheduled to start reaching early backers by mid March 2017 and ship the other batches by May 2017 if no setbacks push it back.    Regarding FCC testing David says the following:
"Another minor risk is failing FCC part 15 emissions testing. Our lead engineer has successfully seen several products through this approval, and proper precautions have been taken in the camera's design to make passing easy. Allowance has also been made in our schedule for a PCB re-spin to incorporate any unforeseen changes required to pass testing."DK
As with other cameras FCC and EMC electromagnetic emission tests can delay a product from shipping by months or years. However considering the experience of the engineers behind it it seems that even if minor changes have to be made they can be accommodated to fulfill the time table.
Besides the testing the production of the cameras should have no big setbacks as David and his team have built 12 fully working prototypes.  The batteries are standard EN-EL4a Nikon batteries available easily on the web. This is also a time saving feature of the camera and a battery standard can save on compatibility issues.
We wish David Kronstein and his team much success in his Kickstarter campaign and If you so choose you can back this project and get a Chronos 1.4 high speed camera by visiting the campaign page here: https://www.kickstarter.com/projects/1714585446/chronos-14-high-speed-camera
Disclaimer: We do not promote the purchase or backing of any Kickstarter or similar campaign. We at HSC only analyze and present the information available on diverse high speed cameras. The decision to back a project or purchase a camera is entirely your own!
Campaign Status November 23rd:  The campaign is already funded in under 12 hours with almost duplicating the goal needed. Major Congrats! You can still continue the campaign with your pledge and get a camera here and contribute to stretch goals!


(Visited 1,194 times, 1 visits today)