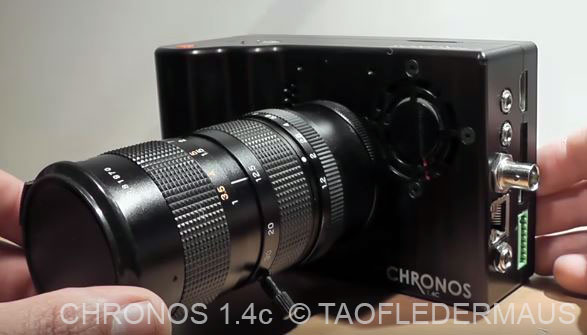 The YouTube channel TAOFLEDERMAUS has received a Beta version of the Chronos 1.4c  High speed camera and has done a walk-through of the main interface, boot up time and clip trimming. While the camera is still in pre launch software it is clear the ability to shoot and save clips is rock solid.  For such an early version before production it already has most of what you would expect.
The interface has a Linux based OS with a simplified interface layer to control the camera. It has a handy preset resolution menu as well as live clop marks showing you the video capture area as you make adjustments.
If we could improve the interface in some way is to add color coding to the selection bar of in and out points or visible brackets to make it easier to select a clip and save.
Chronos 1.4c High speed camera video:
21,600 FPS for $2500 – Chronos High Speed Camera – Sneak Peek! by TAOFLEDERMAUS:
It is clear the Chronos 1.4c is already offering professional performance for an estimated $2,500.00 .   David Kronstein the creator of the Chronos high speed camera has done an admirable job bringing it close to production ready in such a short time. The use of commodity Nikon batteries is also a good way to standardize the power source for this fully contained and portable slow motion camera.
If the Chronos upcoming funding campaign bears fruit you will be able to order one for yourself real soon. It seems David will use Go Fund Me according to comments.  The low cost high speed camera market is exploding with features and portability that are really putting a dent into the professional market.  Rental houses should offload their aging inventory while they still can; the democratization of slow motion video is here to stay.
About the Video Creator:
TAOFLEDERMAUS Channel specializes mainly in testing slugs / bullets and seeing how they perform shooting various targets. The channel description below:
We create original videos, many of which are viewer-suggestions. From strange demonstrations of mercury, to shooting projectiles made by viewers and other YouTube channels. Instead of being passive observers, viewers can become part of the the video production process by suggesting ideas.  "You make it-we shoot it" Is a great way to promote your YouTube channel or website. Email me, PM me here, or PM me on Facebook page if you would like to make slugs for us to shoot!
Silver Dollar Shotgun Slugs – For Werewolves With Chronos Test by TAOFLEDERMAUS:
We will keep you posted about the Chronos high speed camera development and funding campaign once we have more information. -HSC
TESLA500 Youtube Channel by:  David Kronstein is here so you can subscribe and see the progress and more footage.
https://www.youtube.com/user/tesla500
And http://omeganaught.com/ is Mr. Kronsteins's projects page.
TAOFLEDERMAUS  Youtube Channel Here to see more Chronos samples.
All imagery posted here is the Copyright of TAOFLEDERMAUS and used under fair use.
(Visited 2,747 times, 1 visits today)