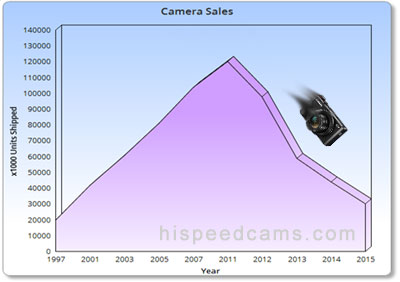 Tony Nurthrup has created a video eulogy of the consumer cameras along with a long explanation of why the camera as we know it will cease to exist. It is not only about the form factor change and plethora of options but the ability of camera companies to make money from their camera lines.
There has been a continued drop in consumer cameras of all kinds including SLR or ILC systems sales since their peak in 2011. The smartphone is killing the camera and no matter how many phone like features like WiFi, Bluetooth or Social Media share are incorporated in compact cameras; they continue to go down in sales and swamping the bargain bins of oblivion.
The DEATH of the Consumer Camera by Tony Nurthrup:
Tony's video "Subscribe to his channel here"brings up the issue to the forefront and it is hard to argue with his views.  There will still be a super high end SLR market for sports and wedding  photographers but more and more DSLRs for the common photographer will continue to dwindle. The phone will continue to get better and to a point where carrying a huge DSLR would be like bringing a dinosaur to a modernist party.
What about slow motion cameras?
For the time being there will still be a very solid market for specialty cameras like high speed, thermal and spectral imaging devices.  These niche markets are already tiny compared to mainstream cameras and phones and will continue to be needed for diverse purposes.  With the advent of compact cameras that can shoot super slow motion things got a little competitive but there is still nothing out there that can match a 1000fps 720p or 1080p camera in consumer land.  They may shoot at those frame rates but the quality and resolution is not even close.  They do however go head to head up to 240fps but above that it is dedicated high speed camera land all the way.
16 Everyday Things In Slow Motion by We Love Buzz:
Therefore we will continue to cover the evolution of the slow motion camera in all it's incarnations including the strong uptake on phones that do higher frame rates.   -HSC
(Visited 346 times, 1 visits today)