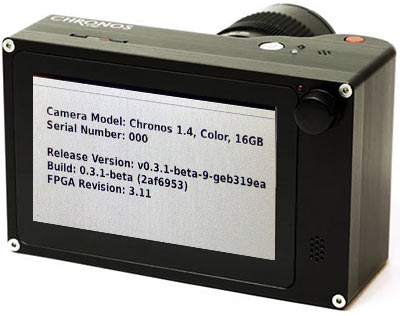 The Chronos 1.4c team based in B.C. Canada has been hard at work unleashing the features of the camera hardware and adding software features that should make the camera more valuable to video professionals everywhere. The new firmware adds HDMI live mirroring support for monitoring which is clean and lets you record its output. Another feature is the inclusion of native CinemaDNG save format image sequences which retain 16bits of color data and allow you to really streamline the workflow without time-consuming conversions.
In our testing over the last 4 days, we have really put the firmware "available here" through its paces and found very minimal issues in the software related to usability but no freezes and rock solid operation over around 14hrs of operation.   By saving to CinemaDNG we have no issues with cards getting write space errors due to saving the 1.8MB files individually. We feel this format is really unleashing the camera's quality fully with a faithful sensor capture representation.
Chronos 1.4 Firmware – HDMI Mirroring is here!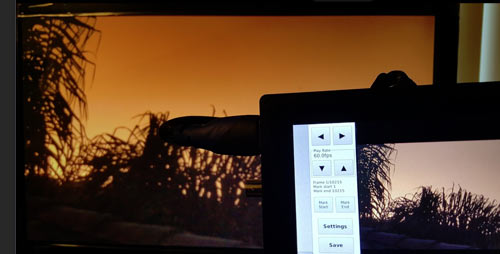 Since the release of the camera, the HDMI port had been turned off until the code was mature enough to support it. We are glad to report that it is hot plug and play and on 3 different 1080p monitors it had no issues feeding a signal and displaying raw video data. Footage capture should be possible to an external HDMI recorder offering another way to store the camera's images.  The playback buffer allows the camera to playback at 30p, for example, making it possible to externally and cleanly record slow-motion footage in any format your recorder supports.
The Chronos also allows recording in H.264 with a new and updated de-bayer algorithm which should yield better edge detail and fewer color artifacts. Still, we cannot compare it directly to the quality of the RAW data in CinemaDNG for example. If you want to capture the entire data stream you need to use RAW which will let you change white balance and use your preferred converter. We used Adobe's Camera RAW CC 2018 to convert the DNG sequences and were really amazed with the detail retained.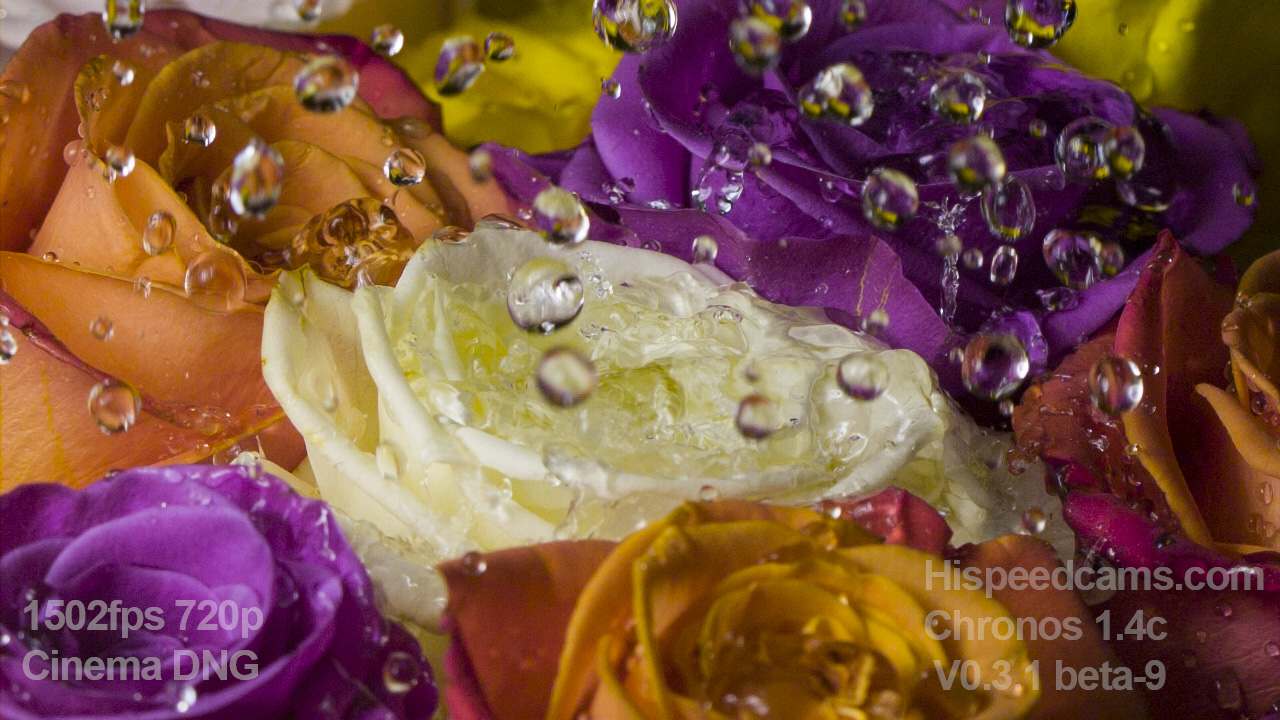 The white balance interface has been reworked and now allows you to edit the color matrix information manually if needed and have a custom white balance setting which should suffice for matching shoots.  In our experience, we used the custom WB only sparingly as our lights are 6500k balanced which offered near-perfect color reproduction in the Cinema DNGs.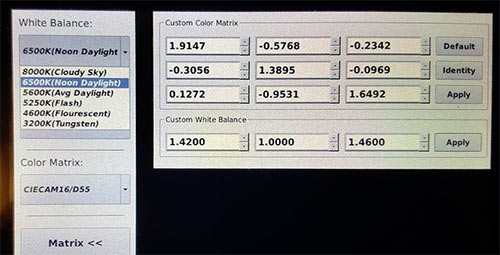 Final Notes:
The firmware has a lot of minor and major fixes and tweaks that really bring the camera to a solid footing and dependable on the field. So many bugs have been squashed and usability has taken a step forward which is not to be dismissed as just one more feature. The camera is a breeze to use and has finally unleashed its potential for image quality and dependability with all these fixes.
The camera exposure can now be adjusted by the jog wheel and allows for shutter angle degrees to be used easily. We, however, wish we could have the option for using shutter speed in the fractions of a milli-second format i.e. 1/2000, 1/4000, 1/8000 which are ideal to match the look and feel of other camera motion blur characteristics.  This should be an easy software feature to implement.
One other thing on our wish list is the ability to have the shoot interface be on the bottom of the frame while allowing the 720p preview, for example, to go from edge to edge on the screen. The way it is implemented right now makes a real estate sacrifice on the preview image which could be better used for easier focus and framing.  A re-work of the video settings and slider interface would have to be factored in. One possibility is to do an interface overlay on video and allow on off of the buttons and slider area on command.  Since the camera software will be ported to a new OS it will be possible to iterate further and maybe allow for custom themes by users who require specific features on screen.
Future Wishlist: Live histogram in B&W and Color positionable on the screen.   Zoom feature to check focus before recording.
Firmware Verdict: In a word… Great!– Well done Chronos team!
You can find the firmware download at the official Chronos Forum post here: http://forum.krontech.ca/index.php?topic=423.0
Make sure you follow the update instructions to the letter and to save your calibration data beforehand to avoid any unforeseen problems in case an error occurs. Be kind and keep the Chronos team informed of any bugs that may crop up during your camera use.
Chronos Firmware V0.3.1.9  Release notes below:
Notable Changes:
– New Demosaic algorithm based on AHD, which should improve color reproduction and reduce edge noise.
– Standalone daemon to operate the video system, with DBus API.
– External HDMI displays are supported at 1080p and 720p resolutions.
– Recording speed improvements.
– Add CinemaDNG and TIFF as save file formats.
– Deprecate Raw 16-bit right-justified save format in favor of CinemaDNG.
– Add a demo mode to replay a section of recorded video in a loop.
– Add option to overlay frame statistics onto processed video formats (H.264 and TIFF).
– Jog wheel can be used to adjust the exposure, and navigate the settings menus.
– New video memory recovery tool to download video (slowly) in the event of a software crash.
– Redesign of the white balance window, including a new dialog to edit the color matrix.
Minutiae:
– Add white balance preset for 3200K/Tungsten lighting.
– Adjust highlighting of text when selecting text boxes.
– Auto-record and auto-save modes independent of one another.
– Improved algorithm to estimate framerate during file save.
– Date format in the Utility window changed to shorten the Month string.
– Display separate version strings for both the Application and Filesystem/Release.
Fixed Bugs:
– Crash causing the video to freeze after approximately 45 recording attempts.
– Trigger delays would scale incorrectly when using segmented recording mode.
– Abort recordings when the free space drops below 20MB to avoid crashing when the disk is full.
– UI bug causing the selected save location to always select the first mounted disk.
– First frame of a raw recording would contain corrupted NV12 image data.
– First pixel of a Raw 12-bit packed frame was sometimes being dropped.
– Corrupted pixels at the end of a Raw 12-bit packed frame.
– Add crosshairs to the white balance window.
– Add Qt stylesheet to improve focus visibility.
– Main window exposure now is shown in microseconds and shutter angle.
– Jog wheel now adjusts exposure logarithmically, or by degrees when pressed.
– The 'close' button on the soft keyboard now applies the entered text.
– Reorganization of the soft keyboard to include a negative key.
– Black areas of the UI become transparent after an HDMI hotplug.
– HDMI hotplug while on the playback window would revert to live display.
– Add missing ColorMatrix1 and CalibrationIlluminant1 tags to CinemaDNG files.
– Fix possible crash of the video system when aborting a file save.
– Fix possible crash of the UI when rapidly aborting and re-starting a file save.
– Fix color correction math so that saturating the image sensor tends towards white.
Also, some bugs that were introduced in beta-4 but now fixed:
– Monochrome TIFF now pads the pixel values with least-significant zeroes.
– H.264 bitrate setting was being ignored and defaulting to 0.25 bpp.
Compatibility Issues:
– The pixel packing order in Raw 12-bit mode has been changed for the v0.3.1 release.
Given a pair of two 12-bit pixels in hexidecmal as (0x123, 0xabc), the bytes produced
by the Raw 12-bit packing mode changes as follows:
v0.3.0 and earlier: (0xab, 0xc1, 0x23)
v0.3.1 and later: (0x23, 0x1c, 0xab)
Known Bugs:
– The first frame of an H.264 recording is erroneously copied from the display buffer before the recording starts.
(Visited 1,186 times, 1 visits today)