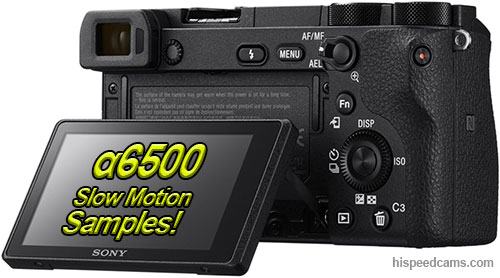 We have now a fairly good amount of slow motion samples for the Sony a6500 compact APS-C Camera to share with you.  It is clear that the quality this camera can provide is above the norm but we still do see some aliasing in diagonal fine lines which is to be expected by a sensor that is skipping some of the lines to achieve 1080p 120fps.
While the 4k UHD in this camera is derived from an oversampling of 6k; the 1080p 120fps is being extracted from a 24.2MP sensor using a 13MP effective crop factor 1.9x;  is throwing away some line information to get there. Also the camera caps frame rate output over HDMI at 60fps so there is no way to record super slow motion to an external recorder at 120fps.
All in all the 120fps slow motion with XAVC-S codec is some of the best in a camera of this size and cost at Full HD 1080p.  Below are new samples that should be able to show you how good the camera is when fast frame rates are considered.
Sony a6500 New Slow Motion Samples:
Sony A6500 review: slow motion compilation at 1080 / 120p by Gordon Laing:
α6500 – 5x Slow Motion in Full HD "Tezutsu (Large hand-held Cylindrical) Fireworks" by Sony Electronics Asia Pacific:
Sony a6500 slow motion test by – optical shot background:
Sony a6500 slow motion test2 by – optical shot background:
a6500 slow motion waves video by Owen Clarke:
SONY α6500 – slowmotion at hakata by KHDesignJP:
FUKUOKA NIGHT [A6500 120p] 〜 SONY α6500 Movie by DY Duke Films:
Sony a6500 touch autofocus skate park test – graded with Filmconvert by Newsshooter:
We can't help but be impressed by the Sony a6500 quality in video mode. The 120fps 1080p Full HD mode is very detailed and performs admirably in low light. We encourage you to visit the video producers using the above links and subscribe to their channels. At 100Mbits/sec the codec does very well in archiving this format.  We currently rank the a6500 in #16 of our Camera Guide; right below the a6300 which offers similar performance but $400 USD or more cheaper.
We hope Sony continues to have innovation in this segment and lifts the spec all the way up to 240fps full HD by this time next year in a camera of this caliber. After all 240fps is already a reality in the Sony RX Series cameras which are in the price range but use a different sensor+ memory package. -HSC


(Visited 9,913 times, 1 visits today)