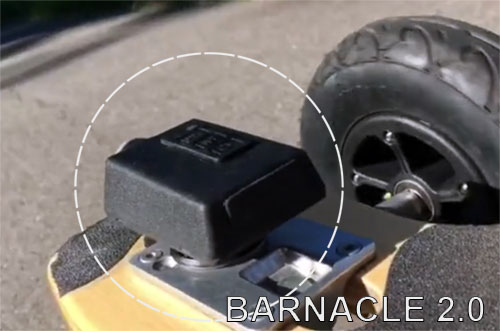 The Barnacle Action Camera 2.0 is a Kickstarter project from Canberra Australia, that aims to democratize good quality action cameras for every one.  They have just 14 days left in their funding goal with just under 1/3rd of the required pledge total.  This is an unconventional camera that aims to go toe to toe with the best action cameras out there.
The shape and tiny size is different with everything controlled from Apple or Android devices besides a basic power and record buttons on the top of the camera.  It however aims at the professional market with features that are usually twice the cost on other brands. It is a decent camera for very little money in the end.
Barnacle Action Camera 2.0 Main Features:
4K (Ultra High Definition): 3840×2160 30fps
2.5K (Quad High Definition): 2560×1440 60/30 fps
Full HD: 1920*1080 120/60/30 fps
HD 720P: 1280*720 240 fps
Photo: 12 Mega Pixels
Modes: Video, Photo, Time Lapse
Battery: 1200mA/H – 2 Hours Recording HD
Lens: 166 FOV, F2.8
Storage: 64gb microSD card File tyoe: JPEG, MOV, MPEG4
Kickstarter Price

$183 USD

Ships Worldwide!
As you can see the Barnacle 2.0 is no slouch when it comes to video recording specs. In fact it matches the GoPro Hero 5 Black and Sony's Latest Action cams. Slow motion features are excellent for a camera this size with 60p 2.5k, 120p at Full HD 1080 and 240fps at 720p.  However there are no samples we could point to that show these modes in recording. 4k is however prominently displayed and offers similar quality to the GoPro Hero 5 including the distortion from the 166 degree field of view which is close to that camera's 150 degrees. It is according to the campaign using nearly the same electronics as their competitors but without the high price tag.
Barnacle Action Camera 2.0 Campaign Video:
More Features:
Lightweight – 60 grams
Tough – strong enough it can be run over by a car
Waterproof – now to 5m without a housing
Tech Friendly – apps available for both Apple and Android
Low Profile – more discreet and won't get in your way
Adaptable – using different mounts you can use it anywhere
Safety – Due to its small size and compact design, the Barnacle is much safer than current Action Cameras and less likely to hurt you when you're using it, or if you fall on it or with it
Compact – smaller form factor than a credit card
Advanced Material – a durable outer coating on the case, we achieve a super strong and durable action camera
Pocket Friendly – perfect for everyday carry
Australian – designed + tested + assembled
The Kickstarter project says that it is aiming to be the most durable action camera ever and besides being waterproof to 5 meters or 16.4ft  without a housing and dust-proof it also has a cool magnetic mount included if you pledge in one  of their packages.
We cannot really tell or give our opinion about the slow motion quality but it will probably be close to what the GoPro Hero 5 is able to deliver since they are using similar components.
For more information and to help their project reach their goal visit their Kickstarter project site:
Disclaimer: Kickstarter campaigns aim to reach funding from a large number of backers. Some campaigns are not able to deliver on their promises so make your own due diligence before pledging. HSC is not directly recommending the purchase of any camera; we only inform of the options out there to make your choice easier.
(Visited 412 times, 1 visits today)