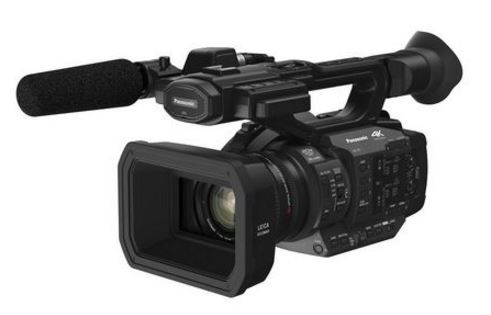 In a launch that was mostly subdued, a new camera was launched in August; the Panasonic  HC-X1 which is a mid range professional fixed lens ENG or EFP camera with some serious specs to go behind it.  For starters there is 4k at up to 60fps a format that we hope to see in upcoming ILCs like the GH4 successor and Sony Cameras.  The other is 100fps PAL or 120fps NTSC 1080p which is now a must have slow motion standard for any serious camera.
The qualities of the new Panasonic HC-X1 do not stop at higher frame rates; it features a fantastic 3 independent fly by wire ring system for focus, aperture and the last for zoom which starts at a very wide 24mm to 480mm at the long end or 20x optical. The camera also features  a built in ND Filter wheel from 1/4th to 1/64th for effortless 180 degree shooting outdoors.
Panasonic HC-X1 Specs:
Advanced Optical Image Stabilizer (4K/UHD/FHD) and 5-Axis Hybrid O.I.S. (FHD)
1″-Type MOS Sensor
DCI 4K Recording at 24p
HDMI and A/V Outputs
VFR UHD (2 to 60 fps) /HD Super-Slow Motion (120/100 fps)
Supports 4K, UHD, FHD; 60p/50p/25p/24p
High-performance LEICA DICOMAR 4K Lens 24mm f2.8-F4.5 with optical 20X zoom (24-480mm).
Built-In ND Filters
2-channel XLR Audio, Wired/Wireless remote control, triple Manual fly by wire Rings, user switch, timecode, Live HDMI output.
Simultaneous 4K UHD/FHD dual codec recording to two SD cards.
Three independent ring system on lens focus/aperture/zoom.
Optional Shotgun style external microphone.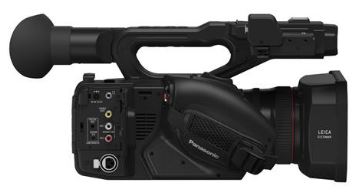 For a suggested retail price of $3,199.99 USD the camera is one of the best values in price/performance/features we have seen lately.  This is a complete production ready camera for documentary, B Roll and interviews all in one inexpensive package.  This is a real option for those looking for 4k performance up to 60fps for overcrank at that resolution and with the ability to save on dual SD Cards as continuous recording but also as 4k and 1080p saved simultaneously make it a must have for news delivery with extreme portability.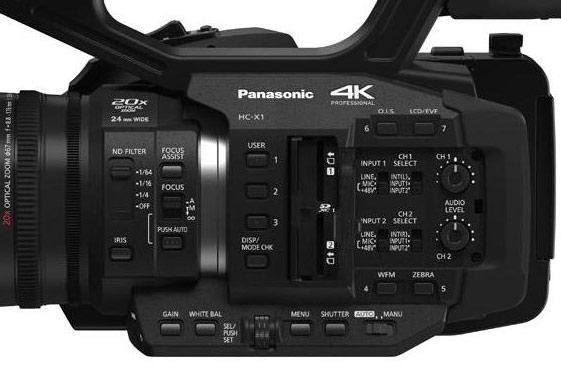 The sensor seems to perform as good as you would expect from a BSI 1″ sensor from current technology which is very clean.  We will need more samples to judge quality and in HFR mode see if compression hinders the video quality.   There is also an Infra Red Shooting night option (Green Image) which is coming back to cameras as an added feature once again. This used to be very popular in the 90s and early 2000s with Sony Camcorder Night Shot Mode.
The 5 axis image stabilizer from Panasonic is one of the best in the business and should do well with this Leica Branded 20x Optical Zoom.
Our Take:
All in all we are very impressed with this camera and what it offers for the price. Not too long ago features like dual cards, dual codec recording, 4k at 60fps and 120fps at 1080p plus all in a do it all package would have cost way above 5k.  Panasonic is very aggressive with the HC-X1 and should take away customers from Canon, JVC and Sony with this camera.    Our Panasonic pick is still the excellent DVX200 Camera which offers even more punch for Just under $4k.  That camera offers a micro 4/3 sensor which should yield even more impressive low light.  However the HC-X1 is a mini version of it with a great balance of features for $800 USD less.  We like what Panasonic is doing and can't wait for what they have in store for the future.  See the video below for a cool rundown of the Panasonic HC-X1 features including the slow motion feature.
Panasonic 4K UHD Camcorder HC-X1 Launch Video:
We will have slow motion video samples as the become available. In the mean time you can read more at the pre-order pages below:
Adorama Camera has the HC-X1 for Pre Order Here:
(Visited 4,326 times, 1 visits today)