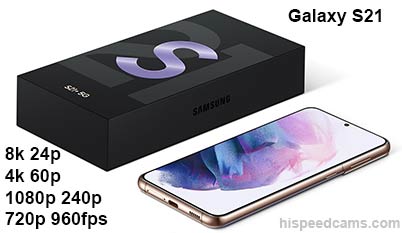 This week we had the announcement by Samsung of the Galaxy S21 phone line which is the de-facto Android handset in most of the world.  The Galaxy S21 Slow Motion has essentially the same feature set as the Galaxy S20 of 2020 when it comes to high-speed video. The Galaxy brand went serious with Slow Motion since the Galaxy S9 with the 960fps mode at 720p which we can still see here with somewhat improved resolution and recording time.
The S21 line is by almost any standard a refinement of the line with very subtle but important updates on the previous S20 phones. We get the Snapdragon 888 which is the brightest and fastest SoC in non-Apple land. We get 120Hz adaptive screen refresh rate and 108MP telephoto camera on the Ultra version with 10x hybrid zoom, and half that at 64MP on the regular S21 and S21+ which only offer 3x hybrid zoom. We also get 8k video recording on all of the phones at 24p which we will have to test if it is really delivering on the promise.
Galaxy S21 Slow Motion Video Features:
Resolution
8K video recording at 24 fps 

(7680×4320)

4K UHD video recording at 60 fps 

(3840×2160)
1080p FHD video recording at 60 fps 

(1920×1080)

720p HD video recording at 30 fps 

(1280×720)
Shooting speed
Super Steady 

1080p video support at 60 fps

Super Slow-mo 

720p video support at 960 fps
Slow motion 

1080p video support at 240 fps & 120fps

Hyperlapse 

4K video support at 30 fps
Other
HDR10+ recording
VDIS (Video Digital Image Stabilization)
Digital zoom up to 12x
High CRI LED Flash
Tracking AF
Take 33MP still photos while playing 8K video
Playback zoom
Video location tags
*HDR10+ recording is currently in beta and only available on the rear camera. Quality may vary based on sharing platform and playback environment; HDR10+ color is only available on supported devices or platforms.
*Super Steady is only available when shooting in FHD resolution.
*Super Smooth 60fps Video supports FHD resolution in Auto mode only.
*Super Slow-mo only supports HD resolution. On Galaxy S21 5G and S21+ 5G, users can record approximately 0.5 seconds of video captured at 960 fps with approximately 16 seconds of playback. On Galaxy S21 Ultra 5G, users can record approximately 1 second of video captured at 480 fps and digitally enhance the video to 960 fps with approximately 32 seconds of playback. Playback time can be edited in Super Slow-mo player.
Samsung Galaxy S21 event in 12 minutes by The Verge:
Same feature, mildly upgraded results!
So we get 960fps recording in 720p only in the S21 and S21+ phones and not in the Ultra. The Ultra version is capped at 480fps 720p and then AI deep learning interpolates to 960fps slow motion for the final result on the highest spec phone.
It is the same as last year's S20 which also featured that limitation on the Ultra version of the handset.  It is not a matter of processing power but it is based on the choice of sensors. The Ultra seems to be capped at 480fps while the non-Ultra can scan at 960fps in 720p.
When it comes to slow motion the cheaper phones are actually more capable which may be ideal if this feature is important to you.
On the S21 and S21+ you get 0.5 seconds of 1/2 a second recording time at 960fps which translates to 16 seconds playback at 30p.  On The Ultra you get 480fps for 1 second recording time and interpolated to 960p for a 32 second playback time at 30p.  This is exactly the same as last year's S20 line.
We have to test the feature fully but we estimate slightly better color, dynamic range, and artifact control on the S21 but nothing that would make you upgrade your S20.
Galaxy S21 Slow Motion Early Samples:
We will be testing the Galaxy S21 in the coming weeks as we are receiving a test unit. In the meantime, we found some samples online that could be legitimate. They certainly look real in resolution and speed for the most part but it is so early that we cannot confirm their validity.  We will re-examine the slow motion samples in a later post at HSC including our own tests.
Samsung Galaxy S21 Camera Slow Motion Test by MKP Captain:
Samsung Galaxy S21 Ultra Slow Motion Video Test | Galaxy S21 Camera Review by Tech Review A2Z:
Samsung Galaxy S21 Ultra – Super Slow Motion by Joao Castro:
Should I upgrade to the Galaxy S21?
We firmly believe if you have a Galaxy S10 or below that this is a worthy upgrade due to the improved cameras, 5G support, Better screen with 120Hz Refresh rate, better microphones, better battery life, faster CPU and GPU, 8k recording, 4k 60p, better Auto Focus, better zoom and HDR footage compatible with the latest TVs.
That said, it is clear the Galaxy S21 is a refinement on the Galaxy S20 and if you own that phone, we see no reason to upgrade it unless you take the generous pre-order offer by Samsung that lets you get the new phone by sending in your current handset for a considerable reduction in price. Up to 90% off depending on your phone. You can get an S21 for just $99 USD if you swap your current S20 for example.  That is a pretty unbeatable deal.   If you own an S10 for example, you get a $550 credit and also $100 voucher at the Samsung store on the purchase of an S21.  It is clearly a way for Samsung to retain the installed base and lure people away from other brands and especially Apple by offering a deal too hard to pass up.
Price and Ship Date:
The Galaxy S21 will ship at the end of January 2021. The price depends on model and memory options. Note that only the Ultra version offers 512GB of internal memory.  The S21 is overall $200 cheaper than the S20 models it replaces.
We will report back with our S21 slow motion review when we get to test it against our setup. Until then you can get more information on these handsets at the official Samsung site. -HSC  
(Visited 8,092 times, 1 visits today)