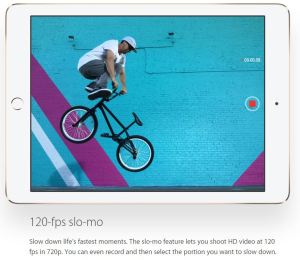 Apple today refreshed both the iPad Air and the iPad Mini lines with basically just refined specs but not a re-design or groundbreaking update.  The iPad Air 2 is adding the 120fps 720p slow motion feature first seen on the iPhone 5s and bettered in the iPhone 6.  However the iPad is not as generous as the iPhone 6's 240fps and only sports half the frame rate.
Furthermore the iPad Mini 3 has no slow motion feature and seems the least refreshed tablet.   If you want an iPad Tablet this year then the iPad Air 2 is a better option overall. If you just got an iPhone 6 or 6+ then both iPad models will be downgrades in performance and features except for the larger screens.  For slow Motion the iPhone 6 is still the best bet for Apple products continuing forward.
iPad Air 2 Video Recording
1080p HD video recording (30 fps)
Slo‑mo (120 fps)
Time-lapse video
Video image stabilization
Improved face detection
3x video zoom
Video geotagging
For full iPad Air 2 specs follow This Link!
iPad Air 2 will be available from the Apple Store October 17th starting at $499
*Update: We will have updates regarding the new fps1000 camera as soon as we get samples in higher HD resolution, we know you are eager to see them.
(Visited 5,286 times, 1 visits today)