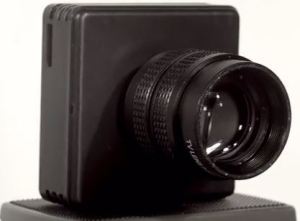 Warning: The parent company of FPS cameras "The Slow Motion Camera Company Ltd." went out of business and entered liquidation proceedings. No further development of cameras is expected. More information here on Google Search! 
Shipping Updates:
The fps1000 camera has brought a lot of improvements as stretch goals for their kickstarter campaign. It is close to achieving 5x the revenue goal set at the start. Nearing 92k Pounds and 150+ backers as of today.
New features added to all shipping cameras:
All fps1000 models will be shipped in a sealed, metal case at no extra cost.
Can sync two fps1000 cameras together for stereo / 3D applications

All cameras will now be shipped with an internal battery

  (Details will be worked on going forward)
100k Pounds Stretch Goal if reached:
"Plan to add external expansion modules that will plug into this connector that will have a USB3 interface (5 Gbit/sec bandwidth). These expansion boards will either contain just the raw USB3 interface, allowing direct connection to a host PC, or will optionally contain high speed flash memory that will provide frame buffer memory expansion for the fps1000.
Using this memory expansion you will be able to copy a sequence of images in near real-time onto this expansion board and then plug the module into a USB3 connector on a PC/Mac for fast upload. Various capacity memory options will be available for example 256Gbytes, 512 GBytes or more."
New Video Sample at 720p @ 290fps from the Gold fps1000:
We have to point out that the fps1000 records in RAW format sequences and that the image can be improved in sharpness, color and other attributes the same way a still raw image can be tweaked. The quality seems to be very good. A 1080p sample is being worked  on for the platinum edition demo.
More information we gathered about the camera:
Platinum runs at almost twice the maximum speed of Gold so it will fill up memory twice as fast if run at its maximum speed. Full speed refers to the maximum speed in a given resolution. 
The maximum recording time is the same for all resolutions if you are running at the maximum frame rate for that resolution.
The maximum speed limit is set by the sensor and memory bandwidth, not the memory capacity so you cannot exceed the fps quoted at each resolution by increasing the buffer size. This is a limitation of the circuitry bandwidth and not the available recording buffer. The camera is always performing at it's performance limits. ie: 200fps at 1080p  or 550fps 720p for the platinum version.
The camera also has a new logo that was developed by  Alec Mezzetti, and it is a good one see here!
We can't help but to be optimistic about this camera as it improves over time and be ready to ship early next year.  You can still get one for a few more days at the kickstarter campaign site*.
*HSC does not hold any responsibility for camera quality, shipping or development we are just a camera information site.  However we deem the risk of this kickstarter project very low and with a high probability of massive success due to the outstanding response in the funding and support from the community.  
(Visited 1,198 times, 1 visits today)