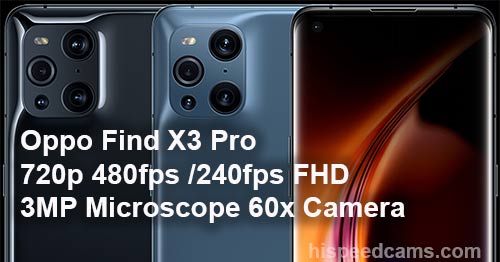 There is always an outlier when it comes to phone innovation and we have to give it to Oppo in 2021 as it seems to have created a phone that really delivers features that seemed impossible just months ago.  The Oppo Find X3 Pro can deliver the usual 4k 30p and 60p video and up to 720p 480fps slow motion along with the common standard of 240p at 1080p.  Where the phone jumps ahead of the pack is the inclusion of a real microscopy camera module that has a ring light to boot.
The Microscope camera can deliver a mind-altering 60x microscopy range magnification that looks so good that you might think it was taken with a professional clinical microscope.   It will not be enough to show blood cells that usually require over 100x to be appreciated but it delivers detail on small insects, fibers, textures, and electronics that previously required a complicated camera setup attached to a multi-lens instrument.
Oppo Find X3 Pro Camera Setup Specs:
50MP Wide-angle Camera: Sony IMX 766 sensor, 1/1.56″ sensor size, f/1.8 aperture, OIS,
All Pixel Omni-directional PDAF
50MP Ultra-wide-angle Camera: Sony IMX 766 sensor, 1/1.56″ sensor size, f/2.2 aperture, Native 110.3° Field of View,
All Pixel Omni-directional PDAF
13MP Telephoto Camera: f/2.4 aperture, 5x hybrid optical zoom, 20x digital zoom
3MP Microlens Camera: 60x magnification, FHD Video Recording, f/3.0 aperture
Front
32MP, f/2.4, FOV 81°, 5P lens
Shooting Mode
Rear:
Photo, Night, Video, Portrait, Dual-view video, Slo-motion, Time lapse, Movie, Expert, Panorama, Text scanner, Microscope, Sticker, and Google Lens
Front:
Photo, Video, Portrait, Night, Dual-view video, Time lapse, Panorama, and Sticker
Image Size

Rear:
Maximum size: 6144 x 8192 (50 MP)
Photo sizes in different aspect ratios:
3072 x 4096 (4:3)
3072 x 3072 (1:1)
1834 x 4096 (full screen)
2304 x 4096 (16:9)Front:
Front camera: 6560 x 4928 (32 MP)
Normal photo mode:
4928 x 6560 (4:3)
4928 x 4928 (1:1)
2940 x 6560 (full screen)
3696 x 6560 (16:9)
Video modes:
up to 4K (60fps/30fps), 1080P (60fps/30fps), and 720P (60fps/30fps)
1080P (240fps), and 720P (480fps)
Video stabilisation: 4K@30/60fps, EIS, 1080P, 720P
Video zoom: 4K (30fps), 1080P (60fps/30fps), 720P (60fps/30fps)
Front –
Supports 1080P/720P (30fps) (Default: 1080P (30fps)) (Beautification is turned on by default in some regions.)
Supports video stabilization at 1080P/720P (30fps)
Does not support zoom or slow motion
Oppo Find X3 Pro Microscope Camera and 60x Zoom Test by Fahad Khan:
Oppo Find X3 Pro Review — Тhe warning shot! by PhoneArena:
OPPO Find X3 Pro | Discover the Wonders of Tomorrow by OPPO

:
The excellently produced video above will probably get a lot of attention for going over the edge on budget, execution, and coolness. Oppo really outdid themselves while marketing this flagship handset.
Is this phone worth it?
We believe the Oppo Find X3 Pro is probably the most innovative phone so far this year, the microscopy feature is so good that it is really a unique head turner and it does deliver the goods in quality. The video recording in this mode is limited to Full HD 1080p at 30fps which could have been much cooler by allowing slow motion. You could actually film small insects like fleas or aphids doing jumps and other acrobatics in minute microscopic detail that would have given this phone an even greater coolness in video.
The 720p 480fps is run of the mill for many phones that do slow motion and while there are no samples of this mode we could find online yet, it is safe to assume it will be something like what the One Plus 8 phones are capable of. The 240fps mode in Full HD will be interesting to see as the phone records in 10-bit color which allows for better gradations. It is unclear if the slow motion mode goes above 8-bit color which is probably a no considering the constraints in file size on the slow motion modes. The phone also has a 1440p OLED HDR10+ display with 120Hz refresh rate which is outstanding.
As a slow motion phone is probably only competitive but the microscope feature and telephoto 60x are the reasons you want to pick this phone instead of the competition.
The Smartphone With a Microscope Camera?! by Marques Brownlee:
At
1,149 euros or ($1,374 USD)
This phone is as expensive as the Galaxy S21 Ultra and it does deliver on every metric to compete at that price bracket. The extra features like the microscope camera with included macro ring light are the cherry on top. While not a cheap phone, we expect it to be priced under $1000USD by Black Friday which would be a welcome sight.
We will probably see a lot of phones adopt microscopy in the future considering how much attention this feature had gathered Oppo. Who knows maybe 100x or more would be a possibility with also higher than 3MP and also better higher frame rates.
(Visited 377 times, 1 visits today)