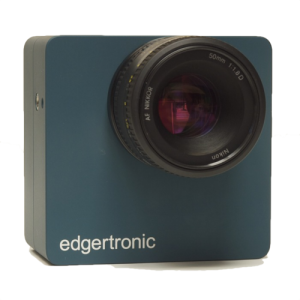 The Monochrome version of the edgertronic high speed camera is now $200 USD cheaper due to a price cut based on higher than expected sales for the model.  From an initial $5,695.00 to a now $5,495.00 – This puts it in parity with the color version of the hardware.   The Monochrome version is more sensitive to light and it is a better fit for resolution and light constrained needs.  Many scientific applications work well with monochrome cameras as the Bayer pattern is scrapped for a full resolution black and white raw image that preserves the full linear res.
Edgertronic Quote "The monochrome camera has been selling very well in the industrial, scientific and research markets. Due to it's strong sales, we've been able to negotiate a better price on the monochrome sensor and pass the savings on to you. So, now both color and monochrome are available for $5495 (shipping and options are extra of course)."
They also had some encouraging words from their blown expectations for the popularity of the camera:
"A year ago, we were an unknown startup and today we've shipped almost 350 edgertronic cameras. It's real, industrial quality high-speed video at a price that worries our competitors. Thanks to everyone that helped make this possible by buying, using, and loving our camera!"
The edgertronic is still ranked as our #1 pick for slow motion on a budget even when it's resolution tops out at 1280*1024. It will be a matter for competitors like Sony or fps1000 to de-throne the edgertronic this year.
Many professionals have used the edgertronic for great work and now Grace Young mechanical and ocean engineering major at MIT used two edgertronic cameras as part of Fabian Cousteau's Mission 31. Her exhibit at MIT's Wiesner Student Art Gallery runs till the end of January and features photos and videos from the mission. More info at:  http://www.graceunderthesea.com
Footage from the work on display "Congratulations Grace Young":
You can get more info on an edgertronic camera here!
One bonus video made recently with the edgertronic:
Beer Bowling with an Excavator by CrushSlash:
(Visited 1,733 times, 1 visits today)