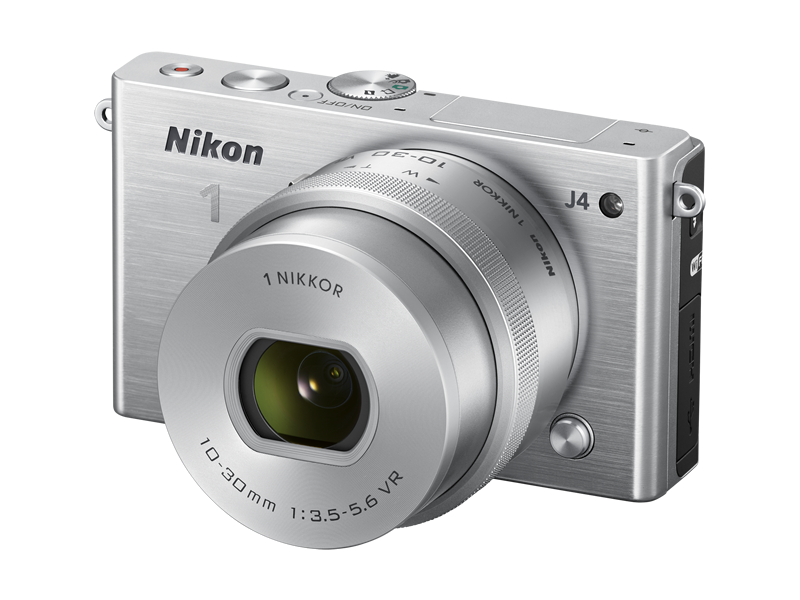 The Nikon 1 System is becoming more widespread with the arrival of the Nikon 1 J4.  Sharing the same 1″ inch sensor size and a variety of Nikon 1 lens choices for the system. The Smaller 1″ sensor has an advantage over m4/3 and APS C in the faster readout rate with less rolling shutter which translates to faster frame rates possible.
On the slow mo side the Nikon J4 continues the Nikon 1 V3s pedigree of slow motion flavors with good quality at 720p 120 and not so bad aliasing after that "Compared to the competition". You will have to do however with the strange aspect ratios and line skipping that introduces softness at 400fps and 1200fps.
The slow motion features are exciting:
1920 x 1080/60p  (aspect ratio 16 : 9; plays at 60p)
1280 x 720/120 fps (aspect ratio 16 : 9; plays at 30p/29.97 fps)
768 x 288/400 fps (aspect ratio 8 : 3; plays at 30p/29.97 fps)
416 x 144/1200 fps (aspect ratio 26 : 9; plays at 30p/29.97 fps
This camera is important as it shows a clear upward progression of frame sizes in slow motion modes. In the Nikon 1 J3 release a year ago 2013 the frame sizes were:
J3 640 x 240 / 400 fps – Improved in J4 to 768*288

30.55% improvement in pixels!

J3 320 x 120 / 1200 fps Improved in J4 to 416*144 
35.84% Improvement in pixels!
The chart below estimates the progression of the Nikon J Series regarding hi speed at a constant increase of 30.55% for 400fps and 35.84% for 1200fps.  Usable resolution of 400fps at NTSC D1 720*486 should be available by 2016 on the J6 with a 720p 2020 400fps resolution reached on the J10.  We however expect this progression to accelerate into HD modes faster due to Moore's law and this is a conservative curve.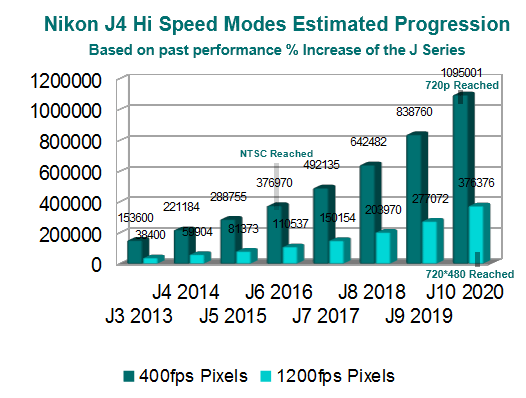 We like the increase in resolution and the forward looking trend of the Nikon 1 line. With the Panasonic GH4 already doing 1080p 96fps today, we expect the race for usable cinematic hi-speed to heat up.  These hi speed features are no longer a gimmick but are becoming a really usable feature that should improve steadily to differentiate camera models.
The Nikon 1 J4 will only be available outside of the U.S.A. no word if it will ever be released in the US. Pricing and kits will be revealed soon.
Nikon 1 J4 Official Sample Video:
……
Consider Supporting Hi-Speed Cameras by using our site for your purchases via our sponsored links and store. At no added cost to you;  
it helps keep this site going, thank you!
(Visited 1,950 times, 1 visits today)