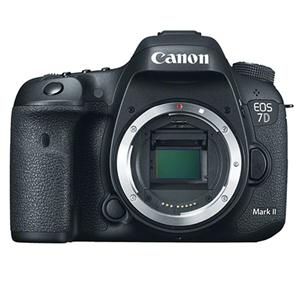 By now it is no secret that the Canon EOS 7D Mark II is mostly geared to photographers and video is considered a feature but not primary. It gains 60p at 1080 Full HD and retains 720p 60 but no further improvements for slow motion video.
It is still a good spec sheet especially for photographers and it improves on ISO, Sensor, AF, Timelapse, GPS Geo-tagging, SD Card Plus CF Slot and extra 10fps responsiveness.
At $1799 US it is a little higher than the Panasonic GH4 which is as of now a great camera for video and slow motion with 4k and 96fps 1080p features.  As for HSC the 7D mark II is no longer on our radar as a slow motion contender. The rumor certainly beat the real thing this time. Too bad!!!
You can Preorder the 7D mk II here at Adorama for $1799.00 USD
7D Mk II Hands On Preview Video:
GH4 Firmware 1.2 Announced:
In short… it will get 4k Photo Mode, 4k recording at 23.98fps in MP4, AAC codecs and USB monitoring tethering. It will be available in the beginning of October for download. It will not improve the slow motion modes as previously rumored. Read Below!
Panasonic Announces the Firmware Update Program for LUMIX DMC-GH4
NEWARK, N.J., Sept. 15, 2014 /PRNewswire/ —
Panasonic announces the new firmware update program for the LUMIX Digital Single Lens Mirrorless (DSLM) camera DMC-GH4. The firmware will be released to enhance the performance and controllability of the camera, featuring new 4K Photo Mode.
The 4K Photo is a new way of photography that Panasonic is proposing. It encourages users to capture the spur-of-the-moment in high resolution 4K photo by cropping out a designated frame from the 4K video. With the new firmware, it is easier to get a 4K photo by using the 4K Photo Mode. Once selecting the 4K Photo Mode, recording format / picture quality setting / brightness level are automatically set to the optimum parameters for photo shooting. Users can record high quality video either in 4:3, 3:2 or even 1:1 aspect ratios in addition to 16:9 – all can provide a still image with 8-megapixel equivalent resolution. Each JPEG image cropped out of the video footage complies with EXIF just as a normal still picture. While recording the 4K video in 4K Photo Mode, it is possible to mark the designated portion by just pressing the [Fn1] button. This can reduce postproduction work for searching the spur-of-the-moment worth cropping out. Moreover, 4K video can be recorded continuously with Loop Rec function which keeps saving the 5 newest 2-minute video files. Users can patiently wait for the perfect photo opportunity to come as long as they want keep the camera recording without worrying about the capacity of the SDXC/SDHC Memory Card*1.
There are more functional upgrades such as the addition of 4K video recording in 23.98p (MP4, AAC) and enhancement of controllability over ISO setting or the amount of flash emission. Also, the DMC-GH4 now expands its connectivity with external equipment. For example, the PC software "USB Tether*2" enables remote camera control (shooting, setting or image data transfer) by PC via USB.
The PHOTOfunSTUDIO 9.5PE and Panasonic Image App for iOS/Android will also be updated to support these functional upgrades.
The new firmware program is scheduled to be released with more information in detail at the Panasonic LUMIX Support Site athttp://panasonic.jp/support/global/cs/dsc/ in the beginning of October, 2014.
You can order a great kit for the GH4 here at Adorama at stock price with a lot of included free stuff & free Shipping!! $1697.99
"Panasonic Lumix DMC-GH4 Mirrorless Digital Camera Body Only, Black – with 4K Video Recording – Bundle With Camera Holster Bag, 32GB Class 10 SDHC Card, Cleaning Kit, Screen Protector"
The Panasonic FZ1000 will also get a firmware update similar to the GH4. See here!
(Visited 1,410 times, 1 visits today)