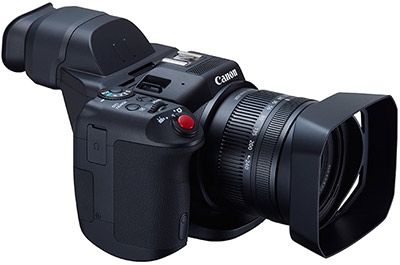 It has been nearly 6 years since the EOS 7D DSLR was introduced in September 2009. That was the last time canon offered a frame rate bump which was 720p at 60fps. It was an ok mode but highly aliased and of low quality.  Now Canon has unveiled two new cameras that jump the frame rate to 120fps.  The first camera is the all inclusive Canon XC10 which is like a new incarnation of the all in one do it all camera with some pro features that seem to separate it from cameras like the Panasonic FZ1000 MSRP $749.
Specs for the Canon XC10 4k:
1″ CMOS Sensor and DIGIC DV 4 Processor
UltraHD 4K at 29.97/25/23.98p
1080p 60fps NTSC 50fps PAL
720p Video at 120fps NTSC 100fps PAL*
H.264 Recording in MFX Wrapper
Canon XF-AVC Codec
Up to 305 Mbps 4K / 50 Mbps HD Recording
SDHC/SDXC and CFast Card Slots
HDMI Output – Supports 4K Monitoring
10x Zoom / 8.9 to 89mm Focal Length
f/2.8 to 5.6 Aperture Range
100 to 20,000 ISO Range
Ergonomic Tilting Hand Grip
MSRP $2,499.00
With Canon it seems if you want higher frame rates it will cost you.  You are however getting an incredible new Canon XF-AVC Codec with the highest bit rates on a camera of this class. Up to 305Mbps compared to the Panasonic GH4 at 100Mbps at 4k MSRP $1,497.  The codec delivers 4:2:2 color space at 8 bits which finally leaves the 8 bit color  4:2:0 compression as a distant memory. The image quality the camera will be capable of will however be limited still as it is not 10 or 12 bits.
Introducing the Canon XC10 Video:
For Slow motion the inclusion of 720p 120 and 1080p 60 will be a first for the Canon Prosumer line. Like a classic repetitive occurrence, the slow motion samples are not presented at launch. That will be left to testers and bloggers to determine.   The Price at $2,499 is on the expensive side especially for a 1″ sensor which is much smaller than 4/3″ or APS C.  The camera will have to deliver a huge leap in image quality and slow motion crispness for this to be a good idea compared to the competition.   As you loose the ability of interchangeable lenses.  For many the very good Panasonic FZ1000 makes much more sense at under $800 with similar specs.
The CFast 2 cards needed for the 4k footage are very expensive starting at $179.99 for just 32GB. And at those data rates  they wont last much.  With the next step of 64GB at $352.43 then it just becomes an even taller hurdle to jump to adopt the technology. CFast 2.0 will come down in price over time but it will take its sweet time.  The camera also has an SDXC slot for 1080p video and 720p slow motion so if you don't want to record 4k then you still can.
Adorama has the XC10 fpr pre order for $2,499.00 Here!
Canon C300 MarkII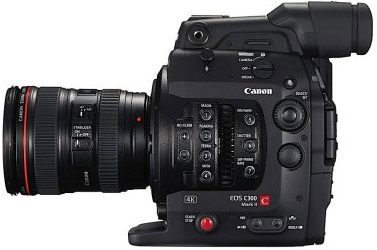 On the other side of the spectrum the replacement for the Cinema EOS line C300 is also unveiled with the arrival of the C300 Mark II.
C300 Mk II Specs:
Super 35mm CMOS Sensor
4K,1920×1080 60/50i, 23.98/25p True 24p
Canon XF Codec – 4:2:2 50 Mb/s MPEG-2
1080p 120fps NTSC 100fps PAL*
ISO 100-102,400
EF or PL Lens Mount Interchangeable.
Dual Pixel CMOS AF
Rotating 4″ LCD Monitor
2x 3D-SDI Output, 2x SLR Inputs
2x CFast Card Slots
Timecode I/O, Genlock In & Sync Out
Canon Log Gamma
15 Stops of Dynamic Range
MSRP $15,999.00
For slow motion on a budget the C300 Mk II is far and away out of the question as an option. The Sony FS7 or Sony FS700 with even better frame rates at up to 240fps 1080p make much more sense. Some would argue they are even better cameras as they offer more mount flexibility options. However the image quality claims of 15 stops of dynamic range and extreme low light abilities make it a powerhouse for serious production. The C300 Mark II is now a very real A camera for even Hollywood films.  There are no excuses for image quality with such latitude and noise free images up to ISO 102,400. It also has Variable ND built in at up to 10 stops which also removes the pain of fitting a matte box or screw on Variable ND filters to get to a pleasant 180 degree shutter.
Walkaround of the Canon EOS C300 Mark II Video:
There is a ton to like in this camera and if you are a production house or video professional that used the original C300 to it's fullest the C300 Mk II is a clear upgrade and a future-proof 4k addition to your arsenal. You will still have to invest in the Cfast 2.0 memory card standard at high prices unfortunately. We have no doubts this camera will be all over Video, TV and Film production, Canon has given enough new features with the Predictive Auto Focus, Focus pull guides and incredible image quality specs to make it a go to option for any budget production. It even has an underwater white balance setting for taking it to underwater environments. With its ISO capabilities it should also be ideal for light restricted environments.
For a slow motion camera we will pass on this one as there are so many other options like the FS7, FS700 and the upcoming fps1000 Platinum and 4k versions.  But you have to admit that the C300 MkII checks so many boxes right for video professionals that it almost seems a non Canon Product.   The price of entry is steep at $15,999 but if you already have an arsenal of EF lenses it is a clear choice if you have to compete for image quality and features in a very tough market.  You finally even get 120p at 1080 resolution, though it remains to be seen if it will suffer from aliasing issues.
Deals found of Competing Products:

Introducing the Canon EOS C300 Mark II Video: 
Adorama has the C300 Mark II for pre order here for $15,999.00!
Stay tuned as samples for both cameras start to surface showing the slow motion capabilities. Happy Shooting!
(Visited 16,188 times, 1 visits today)