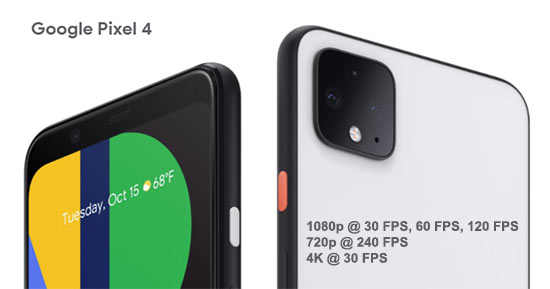 Today Google unveiled the heavily leaked Pixel 4 and Pixel 4 XL phones which have the latest and greatest camera module geared up for computational photography enthusiasts.  It brings in the dual camera back design of many competitors and also drops the notch in turn for a thicker bezel which looks in our view better.  The phone is sporting the latest Snapdragon 855, 6GB of RAM and up to 128GB of fast flash memory.
Sadly the phone is keeping the exact same high frame rate specs of the Pixel 3 of last year. So 240fps is staying at 720p and 120fps at 1080p is the max at that resolution. It is clear Google is not interested in delivering performance in high frame rates like their rivals in the Android space. Even Apple offers a much better 1080p 240fps spec which is offered on the back cameras with little trouble. Even the iPhone 11 bests the Pixel 4 in the Selfie department as it allows up to 120fps 1080p for (Slofies™) which is a prominent feature of the handset.
Google Pixel 4 Slow Motion Specs:
Rear Camera:
1080p @ 30 FPS, 60 FPS, 120 FPS
720p @ 240 FPS
4K @ 30 FPS
Front Camera:
1080p @ 30 FPS
Rear Camera Specs:
Camera 1
16 MP
1.0 μm pixel width
Autofocus with phase detection
Optical + electronic image stabilization
Spectral + flicker sensor
ƒ/2.4 aperture
52° field of view
Camera 2
12.2 MP
1.4 μm pixel width
Autofocus with dual pixel phase detection
Optical + electronic image stabilization
ƒ/1.7 aperture
77° field of view
Front Camera (loses the dual camera of pixel 3):
8 MP
1.22 μm pixel width
ƒ/2.0 aperture
Fixed focus
90° field of view
NIR flood emitter
NIR dot projector
2 NIR cameras
Pricing: 
Pixel 4 is priced at $799
 Pixel 4 XL is priced at $899
Available at all US carriers GSM and CDMA for the first time outside of Verizon!
The Pixel 4 & 4 XL have competitive camera modules when you compare other flagship phones.  Google went with a dual-camera design without adding the super wide-angle one common on Samsung Galaxy and iPhones for example.  With computational photography, the Pixel is very capable and probably will become one of the best cameras out there like the Pixel 3 was all of last year by generating the best reviews for still images on a phone.
As a video shooter, the phone should do well but will not beat the best out there and probably the iPhone 11 will have a clear win in the motion department with their emphasis on professional video shooting on the 11 Pro.
Slow Motion ZZZzzz?
By staying at 240fps 720p the Pixel 4 shows they are not interested in improving that spec which seems to be frozen for now 3 generations of Pixel phones. They are all about a rounded phone with impeccable still image quality and not focused on being the best at video capture.  Sony with their Xperia One and others have much better video specs and of course, the slow motion crown falls now on the  Huawei Mate 30 Pro with 1920fps at 720p for a 1/2 second or 960fps 1080p at 1 second. No other phone has yet to match this performance.
Google Pixel 4 event in 10 minutes by The Verge:
Google Pixel 4 camera test by Phandroid:
We still have no slow motion samples for the Pixel 4 or 4 XL but some early reviews mention how the quality is very close to the Pixel 3 of last year so we can assume most video modes will probably look similar with no big jumps in terms of quality. We can, however, see that the new Live HDR feature in Photo might work on video also but we have to see if it will work on the slow motion modes too which might be just impossible considering the high amount of frames needed for building up that image.
What should I do?
The Pixel 4 is a refinement phone for Google hardware platform. It is very similar in capability to last year's excellent Pixel 3 but of course, has the newer processing specs needed to compete in this year's market.  The camera modules are retaining all of what the Pixel 3 and 3a showed last year plus new modes like Live HDR and improved astrophotography which is really a Bulb mode with some intelligent machine learning algos to erase unneeded objects in frame and reduce noise in a big way while stacking enough frames to create a pretty spectacular wide-angle image of the skies.
The Astro mode, of course, will not track the skies for even longer exposures but for wide shots, you should be able to see the milky way, the Pleiades and the Orion Nebula if the skies are dark enough.  It will not replace your equatorial mount and or your larger camera system but using a Tripod it should be a nice way to create some quick images or timelapse of the cosmos.
If you own a Pixel 3 or 3a, we do not see any reason strong enough to justify an upgrade unless you need the new dual cameras which is a good feature to have.   If you were waiting to upgrade a Pixel 2 or another phone then the Pixel 4 is a great upgrade in that case.  For slow motion fans, you will not see any improvement in this phone compared to the previous two generations of Pixel phones. Google seems to have capped frame rates for this line for the foreseeable future. If you need higher frame rates there are other great options in the Android ecosystem like the Mate 30 Pro or Galaxy series.
If you own an iPhone and wanted to see if it was worth it to switch, the answer is a clear NO. The iPhone 11 and 11 Pro have better slow motion specs with video modes that are geared for more professional users especially if you buy the highest end of the Apple line.
The Pixel 4 is good enough but kind of lackluster compared to the huge computational photography advances of last year's outstanding Pixel 3.  It is a better phone but not a giant leap ahead.  The radar feature is pretty good convenience and allows for better battery life but we have seen similar features on other Android phones in the past, albeit not as polished or solid. Google may be working on even more impressive features in the lab for a Pixel 5 or even a firmware update for the Pixel 4 as a mid-year refresh in 2020.  As for high-speed frame rates rest assured, the spec is probably locked and will not improve.  We will have some slow motion samples of the Pixel 4 as soon as they are available. Stay Tuned -HSC
(Visited 4,826 times, 1 visits today)