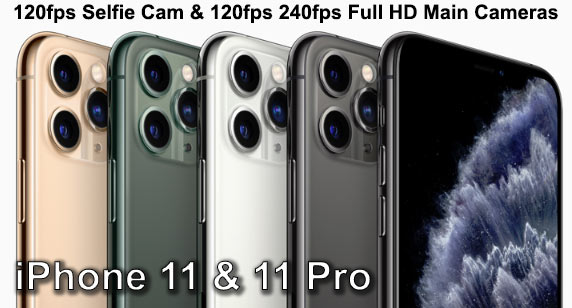 Now that Apple's latest and greatest phone the iPhone 11 and 11 Pro Max have been out in the wild for a few weeks, it is time to revisit the performance of the slow motion video mode of this all-encompassing handset.  The iPhone has always been a good slow mo performer but the new cameras and bigger lenses with more advanced processing gave us high hopes for increases in video quality and fewer artifacts.
The slow motion quality should be better across both the 11 and 11 Max since they share essentially the same system of optics and bionic chip. Quality must be identical except for the two or three camera configurations.  One thing that separates the iPhone is that you can shoot slow motion in all cameras and not just in the standard wide like Samsung or other Android phones. This is one thing Apple wins in spades and we hope to see other manufacturers adopt as  standard.
iPhone 11 Slow Motion Video Samples:
iPhone 11 Pro Max Slow Motion Video – Shot in 1080/240FPS – Arrma RC Bashing by CRAZY RC POWER:
iPhone 11 120 fps vs 240 fps slow motion! Wide & Ultra Wide Cameras by R3LOAD Network:
iPhone 11 Pro Max vs Galaxy S10 Plus: Slow Motion Video Test Comparison by HiTechKing:
Slow motion 240 FPS iPhone 11 by r083rtw:
iPhone 11 Max Pro slow motion selfie by Chris Richardson:
Slow Motion Fire Shot on iPhone 11 at 240 fps by Time2Lapse:
iPhone 11 Pro Max | Super Slow Motion Video | Satisfying Slow Motion Shots! by Nika Stark:
Apple iPhone 11 Pro/Max 1080p selfie slow-mo at 120 fps (slofie) by GSMArena samples:
Best slow motion with iPhone 11 by shyam dinglani:
Apple iPhone 11 Pro – slow motion by GizChina Greece:
Wow what a difference!
The video samples have surprised us greatly considering there is a big jump in video quality from all previous iPhone Slow Motion modes. We get better detail, less jagged edges (Aliasing), better color science, smoother edges and gradient transitions and better dynamic range.
There is no question the iPhone 11 and 11 Pro Max are the best 120fps and 240fps phones ever released and if you are happy with those frame rates then there is only a clear choice here.
But if you require higher than 240fps then the iPhone is not your friend as it can only do a max of 240p at 1080p or 720p. If you need more you will have to go to Android with options like the Galaxy S10, Note 10, OnePlus 7, Sony Xperia One or the Huawei Mate 30 Pro .
The level of detail in 120fps is excellent and while it is still not true 1080p, it comes very close and the beautiful color and dynamic range sets it apart.  Even the front "Slofie™" camera is delivering excellent quality just a tad behind the main cameras. Give the phone enough light and it will not disappoint. Apple has really done a great 120p and 240p slow-mo phone for everyone.
Apple was not even in our top 3 choices before they released the iPhone 11 but now are comfortably in the top spot when it comes to 1080p 120fps and 240fps. No other phone can give you this level of detail and color accuracy in higher frame rates. Add to it the excellent video quality in regular frame rates and 4k and it is easily one of the best video phones ever released.  It is a shame it will not do 480p and 960p in any capacity. If Apple applied its imaging know-how to higher frame rates than 240p in their best phones then the competition would be left in the dust.
It is easy to recommend the iPhone 11 and 11 Pro Max as a great performer for 30p, 60p, 120p, and 240p video quality. It is as of now the best we have seen yet on capturing those frame rates. Samsung and other manufacturers will now have to up their game in order to compete. -HSC
Hey: If you are ordering this or any other phone or product, please do so by following our links at no extra cost to you to support this website. 
(Visited 3,999 times, 1 visits today)