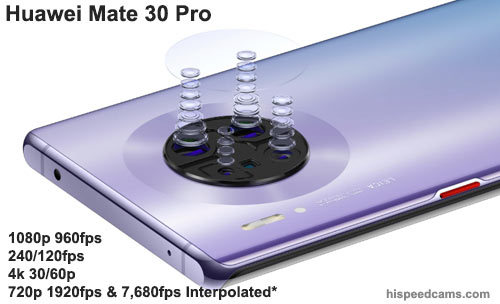 Huawei has just launched the Mate 30 Pro and Mate 30 Pro 5G Smartphones which sport an impressive camera module with a large sensor array that shoots at 40 Megapixels.  We had rumors sent a couple of weeks back but had our reservations due to the less than optimal slow motion in the P20 and other Huawei Smartphones.  The phone is now untouched by the competition as it can shoot a half-second at 1920fps 720p or 960fps total which translates to 32 seconds on a 30p timeline.
The headline slow motion feature of 7680fps is not real as it is derived from the 1920fps 720p half-second which the phone then uses AI selection to isolate a 0.12 seconds segment of the capture then finally interpolated by the Kirin 990 Chipset to the full 7680fps. So it does a 4x slow motion on top of it to get the great-looking result.
Huawei Mate 30 Pro Camera Specs:
MAIN Rear CAMERA Module
Quad 4x modules
40 MP, f/1.6, 27mm (wide), 1/1.7″, PDAF, OIS
8 MP, f/2.4, 80mm (telephoto), 1/4″, PDAF, OIS, 3x optical zoom
40 MP, f/1.8, 18mm (ultrawide), 1/1.54″, PDAF
3D TOF camera
Features
Leica optics, dual-LED dual-tone flash, panorama, HDR
Video
2160p@30/60fps, 1080p@30/60/120/240fps, 1080p@960fps,  720p@1920fps, 720p@7680fps Interpolated 4x, gyro-EIS
Slow Motion Huawei Mate 30 Pro Keynote demo isolated by Svět Huawei:
The demo above shows the Mate 30 Pro Slow Motion feature in surface detail. It is compared to a 150k professional slow motion camera that shoots at 1977fps vs 1920fps on the Mate 30 pro.
Huawei Mate 30 Pro 7860fps ULTRA SLOW MOTION DEMO!!! by DroidHolic:
Huawei Mate 30 Pro Slow Motion Specs Dissected:
120fps 1080p Continuous
240fps 1080p Continuous
960fps 1080p for 1 full second (960 frames in total)
1920fps 720p for 1/2 second  (960 frames in total)
7680fps 720p interpolated 4x (lasts for 32 seconds on a 30p timeline.)
All super slow motion modes at 960p and above last 32 seconds of playback at 30fps regular speed.
The entire buffer for the slow motion feature is 2GB and gets filled by data then dumped and encoded on the fly.
As you can see this is some serious phone performance and at this moment it is the slow motion champion for smartphones. It de-thrones Samsung, OnePlus, and Sony for the top spot by offering 960fps for a full second at 1080p and 1/2 second at 1920fps 720p. This is untouched performance.
HUAWEI Mate 30 Pro slow motion video by Mix Videos 720p 7680fps interpolated:
As you can see above the quality at 720p is very good for a phone but it is still a far cry from a good quality HD image. Softness plagues the image as compression takes its toll. We imagine that the RAW data; if it could be saved to the device, would be a better show of the technology but of course, this will probably never happen.
Huawei Mate 30 Pro 64X Slow Motion Video by DCFever Video Demo: 720p at 1920fps (Not Interpolated).
In the video above you can see the non-interpolated quality at 1920fps 720p of the Mate 30 Pro. This is called the 64x slow motion mode which is 64 * 30fps gives you 1920.
Slow Motion Modes by the Numbers:
120fps 1080p Continuous (4x Slow Motion)
240fps 1080p Continuous (8x Slow Motion)
960fps 1080p 1 Second (32x Slow Motion)
1920fps 720p for 1/2 second  (64x Slow Motion)
7680fps 720p interpolated 4x (256x Slow Motion)
So the Huawei formula is based on 30fps real-time playback video. So you divide the frame rate by 30 and you get the x slow motion factor of the footage.
Special thanks to our reader SlowmoSage helping us decode how the Mate 30 pro operates in high speed.
7680fps Interpolation is cool no?
Well, it is by many measures the best phone interpolation we have seen on released footage. You get excellent results but that is also derived from the fact that it is actually shooting it at 1920fps 720p which gives you twice the frame rate of other phones at 960fps and 4x the frame rate of other Chinese phones that interpolated from 480fps.
Take a look at the examples below and see how the 7680fps mode is blurring edges and obliterating fine detail to get the slow aspect working:
Huawei Mate 30 Pro vs Galaxy Note 10+ ( Slow Motion Comparison ) by AmazTech:
Mate 30 Pro: Sampel Slow-Mo 7,680fps by SoyaCincau BM:
Gymnast in Action – Huawei Mate 30 Pro Slow Motion by AmazTech:
Huawei Mate 30 Pro – 7680fps Super Slow Motion – Preying Eagle by AmazTech:
You can clearly see that the 256X slow motion mode at 7680fps is not what it's cracked up to be when it comes to detail retention. It, however, shows great characteristics on simple and not too busy background shots where the software has very little problem blending motion in frames.
An interesting thing showed up in the first coin video and something we have to see up close as more samples are released. It seems the 1080p 960fps video on the phone is heavily interpolated and very close to previous Huawei attempts.  Background and shapes are distorted heavily which makes us speculate that it is either 480fps or even 240p video that is showing up as a 1080p 960fps spec. As more samples are released we will be able to confirm this.
Initial Thoughts:
Huawei is in deep trouble with the US over claims of it being an arm of the Chinese government and a way to Spy on western nations. We are not speculating if this is true or not, by buying this phone in the west you may have some trouble if this is the case but we believe these accusations are overblown and probably without merit for the most part. That said the Phone is missing Google applications and will need a software modification to run them.
Software problems aside, the slow motion component of this phone is the best yet among all smartphones as the quality if 1920fps at 720p is very good and usable at a 1/2 second capture.   The capture, of course, will be hard since the phone is basically triggering on motion and estimating the sliver of time that you need. You will not be able to capture once in a lifetime events and depend on this phone to deliver the goods. That is what dedicated slow motion cameras with pre and post triggers are all about.
Huawei Mate 30 Pro Review – Killer Flagship Smartphone 2019! by techline – Linus:
We already have the Mate 30 Pro internally as our Slow Motion Phone King based on initial samples but we still have to see more in order to rate it fully.  The interpolation artifacts at 1080p 960fps are showing that the phone is not really delivering 960fps but something slower like 240p or 480p. We will need more samples to confirm but it would make sense considering these 40MP sensors are limited usually to 480fps at 1080p. 720p is the real gem here at 1920fps and the real reason you want this phone for slow motion.
We also want to see 120p and 240p footage from the phone and how it performs in many situations.  We are excited that Huawei is really innovating here and beating everyone else at the high-speed video game on smartphones. China is moving at lightning speed on features and really pushing the envelope.
If you decide to buy this or any other phone, please do so through our links as it keeps this site going at no added cost to you.
We will have more samples and more to say about the Mate 30 Pro Soon! -HSC
(Visited 1,510 times, 1 visits today)