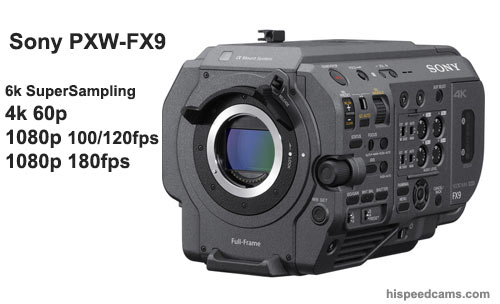 The new Sony PXW-FX9 XDCAM 6K Full-Frame Camera is what Sony fans have been waiting ever since the APS-C cameras Super 35 cameras like the FS5 and FS7 made the rounds. It is all that those cameras offered but now on a state of the art Full Frame sensor with Dual ISO capable of 800 and 4000 depending on the needed use. By being extremely sensitive the camera needs ND filtration and it doesn't disappoint on that feature either by including a ramping – smooth increments ND filter from 1/4 to 1/128 which adjusts on Auto Mode depending on the scene without ruining the shot. An industry first.
On the Slow Motion front, the camera is consistent with Sony pedigree with now offering 120fps Full HD and with a promised firmware update 180fps Full HD and also 16-bit raw 4K/2K footage up to 120 fps to an external recorder.  This is close but not quite what the FS5 is capable of in FHD which includes 240fps. The FS7 has in contrast 240fps @ 2K RAW Ext Rec & 180fps 1920*1080 Internal. Much closer to what the FX9 is capable of doing.
Sony FX9 Main Specs:
6K Full-Frame Exmor R CMOS Sensor
15 Stops of Dynamic Range
UHD 4K (3840 x 2160) up to 59.94p
HD Recording up to 120 fps & 180fps with Firmware Upgrade
120fps 4k RAW 16 bit External Recording (Future Firmware)
10-bit 4:2:2 to dual XQD media card slots
 561-point phase-detection AF sensor
ISO of 800/4000
Auto ND Filter 1/4 to 1/128
 XAVC-I with 422 10-bit quality
Built-in gyro For Metadata Post Stabilization. No IBIS!
4-channel audio recording
12G-SDI and an HDMI for 4K output
28-second Cache Recording to prevent missing any shot!
Slow Motion Specs of the FX9:
4k 50p/60p
4k 100/120fps RAW 16 Bit Firmware External Recorder
120fps Full HD at launch
180fps Full HD after Future Firmware Upgrade
The camera includes a "Quality priority setting that maximizes Full HD slow-motion image quality with advanced oversampling technology." As to how good the camera will be able to preserve full HD quality at up to 180fps remains to be seen but it is encouraging to see that they are serious about the image quality in these modes. If Sony is able to deliver identical quality at 120 and 180fps as the regular supersampled Full HD we will be impressed.
The Slow Motion component of the FX9 is a good compromise when we see that it sports such a large sensor that needs to be great at several ISOs from lows to highs.  The rolling shutter might be larger than other S35 cameras but you are also able to record in crop 4k S35 mode. So it really is an FS7 II camera with an impressive Full Frame Sensor, usable Autofocus and the world's first variable ND filter with Auto mode.
The letdown here is the no mention of the Sony 240, 480fps and 960fps Super Slow Motion HFR modes that were in the FS7 as options. Sure there were not ready for full production quality since the information was lost but this is apparently a compromise from the full-frame sensor unable to scan at such high frame rates. For serious users of this camera this should not even be a problem, image quality in regular modes trumps gimmicky high frame rates. So the HFR mode is gone here and we hope not for ever on Sony Pro video cameras.  We can excuse it due to the state of the art Full Frame sensor.
Destined Evolution:
The FX9 is the culmination of the evolution of the DSLR revolution started by the Canon EOS 5D Mark II which introduced the Full Frame look to digital video. However, this camera is so much better in all respects that it is kind of a bad comparison. No Aliasing or moire artifacts in 4k supersampled mode, better frame rates, better color science, better codec and features unique like the ND and AF with face detection.  If Sony can translate a lot of this technology to the long-awaited Sony a7s III if it ever ships, will be really mind-blowing.
Maybe the best part about the FX9 announcement is that the Sony FS7 & FS7 II will be lowered in price due to the displacement made by the new camera. The FS7 is an incredible performer that is production tested with very good slow motion performance.
We will have Sony FX9 slow motion clips as the become available. Since the firmware is pre-production we will not be able to judge any clips until the final release to avoid making an uneducated guess for the final quality.  In the meantime look at the videos below about the camera which will educate you really well on the capabilities and quality, you can expect.  Thanks for reading -HSC
Sony FX9 | First Look by ProAV TV:
SONY FX9 TEST SHOTS – Amazing colour and autofocus! by Philip Bloom:
Sony FX9 – Footage & Hands-on with the Full-Frame, Fast Hybrid Autofocus, Dual ISO Camera by cinema5D:
(Visited 7,206 times, 3 visits today)