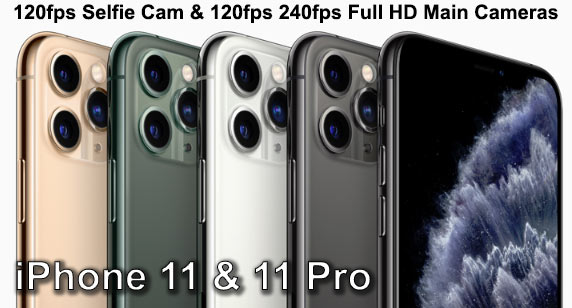 Ok let's get the bad news out of the way which is that the iPhone 11 and 11 Pro all have essentially the same 120fps and 240fps of the previous iPhones on their main cameras which depending on the phone is two or three. All at 12MP and all capable of 4k UHD at 60fps and all slow motion capable at 120p and 240p at 1080p.   So no new frame rates but a consistent capture across all cameras which seems unique compared to the competition.
The real new thing is the availability of 120fps at 1080p in the TrueDepth or Selfie front camera which allows for "Slofies" as Apple calls them.  It would have been more impressive to have the full 240fps on the selfie camera too but they will save it for a future model. 120p is good and lets you shoot funny and compelling content. It is probably the best looking selfie camera image we have seen yet so Apple has an easy head start there.
iPhone 11 and 11 Pro Camera Specs:
TrueDepth Camera (Selfie)
12MP camera
ƒ/2.2 aperture
Portrait mode with advanced bokeh and Depth Control
Portrait Lighting with six effects (Natural, Studio, Contour, Stage, Stage Mono, High‑Key Mono)
Animoji and Memoji
4K video recording at 24 fps, 30 fps, or 60 fps
1080p HD video recording at 30 fps or 60 fps
Slo-mo video support for 1080p at 120 fps
Next-generation Smart HDR for photos
Extended dynamic range for video at 30 fps
Cinematic video stabilization (4K, 1080p, and 720p)
Wide color capture for photos and Live Photos
Retina Flash
Auto image stabilization
Burst mode
Video Recording (Main Back Camera):
4K video recording at 24 fps, 30 fps, or 60 fps
1080p HD video recording at 30 fps or 60 fps
720p HD video recording at 30 fps
Extended dynamic range for video up to 60 fps
Optical image stabilization for video (Wide and Telephoto)
2x optical zoom in, 2x optical zoom out; digital zoom up to 6x
Audio zoom
Brighter True Tone flash
QuıckTake video with subject tracking
Slo‑mo video support for 1080p at 120 fps or 240 fps
Time‑lapse video with stabilization
Cinematic video stabilization (4K, 1080p, and 720p)
Continuous autofocus video
Take 8MP still photos while recording 4K video
Playback zoom
Video formats recorded: HEVC and H.264
Stereo recording
Apple shows off the new slow-motion selfie by CNET Highlights:
So Apple is adding Slow-Mo Selfie or (Slo-fie) to their arsenal and making a great marketing push right off the bat. If you look at the quality it seems to be even better than what the XS Max was capable of which probably means that we may have improved 120p and 240p in the main back cameras too.
The XS & XS Max had resolution loss and dynamic range problems in slow motion that were not class-leading. Sure they looked good but hardly production quality. IF apple can have clean 240p in the iPhone 11 it may qualify for a top spot in our slow motion phone of the year as quality trumps higher frame rates especially when the other phones that shoot 480p and 960p have a very hard time with resolution.
What Can we Expect from the iPhone 11 Slow Motion Mode?
iPhone XS Max Slow Motion Camera Test by Phone Battles:
FREE STOCK FOOTAGE SLOW MO IPHONE XS STOCK CONVENTION CENTER -1080P 240/FPS by alex brannon:
As you can see from the iPhone XS of last year, the 240p slow motion mode is acceptable and quite up there compared to other phones. However, it suffers from line resolution loss common in all phones that shoot higher frame rates. It seems the full resolution is still escaping manufacturers as the data rates can be cut significantly by throwing out lines during capture.
Looking at the new iPhone 11 selfie cam we can already see an improvement but we still have to see the iPhone 11 main cameras shooting 120p and 240p in real-world situations to see if there are considerable improvements in color, dynamic range, and resolution.
We estimate that the new processing engine in the iPhone 11 the A13 Bionic chip which is insanely powerful will be able to handle all video modes in a higher quality. Some first-hand account already put the 4k UHD 24, 30 and 60p quality as the best they have ever seen from a phone which is a great thing to hear.
Apple is refining and making no compromises:
If the quality is the same on both phones then the iPhone 11 instead of the 11 Pro is ideal as the price is considerably less by several hundred dollars if you can do with one less camera.  Also, the 11 is cheaper than last year's XS variants.  Apple has standardized all three back cameras on the Pro and both cameras on the 11 to be identical in features which means no compromise. We were disappointed in the Samsung Galaxy S10 and Note 10 when we saw that the slow motion modes only work in the main focal length camera and not in the zoom or wide-angle options. Apple has included 120p and 240p on every single back camera and you should be able to switch between them while recording slow motion as regular video but this is not confirmed for higher frame rates.
Apple iPhone 11 and 11 Pro event in 11 minutes by The Verge:
We will have more information and samples from the iPhone 11 in slow motion as they become available. In the meantime, you can see the iPhone 11 & 11 Pro keynote highlights condensed above. -HSC
(Visited 1,000 times, 1 visits today)