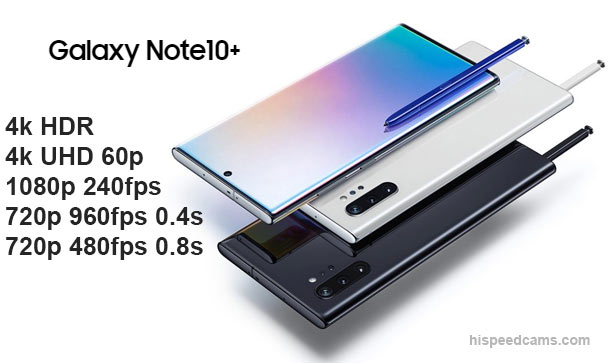 Samsung has released the Galaxy Note 10 and 10+ with even a 5G variant which was probably the most leaked phone of the year aside from the iPhone refresh coming next month. The phone has some beefed up specs and an impressive screen with a center cut upper camera punch-hole that love it or hate it is here to stay for now.
The video specs and photo specs look similar to the Galaxy S10 but with better color, dynamic range, lens elements and better overall video compression which looks very nice. The Galaxy S10 was no slouch in video mode but the Note 10 has the better compression and color processing that makes it a notch above. The slow motion spec remains the same as last year's Note 9 and Galaxy S10 so Samsung is also stagnating in this respect.
Note 10 Video Recording Specs:
Resolution
4K UHD video recording at 60 fps (3840×2160)
1080p FHD video recording at 60 fps (1920×1080)
720p HD video recording at 30 fps (1280×720)
Shooting speed
Super Slow-mo 720p video support at 960 fps
Slow motion 1080p video support at 240 fps
Hyperlapse 1080p video support
Other features
Super steady
HDR10+ recording
Zoom-In Mic
VDIS (Video Digital Image Stabilization)
Digital zoom up to 10x
High CRI LED Flash
Tracking AF
Take 9.1MP still photos while recording 4K UHD video
Playback zoom
Video location tags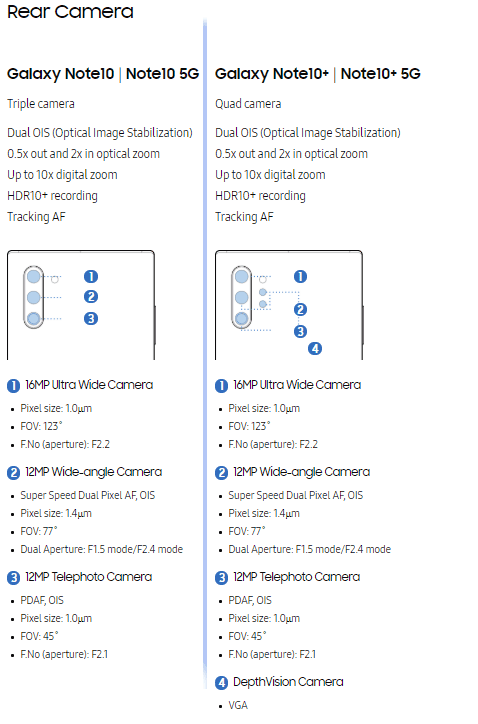 Note 10 Slow Motion Spec by Samsung:
"Super Slow-mo only supports HD resolution. Users can record approximately 0.4 seconds of video captured at 960 fps with approximately 12 seconds of playback. Users can record approximately 0.8 seconds of video captured at 480 fps and digitally enhance the video to 960 fps with approximately 24 seconds of playback. Playback time can be edited in Super Slow-mo player."
Samsung's Galaxy Unpacked 2019 Event in 11 Minutes by CNET:
As you can see the Note 10 has the same slow motion spec as last Year's Note 9 and Galaxy S9/S10 phones which is limited to 960fps at 720p for 0.4 seconds which translates to 12 seconds playback in a 30p timeline. You can double that to 24 seconds by shooting at 480fps for 0.8 seconds "Yippie almost a full second" <—Sarcasm!
Gone are the rumors of 1080p super slow motion and a higher recording time which were heating up by the fact that this new phone has 12GB of fast RAM which could allow for an impressive buffer but Samsung decided to keep it simple and translate the same spec as previous releases.
One area of note is that it appears the video quality is up across the full range of video modes by better noise/artifact handling and improved bit rate handling. The colors and motion look better than any Samsung phone before it. We found 240fps 1080p footage from the Note 10 in the video below that shows a marked improvement in color handling and edge sharpness without causing bad artifacts.
Samsung Galaxy Note 10+ Slow Motion Test 240fps 1080p! by Technical Naveed:
We could not find any 960fps 720p video from the Note 10 but we have posted a Note 9 sample video below which should look similar by 95% to what the Note 10 can do. After all, it is the exact same spec but without better camera lenses, better color and bit rates.  We will search for samples of the super slow motion mode as they are released soon enough.
For comparison: Note 9 HD Super Slowmotion by Hussain Chaudary:
Note 10 Variants,  Price and Release Date:
Galaxy Note10 Standard
8GB RAM with 256GB internal storage (LTE model only) $949
12GB RAM with 256GB internal storage (5G model only)
Galaxy Note10+ | Note10+ 5G
12GB RAM with 256GB internal storage $1,049
12GB RAM with 512GB internal storage $1,399 (OUCH)
Release Date: August 23, 2019
Now we have phones approaching $1,500 USD which is ludicrous to think when the upgrade cycle is so short. We expect Samsung to have some loyalty trade-in program like that of the Galaxy S10 and knock off up to $300 from that price for surrendering your previous phone in good condition.
Full Note 10 Spec Sheet here from Samsung: https://www.samsung.com/global/galaxy/galaxy-note10/specs/
Should I get it?
Not yet, we have not seen the 720p 960fps quality, we may get quality identical to the Galaxy S10 or the Note 9 in which case if that feature is what you need the phone for, wait for confirmation or get a cheaper older phone. The cost of the Note 10 if for memory, speed, screen, new features and of course bragging rights.   See phone alternatives in the links below that shoot slow motion as well.
The Note 10 is a marvel of miniaturization and technology but it is also an evolutionary phone that builds on the past. It has nothing that screams must have and destroys the market. It is a worthy flagship but it is not a phone that will revolutionize markets even with 5G support. Expect 5G to both get cheaper and more abundant as the spec is rolled out around the world in the next few years. Buying a 5G phone today is a bit premature and will be a wasted spec since probably you will upgrade this phone before 5G is commonplace.
We will have slow motion samples for the Note 10 soon -HSC
(Visited 5,986 times, 1 visits today)