We have a few developments to share in the high speed camera world. Things have been somewhat quiet in the phone front as the high speed component feature was relegated to a footnote in 2019 after a great 2017 and 2018 main spec treatment. We may get much better phone slow motion as memory size and speed increases while maintaining the same price range thanks to the fast pace of electronics development.
Sony just announced their latest RX VII camera which means that an RX10 and maybe a new RX VA version will show up before the year is over.  We were not happy with the feature being stagnant in resolution and speed on the RX series for 3 years in a row now. Sure AF and overall speed have increased when it comes to other parts of the camera but the high frame rates remain frozen in 2016 specs.  In the meantime, we have a few new things to show you.
Slow Motion News August 2019:
iX Cameras releases i-SPEED 5 SERIES of Full HD professional slow motion cameras.
iX cameras has now released the brochure and spec info for a new Full HD camera line composed of the (508, 510 & 513)  that are capable of recording up to 6,382 fps in Full HD and up to 1 million fps on the lowest resolution.
508 Specs:
3,980 fps @ 1920×1080
1,000,000 fps Max Frame Rate
18/36/72/96/144 GB RAM Memory
Mono ISO 8,500D (sat) / 68,000D (sat)
Color ISO 3,060D (sat) / 24,480D (sat)
In the $30k USD Range
510 Specs:
4,980 fps @ 1920×1080
1,000,000 fps Max Frame Rate
18/36/72/96/144 GB RAM Memory
Mono ISO 8,500D (sat) / 68,000D (sat)
Color ISO 3,060D (sat) / 24,480D (sat)
In the $50k USD Range
513 Specs:
6,382 fps @ 1920×1080
1,000,000 fps Max Frame Rate
18/36/72/96/144 GB RAM Memory
Mono ISO 8,500D (sat) / 68,000D (sat)
Color ISO 3,060D (sat) / 24,480D (sat)
In the $100k USD Range
"State-Of-The-Art 1080p HD Sensor
The heart of the i-SPEED 5 Series is a custom 12-bit CMOS light sensitive image sensor capable of recording 3,980 fps at full HD resolution, with a maximum speed of 500,000fps*. With the optional Fast mode shutter option*, the 5-series can achieve 250ns exposure times. Other features include an internal SSD of up to 8TB, an external SSD of up to 2TB, high-speed image download, memory segmentation, and camera control via the unique touch-screen CDUe control device or via the powerful i-SPEED Software Suite 2.0 that controls the i-SPEED 7 cameras."
More information about these and other iX Cameras at the official company website: https://www.ix-cameras.com/best_value_high-speed_camera_slow_motion.php

Chronos 1.4c Camera Software V0.3.2 Development improves Frame Rates and adds new features: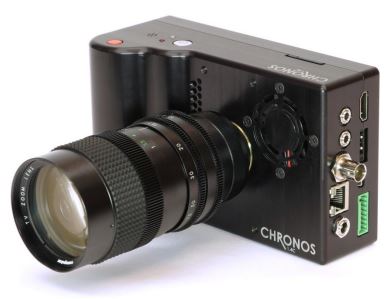 We installed the Chronos V0.3.2 RC1 Beta software and on initial testing find the software to be mostly stable and the new features make it a better camera all-around.
In our testing, we found that noise and column gain was reduced considerably after a 15min warm-up.  Also, the saving to SDHC cards is faster in RAW mode, we were getting 4.8fps instead of 3.7fps in 0.3.1 this makes a very noticeable difference in saving speed which seemed too restrictive in RAW.
We did encounter some problems when using HDMI external monitors and viewfinders when using the peaking function. These are already being patched for the next release so we recommend you wait for v0.3.2 RC2 if that feature is needed while monitoring.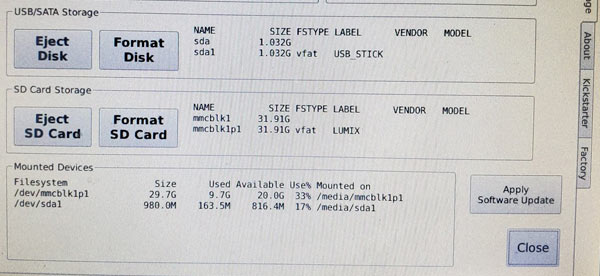 The camera now has the ability to format and see how much space is left on SD and USB/SATA media which is a very welcome feature set for on the field users. We would love the ability to load saved clips for playback at a later date as software evolves including post save editing and clip erase if possible.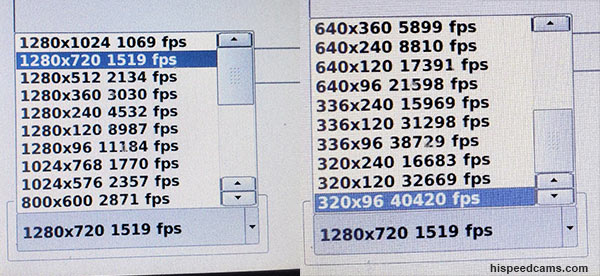 Another welcome feature is now the ability to shoot even faster frame rates for all resolutions. 720p has gained 17 frames from 1502fps to 1519fps which is our main use resolution.  However, the camera is now able to shoot up to 40,420fps at 320*96 pixels which used to be 38,565 fps for a 1,855fps gain with no quality degradation. It is not often that you get free speed in any camera, this time it is lossless and operates just as before.
For more information on the Chronos 1.4 camera visit the Krontech.ca and or info on the patch at the development forum thread here: http://forum.krontech.ca/index.php?topic=488.0
Notable Changes:
– Automatic ADC calibration during black calibration, which should reduce column banding across a wider temperature range.
– Add a storage tab to the util menu to view, eject and format the attached storage devices.
– Speed boost at most resolutions, with a top speed of 1069fps at 1280×1024, and 40420fps at 320×96.
– Configurable automated power-on and off depending on the AC adaptor status.
– Option to disable the ring buffer when in segmented recording mode.
Minutae:
– Factory black calibration is now user accessible from the Factory tab of the util window.
– The software update button has been moved to the storage tab of the util window.
– Shipping mode to disable power-on by battery until an AC adaptor is attached.
– Add a watchdog to reboot the camera in case of a power-on boot failure.
– Display descriptive error strings instead of number on failure.
Fixed Bugs:
– Gated burst record mode may lock up after several trigger edges.
– Gated burst record mode unreliable when trigger debounce is enabled
– Memory leak in the M3 video coprocessors which could lead to a crash after lots of H.264 encoding.
– Ignore video which was recorded during zero-time black calibration (which happens after changing resolution).
– Stuttering issue on the playback window on new production LCD modules.
– Fixed deadlock in camera when restoring user settings from external media.
Fixed since V0.3.2-beta-6:
– Changes to focus aid or exposure aid (zebra stripes) would have no effect until resolution is changed.
– Changes to exposure may be overwritten during black calibration.
– Bad image quality at 336×120 resolution
– Util window, storage tab – bottom of text cut off if device has multiple partitions
– Factory black cal (black cal all resolutions) would get overridden by old user black cal, if a user had done their own black cal, even before.
Known Issues:
– On the save file settings window, the bitrate as listed above the resolution may be lower than the actual bitrate, if Saved File Framerate is lower than 60fps
Updating Your Camera
====================
– Extract the `.zip` file into the root directory of a FAT32 formatted USB drive.
– Turn on your camera and insert the USB drive into the USB/eSATA combo port, not the one labeled 'OTG'.
– From the main window, tap the `Util` button to open the utility window.
– As a precaution, tap the `Backup Calibration Data` button on the utility window before starting the update.
– When the backup is completed, a pop-up window will be displayed.
– Tap the `Done` button to close the pop-up window.
– From the utility window, tap the `Apply Software Update` button to begin the software update.
– A warning message will be displayed, tap the `Yes` button to confirm and begin the update.
– If a pop-up that says 'No software update found' is displayed, even when a USB stick containing the update in the correct location is connected, reboot the camera and try again.
– During the update, the screen will go blank and an `Applying Update` message will be displayed.
– After approximately 60 seconds, the update will be complete and the camera will restart.

Xiaomi Black Shark 2 Pro Phone Announced with 1920fps at 720p!
As we have seen from Chinese phones this year, the 1920fps spec for slow motion at 720p is included in several spec sheets like the Nubia Red Magic 3 but we found out that it is not only a fake spec but the actual video quality is pretty low.  The phone uses a 480fps capture at 720p and then creates interpolation of 4x  which is 480 x 4 =1920fps to create the final video. In some phones, it is just playing back 4x slower but in others there is interpolation. WHatever the came may-be, you are better off by avoiding this feature in your buying decision.  The quality is low and compression high, then the stuttering of faking the 1920fps kicks in and you end up with a subpar experience.
Here is a video sample of what appears to be a real clip from the Blackshark 2 Pro. You can easily notice the interpolation.
Blackshark 2 Pro – 1920 FPS Slow Motion Video by Shail 360:

Now for some fun, The Slow Mo Guys have played with a huge amount of Gallium metal which becomes liquid at under 30 degrees C and looks pretty close to mercury without the toxicity. They do remind us that Gallium corrodes Aluminum on contact as it amalgamates with it, Aluminum which is what most cameras and lens cases are made of are pretty vulnerable,  so if you try this with your slow motion camera, be sure to use a barrier. -HSC
Pouring a Liquid Mirror in Slow Motion – 4K by The Slow Mo Guys:
Reaction of Liquid Gallium with Aluminium by Thoisoi2 – Chemical Experiments!:
(Visited 1,000 times, 1 visits today)